Papua New Guinea Photo Workshop: May 2021
Papua New Guinea Photo Workshop: May 2021
Join Bluewater Dive Travel's Craig Dietrich on this amazing trip diving Kimbe Bay, Witu Islands and Fathers Reefs on the MV Oceania liveaboard followed by an optional cultural land extension to visit local tribes! 
May 27 - June  5, 2021
Trip Leader: Craig Dietrich
Signature Itinerary | Diving Kimbe Bay, Witu Islands, and Fathers Reefs

9 Nights for:
$4,901 per person double occupancy
Optional land tour: June 5 - 9, 2021
$2,200 per person double occupancy
$552 additional for single supplement
Why Join this trip?
25% off rental photo gear from Bluewater Photo
Modern luxury liveaboard - the MV Oceania: great amenities and spacious cabins
Timed for best water temps and visibility
Why Travel With Bluewater?
We book resorts/liveaboards that offer the best overall value
Great support if flight/weather issues occur
"Bluewater helped me out when I needed it most, the airline wouldn't let me board because of a Visa issue. They saved my butt" - Ray Tsusuki
 TRIP OVERVIEW
Start by spending 9 nights aboard PNG's newest and nicest of 3 liveaboards, the MV Oceania diving Kimbe Bay, Witu Islands, and Fathers Reef. From this luxury catamaran, you'll experience incredible diversity - coral gardens, seamounts, walls, reef walls, arches, and muck sites are home to a variety of fish, crustacean and invertebrate life and many of the reefs have resident schools of barracuda, tuna and jacks.  A range of shark species are regularly sighted, including hammerheads and silvertips, particularly on the offshore reefs. A resident pod of dolphins frequently entertains divers. The occasional sightings of orca, pilot whales, whale sharks and other marine life passing through Kimbe Bay and West New Britain waters always delight both guests and staff.
INCLUSIONS AND EXCLUSIONS
Included:
9 nights accommodations onboard MV Oceania
Full board meals onboard Oceania (breakfast, lunch, and dinner), tea, coffee, and water
Tanks, air fills, weights, and weight belt
Transfers between Hoskins airport and MV Oceania
$81 per person environmental and safety fee
Excluded:
International airfare to/from Port Moresby
Air Niugini domestic airfare as follows: Port Moresby to Hoskins on May 27, Hoskins to Mt. Hagen via Port Moresby on June 5, and Mt. Hagen to Port Moresby on June 9 (Mt Hagen flights only applicable if joining the land tour.)
Drinks/alcoholic beverages
Nitrox, optional ($270 per person)
Hotel stays before or after the trip
Papua New Guinea visa (currently free on arrival)
Personal dive insurance (Dive insurance is mandatory.)
Travel Insurance: click here to learn more about our preferred plan
DETAILED TRIP ITINERARY

Day 1 (May 27): You can take either flight from Port Moresby (code: POM) to Hoskins (code: HKN). Air Niugini #208 departs POM at 7:30am and lands HKN at 9:35am. Air Niugini #244 departs POM at 3:05pm and lands HKN at 4:10pm. Boarding Oceania begins at 4:00pm. If you take the earlier flight, you will be allowed to relax in the Walindi main house area where there is also a restaurant. Boarding begins at 4:00pm and the boat sails at approximately 6:00pm.
Day 2 (May 28): Up to 4 dives. See below for more info on diving the fabulous Kimbe Bay. 
Day 3 (May 29): Up to 4 dives
Day 4 (May 30): Up to 4 dives
Day 5 (May 31): Up to 4 dives
Day 6 (June 1): Up to 4 dives
Day 7 (June 2): Up to 4 dives
Day 8 (June 3): Up to 4 dives
Day 9 (June 4): Two morning dives, (to adhere to PADI's 18 hour dive/no fly recommendation)
Day 10 (June 5): Upon arrival in Port Moresby, you will continue on to your international flight home, or if you're joining the land tour you will be met and greeted by Trans Niugini Tours staff and transferred from your incoming flight to your onward domestic flight to Mount Hagen (Domestic air recommended: June 5, 2021,PX 186 Port Moresby to Mount Hagen). Welcome to Mount Hagen; the heart of the PNG highlands. This area is famed for its fertile lands and stunning mountain ranges, as well as the complex and fascinating cultural traditions of the Melpa tribe. Upon arrival at the Mount Hagen airport, you will be driven up a picturesque road past highlands gardens and on to the lodge. Perched high above Mount Hagen, with mist-filled views of the Wahgi Valley below and at 7100 feet above sea level, lies Rondon Ridge. From its location in the mountains on the edge of the valley, Rondon Ridge boasts panoramic views of the surrounding mountains and the city below.
Overnight: RONDON RIDGE 
Day 11 &12 (June 6-7):
Two full days of touring will take place in the gorgeous highlands area of Mount Hagen in the fertile Wahgi valley. The area surrounding the city of Mount Hagen consists of mountain ranges, covered with lush tropical rainforest, rugged limestone bluffs and small valleys dotted with small traditional farming communities. 
Two full days of comprehensive touring will take you on a journey through the traditions and customs of the Melpa People. First contact with the Melpa was made in the mid-1930. The Melpa people are "true farmers" that still maintain traditional farming methods that can be traced back 9,000 years. They are said by anthropologists, to be 'predisposed to capitalism' because of their complex traditional society in which 'big men' earn status by accruing wealth and then giving it all away in a ceremonial exchange called "Moka". Each day of touring will bring you to 2 -3 local villages where the villagers will share their fascinating tribal traditions; such as the rites of widowed women, the ceremonies surrounding marriage and funerals, the traditions of tribal warfare and the daily customs of the Melpa people. This area is also the home of the famous Pogla mudmen, famed for their unique bilas and the ancient story that surrounds it.
Additionally, your tour may take you to see the iconic Huli tribe in their local settlement here in Mount Hagen. This famous highland tribe are admired for their vibrant and colourfully decorated hair wigs and bilas.
Please note that the villages that you will visit are determined close to the tour date as availability is affected by the current affairs in the village (such as deaths or weddings which close down the villages to guests).
Overnight: RONDON RIDGE 
Day 13 (June 8):  This morning after breakfast, you will have a scenic drive to Wabag which is the neighboring Province of Mount Hagen. You will be seeing the Wabag Museum, sand painting at the cultural centre and some local people. In the afternoon you will be transferred back to Rondon Ridge
Overnight: RONDON RIDGE
Day 14 (June 9):  After breakfast, you will be transferred to Kagamuga Airport for your domestic PX flight to Port Moresby (Domestic flight recommended: June 9, 2021 PX 181 Mount Hagen to Port Moresby. Upon arrival in Port Moresby, you will be met by Trans Niugini Tours staff and transferred to your ongoing international flight. 
DIVING KIMBE BAY
New Britain Island's Kimbe Bay is known for abundant, diverse marine life and exceptionally healthy reefs. National Geographic magazine apparently agrees, as does photographer David Doubilet, ranking these reefs among the world's most beautiful. Kimbe Bay highlights include Father's Reef and South Emma, known for pelagics like sharks and barracudas, and Susan's Reef, celebrated for its colorful soft corals, sea fans and other wide-angle scenery. Other top sites include a fully intact Japanese Zero fighter plane, and picturesque Rest Orf Island, where the scenery is equally good above and below the surface. Witu Islands are also famous for schooling fish and loads of soft corals as well as unusual critters. A range of shark species are regularly sighted, including hammerheads and silvertips, particularly on the offshore reefs.  A resident pod of dolphins frequently entertains divers. Though less reliable than the reef dwellers, various marine mammals also make regular appearances in Kimbe Bay including pilot whales, orcas, and sperm whales on occasion. 
LAND TOUR INCLUSIONS
Accommodations
Airport transfers/tours on scheduled basis
Meals (dinner on June 5, all meals on June 6-8, breakfast on June 9)
Local English speaking guides.
Luggage storage in Port Moresby during land extension
land TOUR Exclusions
International, domestic or air transfer flight fares
Items of a personal nature
Domestic Air recommended: Sat, 05/06/2021 PX 186 Port Moresby to Mount Hagen - Weds, 09/06/2021 PX 181 Mount Hagen to Port Moresby
About the MV Oceania
MV Oceania is a 27-meter (88.5-ft) liveaboard catamaran that began operating in January 2019 out of Walindi Plantation Resort, alongside MV FeBrina in the Bismarck Sea, Papua New Guinea. She accommodates up to 16 divers in 8 comfortable en-suite cabins.
ABOUT THE TRIP LEADER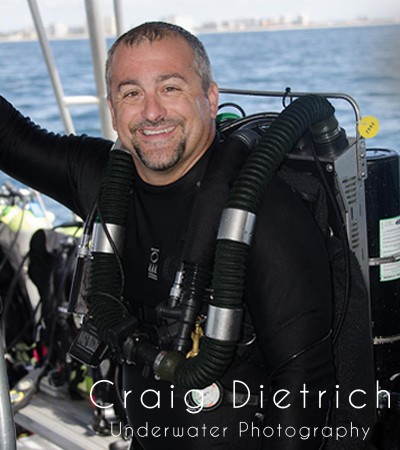 Craig Dietrich is an award-winning underwater photographer based in Jupiter, Florida. From an early age Craig felt the need to express himself artistically and the first time he picked up a camera, he knew he had found the perfect outlet for his creativity and sparked what would become a life-altering passion for photography. Craig served our country as a Naval photographer during both Operations Desert Shield and Desert Storm, when he was given the opportunity to travel the world and his thirst for adventure was born.
After the Navy, Craig learned to scuba dive. Upon breaking the surface the first time, he knew this was a world he wanted to be a part of and a second passion was ignited. Longing to share that world with others, he put together his two greatest loves and ventured into the world underwater photography.
Craig's underwater photography has been featured in multiple dive publications, won multiple awards and has been sold in upscale galleries from Carmel, California to Fort Lauderdale, Florida. He now makes his living teaching underwater photography and selling his photography at art shows throughout the southeastern United States.
To learn more about Craig's work, visit www.dietrichunderwater.com.
Flight Information
Flying in PNG can be notoriously difficult, as the schedules for international and domestic flights change very often. Because of this, it is highly recommended that you leave ample time between any flight connections in PNG or for flights that are on airlines based in PNG; if possible, we suggest that you arrive in Port Moresby or Hoskins a night or two early. It is also helpful to book your flights on the same record locator/code-shared airlines so that if any connections are missed the airline is responsible for rerouting you and getting you on another flight.
For an overnight in Port Moresby, the Airways Hotel is recommended and has very positive client feedback from our previous trips. If you arrive to Hoskins early, please let us know and we can book you a room at Walindi Resort (where the MV Oceania will depart from).
Travel insurance is highly recommended for this workshop.
Payment Schedule
Deposit: $800
Payment 2: $1,000, 7/15/20
Payment 3: $1,500, 11/1/20
Balance: 2/1/21
Additional Information
AIRLINE TICKETS
Please note that it is extremely important for all passengers to have paper/e-ticket copies of their airline tickets while traveling to/within Papua New Guinea. Often the systems are down and the airline is unable to retrieve any tickets on their computer and they will require hard copies. In small towns such as Tari, there are no computers.
BAGGAGE RESTRICTIONS 
Aircraft used for "Air Transfers" between our lodges are small (5 or 8 seats only) with limited weight/space for luggage. Clients must restrict their luggage to 10kgs plus a small carry on hand or camera bag. The airlines are strict and will off-load excess weight. With only three (3) flights per week between our Wilderness Lodges, this can mean no personal effects for several days. Excess Luggage can be kept in our Port Moresby office FOC. The dimensions of the main bag should not be more than 35cm x 81cm or 14 inches x 32 inches and will be carried in the cargo pod. The luggage must be soft-sided and able to be locked. In addition large hard or soft-sided suitcases are not permitted on these aircraft. Space in the pod is the main problem.
SHIPPING OF ARTEFACTS
Trans Niugini Tours is not in the shipping business but does provide a service to travelers who wish to purchase artefacts at the villages or the Lodges. These purchases can be left with the lodge managers for later packing and shipment. Lodge staff will have a supply of printed forms for you to complete, including address, description of the items and payment details. Lodge managers cannot estimate the cost of art forwarding, as they are not involved in the packing and shipping of the art beyond sending it to Mount Hagen for processing. It is impossible to estimate shipping costs until items are packed, weighed and measured by the shipping company. Shipping costs can be anything between $500.00 - $5000.00 depending on the purchase and weight, size, etc. of the item. Please note that packaging material does add to this and therefore total costs can only be provided once given by the shipping company. Trans Niugini Tours will then get prior approval before charging or shipping parcels. Some purchases will require permits, which take to receive from Port Moresby. Travelers are responsible for handling import restrictions, customs and duty matters in their own country.
MONEY EXCHANGE 
Kina cash can be acquired at the banks of most international ports of departure to Papua New Guinea. It is strongly recommended you acquire your Kina cash at these banks prior to departing for Papua New Guinea. Ensure you request small denominations, K2, K5, and K10, NOT K20 or K50 notes. There is a bank at the Port Moresby international airport, prior to going through immigration, and all major towns, but itineraries and air schedules frequently do not allow time to visit the banks.
The Wilderness Lodges have some cash but this is greatly limited and exchange rates are not as good as the banks. Smaller denominations of Kina cash are best for purchasing art in the villages, i.e. K2, K5 and K10 are best. So bring plenty of cash in small denominations as the villagers will not be able to give change for larger notes. The Wilderness Lodges are not able to change K50 notes to smaller denominations.
MOBILE PHONE COVERAGE
In order to access PNG mobile coverage, mobile phones need to be unblocked and a PNG SIM card has to be purchased. These are available in Port Moresby and Mount Hagen.
TRAVELLER'S INSURANCE
We highly recommend and ask that clients should take up personal travelers insurance to cover trip cancellation, accident, and health, flight delays/cancellation, medical emergencies, and evacuation, as well as baggage loss or theft. 
Got Questions? Ready to Book?
Call us today at 310-915-6677 email us at trips@bluewaterdivetravel.com
Or stop by our office at 3961 Sepulveda Blvd, Suite 206 Culver City, CA 90230 
And let us book your dream vacation!
Photo Gallery 

---
Check out these photos from BWT's trip to Papua New Guinea in October 2019.