Learn about photography workshops
By Adam Gibson
We commonly receive the same type of questions related to our photography workshops, and customers wanting to know more about them.  After thoughtful consideration, I went through and listed out a lot of the top questions we receive, and interviewed a number of our trip leaders in order to get you some proper answers on those FAQs.  If you've been wondering what goes on during a workshop?  Would it be a good fit for you?  What benefits do you receive for joining one?  Please checkout the Q&A below.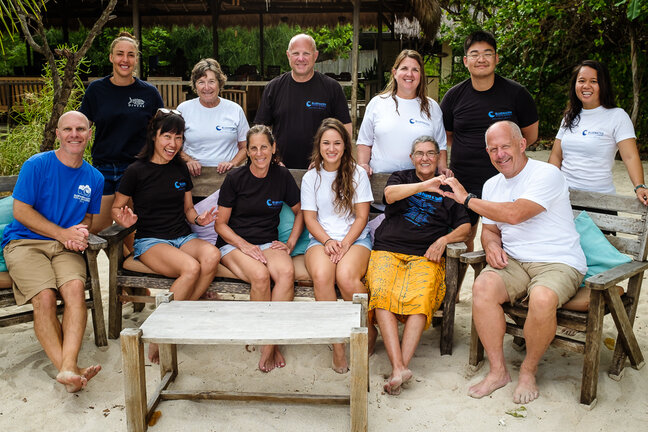 Interview with Bluewater Photo trip leaders
What things do you cover during the photography workshops?
Our workshops cover everything from equipment selection, strobe placement, compositions (both wide-angle and macro), as well as post processing. This is a very high level description of what is covered, but the key is that I cover most everything that you would be interested in.
Another thing we do is daily image reviews, where the guest provide 1-2 images each day and we provide very harsh criticism (ha-ha)…of the images, with the goal of giving ideas, pointers, tips on how you may improve upon the image. Seriously though…we provide very polite tips and insights.
Do you cover post processing?
In general, each of our workshop leaders will cover some degree of post processing during their workshops. The specific applications that are covered will depend upon which application(s) your workshop leader is most familiar with, the most common being Adobe Lightroom and Photoshop.
What about one-on-one help?
All of our workshop leaders are happy to provide one-on-one assistance as time permits. Depending on the workshop schedule, individual assistance is generally best arranged with the leader to happen either early in the day, or later in the evening once the general sessions are completed for the day.
What if I need underwater help?
While it is not always easy to provide effective help underwater, you can fully expect your workshop leader to offer assistance. It's always best if the request for in-water help is clearly defined between the leader and the diver before the dive begins. The most common type of assistance we can offer is to help with strobe positioning.
Can you recommend particular gear or ports that we should have before the trip?
Any of our workshop leaders would be happy to assist in helping you select the best gear for a particular workshop. Also feel free to reach out to the Bluewater Photo sales staff at sales@bluewaterphotostore.com for further help.
Do you offer discounts on gear if I'm attending a trip?
While we cannot discount all manufacturers products, we will often try to arrange specials for certain items that would be ideally well-suited for our workshops. Some past examples of special pricing have been on focus lights, macro diopters, snoots and similar items that would be of the most interest to our workshop guests. Look for emails 1-2 months prior to the trip with special offers.
How long are the discussions and when are they done?
Depending on the worksop leader and the destination, you can expect the discussions to last for between 40-60 minutes each day. All of the trips are slightly different in the number of daily dives, the timing of the dives and the general daily agenda.
One of our most popular workshops is the Anilao, Philippines trips that we run multiple times each year. The schedule includes a daily image review that occurs in the morning before our first dives, and last about 25 minutes. The review allows the group to see 1-2 samples from several guests and for the leaders to provide tips or suggestions on the images. Following the two morning dives, and immediately after lunch, the workshop session will take place, and these sessions will generally run about 40-60 minutes in duration.
Other workshop destinations may have a different schedule, but our guests can expect a similar learning experience at any Bluewater Photo workshop.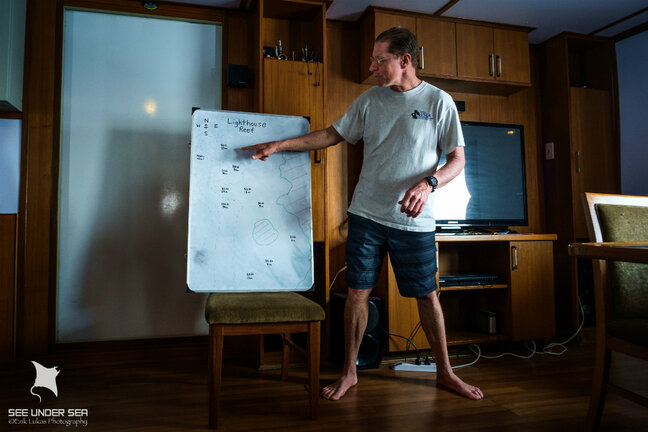 Our trip leader Mark Strickland briefing some of the best photo locations for an upcoming dive site
Is this good for beginners or more for experienced photographers?
We love having guests of any and all experience levels. In many cases we have complete beginners who have never used their camera systems underwater diving right next to a season shooter who has won multiple international awards and every level of experience in between.
If I've already been shooting for years, why should I come?
The best reason I can think that an experienced shooter should attend a workshop is that learning is an ongoing process. The next best reason I can think of for an experienced shooter to join a workshop is the ability to dive 3-4 times each day with a focus on photography. At a Bluewater workshop, you will never be hurried across a dive site. Our workshops are designed to allow the guests to spend as much or little of their dive on as many or few subjects as they would like. It's not uncommon to see photographers dedicate an entire dive to a single subject. If these reasons are not enough, what better way to spend a dive trip than with other like minded divers and photographers.
Is attending the workshop mandatory?
Attendance is never mandatory. Come and go as you please. Oftentimes we also have some non-photographers joining our trip as well, for those, they can either attend and learn what they'd like, or simply enjoy the resort or liveaboard like a normal trip, relaxing and waiting for the next round of diving.
Do I need to bring a laptop or flash drive?
While this is not a requirement, it is highly encouraged to have a laptop and flash drive. The laptop will allow you to work on images during the workshop, but perhaps the most important reason I can think to bring a laptop is to backup your images (I'd go a step further and recommend a supplemental hard drive as well...redundancy should never be overlooked). Having a flash drive will be helpful if you would like to share images for the photo review sessions.
Are there an prerequisites to join the workshop?
The only prerequisites for the workshops are dive certification. We are happy to host photographers of any skill and experience level.
Is there any additional cost for this?
Bluewater Photo never charges an additional fee for the photo workshops. It's one of the huge benefits of joining our trips!
Concluding thoughts from the editor
I think the above questions and answers better clarify what all is to be expected with one of our photography workshops.  That being said there's one important factor that I think was overlooked.  So last, but certainly not least... we always have a lot of fun on our trips!!  It's a great way to go on a dive trip, and already have a mutual connection with other divers. Joining a group designed trip ensures better comradery among the group since you all share a similar passion of diving and have worked with Bluewater in some capacity!
I hope after reading through this interview, you have been able to find a better understanding regarding the value of these photographer workshops.  Whether you're a novice, or experienced photographer, there is great value in joining our trips.Come join us and learn for yourself!
Interested in joining a workshop?
That's great news! Take a look at our full list of trips in the below link.  We have a number of 2018 trips still with availability: 
Bluewater Photo Workshop Trips