---
Brief Introduction to Mirrorless Cameras:
Mirrorless cameras have evolved at a breackneck pace over the last decade. In fact, they are now the top choice for most underwater photographers. Unlike compact cameras, mirrorless cameras have interchangeable lenses. The most obvious physical difference from a DSLR camera is their lack of mirror inside the body. This gives engineers more space to work with when they are designing camera technology. Therefore, mirrorless cameras feature cool new capabilities like in-body image-stabilization, electronic viewfinders, a single hybrid autofocus system (that works great in live view), autofocus point coverage over large areas of the sensor, advanced autofocus tracking, larger lens mounts for higher quality lenses and more. Mirrorless cameras also tend to be slightly smaller than DSLR cameras but they can be a lot smaller as well, depending on the model (check out the Sony A7C if you want a small full-frame model!). That makes them a great choice for traveling. If you want to shoot at the cutting edge of camera technology with the best image quality and autofocus the industry has to offer, than you should shoot a mirrorless camera.
Different Types of Mirrorless Cameras:
Mirrorless cameras are now featured in multiple sensor sizes including micro four thirds, aps-c, and full frame. Full-frame (35mm sensor) mirrorless cameras have become the top cameras for underwater photography. Full frame sensored mirrorless cameras have the best dynamic range, low light capability, autofocus, and image quality on the market. They also have less depth of field than their smaller counterparts. Currently, there are full frame mirrorless camera offerings from Canon, Nikon, Sony, and Panasonic. These cameras are equipped with the world's best photographic technology and are some of our top recommendations as underwater cameras. The Canon EOS R5 and R6 are two of the top full-frame mirrorless cameras on the market, equipped with ground breaking technology like in-body image-stabilization with up to 8 stops of correction and animal eye AF tracking that works on fish. New underwater housing options for these models are coming out regularly. The Sony A7R IV remains the top camera for high resolution photography with an amazing 61 MP sensor. The Nikon Z7II and Z6II should be given a nod as the top Nikon full-frame mirrorless cameras, but Nikon's innovation lags slightly behind Canon and Sony. Panasonic has tantalized video shooters with their S series cameras, the S1, S1R, and S1H - but not as much as the truly ground breaking Sony A7S III.
Sony and Nikon currently make aps-c, or cropped sensor, models. These cameras are smaller than their full-frame counterparts but produce high quality, professional images. An APS-C sensor can be a great option for macro shooters. APS-C sensors offer more depth of field than full frame sensors and offer a closer field of view with macro lenses. Currently the Sony A6400 and Nikon Z50 are two of the top APS-C mirrorless options on the market.
Olympus and Panasonic both use the micro-four thirds sized sensor, the smallest of the mirrorless sensors, for their mirrorless cameras. They share a lens mount with a lot of high quality, small micro four thirds lenses on the maket. The Panasonic GH6 is still one of the top mirrorless choices for underwater video. The Olympus OM-D E-M1 Mark III is the current, top flagship model from Olympus. The micro-four thirds sensor is quickly going out of fashion after Olympus sold its imaging business last year. If any new models come out with this sensor size, we anticipate video orientred systems from Panasonic and Blackmagic.
Left: Nikon Z7 (Full Frame Camera). Middle: Sony A6400 (APS-C Sensor). Right: Panasonic GH6 (Micro-Four Thirds Camera)
Mirrorless Versus Compacts:
If you want a smaller system, less expensive setup, or the ability to change between macro and wide-angle underwater, check out our best compact underwater cameras.
Mirrorless Versus dSLR Cameras:
A dSLR camera can be larger in size compared to mirrorless offerings but they offer quick autofocus, and some of the top, most mature camera technology on the market. Check out our best dSLR underwater cameras.
Still confused?
If you are still confused by all the options, call us at 310-633-5052 or email us at sales@bluewaterphotostore.com. We try to shoot all of these models when they are released, and we can talk you through the subtle differences.
---
Best Overall For 2022 - Canon EOS R5
The Canon EOS R5 is the best camera for underwater photo and video. A wide range of new technology introduced in this system makes it optimal for underwater creatives ranging from a 45 megapixel full-frame sensor that captures clean, beautiful images to 8K/30p and 4K/120 internal RAW 10-bit 4:2:2 video recording capability. The in-body image-stabilization system built into the camera is second to none with the ability to recover up to 8 stops of exposure. This means you can shoot at very low shutter speeds and not have any motion blur. In our underwater tests, we took photos at 1/8th of a second with no issues! Moreover, the autofocus system in the R5 is one of the best on the market and is as good as Sony's or better. We were very impressed that the R5 was able to track fish eyes underwater in many situations - especially when shooting macro photos. We are very excited to see where animal eye autofocus technology will go in the future. Finally, the video this camera can capture is truly wonderful. 8K/30p video is useful for underwater video shooters that want to crop in their video footage. It will be very helpful to macro video shooters especially. When you combine 4K/120p video with the R5's IBIS system, there is no other way to get more stable handheld video footage. We had no problem shooting handheld video with a 100mm macro lens! That being said the Sony A7S III is still our top pick for underwater video as it has a wider variety of video-oriented shooting options. But if you are looking for the best underwater photo camera on the market, there isn't another camera as capable as the R5.
Key Features:
New 45 Megapixel Full-Frame CMOS Sensor and Digic X processor
Canon's first 5 axis In-Body Image-Stabilization (IBIS) which works in conjunction with optical IS RF and EF lenses. Up to 8 stops of correction
Improved Dual Pixel II Autofocus
5,940 AF points
100% of the sensor has AF coverage!
ISO 100 - 51,200
Animal eye AF detection (for birds, cats, and dogs) - it works on macro fish 20-40% of the time!
12fps burst shooting with mechanical shutter
20 fps burst shooting with silent (electronic shutter)
180 shot RAW image buffer
Dual card slots - 1x CFexpress and 1x SD UHS-II
8K video @ 30p, 10- bit 4:2:2 - using the full width of the sensor!
Internal RAW and C-Log recording
4K oversampled video up to 120p, 10-bit 4:2:2
Underwater Housing Options:
Sample Underwater Image:
Spectacular resolution with the Canon EOS R5. Photo of a mosshead warbonnet captured with the Canon EOS R5 in an Ikelite housing, Canon 100 mm macro lens, dual Ikelite DS 161 strobes, Kraken +13 diopter, and Ikelite Canon TTL converter. f/16, 1/160, ISO 100
---
Best Hybrid Photo & Video Camera - Sony A1
The Sony A1 did not make the top of this list for only one reason - price. On paper, the A1, Sony's flagship full frame mirrorless camera is the best full frame camera in the world. And in fact, during our underwater photo and video review of the A1, we found that the camera met all of our expetations. We were able to capture beautiful, high resolution 50 megapixels with a 1/400s stobe sync speed. The ability to shoot at such high sync speeds allows photographers to recover an additional stop of exposure which is great for shooting sunballs and freezing action. We also successfully fired Ikelite strobes with Ikelite TTL and the electronic shutter - a first for underwater photography. But in many other way, the A1 is very similar to the Canon R5. Both cameras take high resolution photos with high burst rates. Both cameras can capture 4K/120p and 8K/30p video. And finally, both cameras have excellent, industry leading autofocus systems. But the Sony A1 is $6500 and the Canon R5 is...not. Yes, the A1 features novel shutter technology and a wider range of video options. But we think the Sony A1 is the best camera on the market for existing Sony shooters or hybrid shooters who are willing to spend a premium to get the absolute best photo and video features from their camera. We would like to point out that the Sony A1 and Sony A7S III fit the same housings currently available for the A1 - giving underwater shooters an economic path to taking Sony's two best camera bodies underwater.
Check our our detailed comparison of the Sony A1 vs the Canon R5
Key Features:
New Full-Frame 50MP Exmor RS Stacked CMOS Sensor
15 stops of dynamic range with improved colors, tones, and gradation
New BIONZ XR Processor
Continuous shooting up to 30fps w/ electronic shutter and 10fps w/mechanical shutter at full resolution - AE and AF operable throughout
Updated Carbon-Fiber Mechanical Shutter for a more quiet and vibration-free performance
Records video up to 8K/30p (oversampled from 8.6K), 4K/120p (oversampled)
Improved electronic shutter - greatly reduced rolling shutter and flicker under artificial light
THE ELECTRONIC SHUTTER WORKS WITH EXTERNAL FLASHES (and strobes, with a TTL converter)
FLASH SYNC SPEEDS: up to 1/400sec (mechanical shutter; 1/500 in APS-C mode), 1/200 (electronic)
Lightning-quick AF with its 759 phase-detection points with 425 contrast-detection areas - covering 92% of the sensor
AF system recalculates 120 times per second - 30% more accurate than A9II
Better animal eye AF that can track birds - does not track fish
5 axis IBIS with 5.5 stops of recovery
10-bit 4:2:2 internal recording with 16-bit RAW external recording
Full range of Log recording options - Cine, HLG, and S-Log
Viewfinder: Electronic (OLED) - 9.44 million dots
Dual CFexpress Type A / UHS-II SD Card
Dimensions: 5.07 x 3.81 x 2.74 in (128.9 x 96.9 x 69.7 mm)
Weight: 1.6 lb (737g)
Underwater Housing Options:
Autofocus tracking on the A1 resulted in sharp rhinophores on this nudi. Janolus nudibranch photographed with the Sony A1, 90mm macro lens, Ikelite A1/A7S III housing. f/22, 1/200, ISO 200
---
Best Entry Level Full-Frame Camera - Canon EOS R6
The Canon EOS R6 is Canon's newest prosumer level full-frame mirrorless camera released alongside the EOS R5. The only real difference from the R5 is a drop in resolution for both photo and video and a drop in retail price of $1400 - which is why we are naming it the "best value" camera this year. In fact, we think it's the perfect camera for anyone thinking about getting into full-frame photography. The R6 features a 20.1 megapixel full-frame CMOS sensor and is capable of 4K video at 60 fps using 94% of the sensor width. The R6 has been updated with new features like in-body image-stabilization, animal eye autofocus, 100% AF coverage, and 12 fps/20 fps electronic burst shooting. Due to these impressive specs, the R6 is a top camera for underwater photographers and videographers and a top focus for underwater housing manufacturers. It's a great camera with excellent image quality, fast autofocus, and compatability with both RF and EF lenses (when using an EF-R adapter).
Key Features:
20.1 Megapixel Full-Frame CMOS Sensor and Digic X processor
Canon's first 5 axis In-Body Image-Stabilization (IBIS) which works in conjunction with optical IS RF and EF lenses. Up to 8 stops of correction
Improved Dual Pixel II Autofocus
ISO 100-102400
100% of the sensor has AF coverage!
Animal eye AF detection (for birds, cats, and dogs) - we'll see if it works for fish!
12fps burst shooting with mechanical shutter
20 fps burst shooting with silent (electronic shutter)
Dual card slots - 2x SD UHS-II
Internal C-Log recording
4K video up to 60 fps, 10-bit 4:2:2 (16:9, 1.07X crop)
3.69 million dot EVF
Underwater Housing Options:
Sample Underwater Image and Video:
This image shows the beautiful image quality and dynamic range that the R6 is capable of capturing. This anemone was photographed with the Canon EOS R6 and Canon 8-15mm fisheye lens in an Ikelite EOS R6 housing. The image was slightly underexposed and adjusted in post processing. This image shows the quality of the details recovered. f/13, 1/60, ISO 320
---
Best High Resolution Camera - Sony A7R IV
The Sony A7R IV camera is still the best camera on the market if you are looking for a high resolution sensor. It builds upon the high-end Sony Full Frame mirrorless line with some great improvements over the previous A7R III. The most notable is the increase in resolution to 61 megapixels, making the Sony A7R IV the highest resolution full-frame camera in the world. There have also been some awesome improvements to the A7R IV's autofocus capability, with more phase detection autofocus points. The difference in autofocus acquisition from the A7R III is noticeable and the A7R IV still has one of the top autofocus systems on the market. If you are looking at the Sony A7R IV for its resolution, it's important to note that 61 megapixels is a lot of pixels stuffed into a full-frame sensor. So the sensor does introduce some noise at higher ISO. But if you are a macro shooter that wants to crop to your heart's desire than the Sony A7R IV is the way to go!
Key Features:
61.0 MP Exmor R CMOS Sensor
BIONZX Image processor
567 phase detection AF points, 425 contract detection AF points which cover 99% of the height of the sensor and 74% of the width
Autofocus tracking system updated with touch tacking AF and Eye AF in movie mode
New Eye Animal AF Tracking!
ISO sensitivity of 100-32000
15 stops of dynamic range at low ISO
4K video @ 30P
1/250s flash sync speed
5-axis in-body image-stabilization
Continuous shooting Hi+: 10fps, Hi: 8fps
530 shot battery life
Underwater Housing Options:
Camera Body:
Sample Underwater Image:
One of the world's first underwater photos with the Sony A7R IV. Taken with the Ikelite A7R IV housing, dual Ikelite DS 161 strobes, and the Sony 16-35mm rectilinear wide lens aboard the Socorro Vortex liveaboard. 1/250, f/10, ISO 320
---
Best Camera For Underwater Video - Sony A7S III
The Sony A7S III is a spectacular video-oriented full frame mirrorless camera that is shaping up to be 2020's best camera for underwater video. The A7S III is our favorite underwater video camera because of the wide range of options available from frame rates to bit rates and codecs to picture profiles. It can record 4K video up to 120fps for slow motion and stable video, with 10-bit 4:2:2 internal recording for the best color science Sony has to offer when paired with a wide variety of Log profiles. It is also an excellent stills camera with 12 megapixels of resolution - enough for social media and most day-to-day useage - but likely not enough for working photographers that shoot macro or print large prints. Sony didn't holdback when it came to autofocus options, equipping the camera with Sony's excellent AF tracking and animal eye AF capability. True to form, the A7S III succeeds the A7S II as a lowlight masterpiece, it's ability bolstered by a lower resolution sensor and close to "dual gain" ISO (more on that below). The A7S III does not have recording time limits and did not overheat in our underwater tests, despite some topside users complaining about overheating in direct sunlight.
Key Features:
12 MP BSI CMOS Full Frame Sensor
Bioz XR Image Processor
ISO 80-102,400
"Low Base" and "High Base" (effectively dual gain) ISO capability for better low light shooting
4K video up to 120 fps
No recording time limits. Could be limited by heat (4K @ 60p for at least an hour)
10-bit 4:2:2 internal recording
S-LOG, HLG, Cine logarithmic picture profiles available
4K @ 60p, 16-bit RAW recording with an external recorder
5 axis in-body image-stabilization (IBIS)
Dual card slots (either SD or CFexpress Type A)
9.44 M dot Electronic Viewfinder (EVF) - the best resolution on the market!
Movie File Formats: XAVC S (Long GOP, H.264 MP4); XAVC HS (Long GOP, H.265 HEVC); XAVC S-1 (All-Intra, H.264 MP4)
AF tracking with human and animal eye AF capability
759 point hybrid AF system with 425 contrast detection points
Underwater Housing Options:
Camera Body & Lenses:
Sample Underwater Video:
---
Best Value - Sony A6400
The Sony A6400 Camera is packed with lots of great features taken from full-frame camera siblings at half of the cost. The image quality is awesome. An APC-S sensor is a serious step up from compact and smaller mirrorless cameras (e.g., micro four thirds), with better image quality. The camera can be combined with a broad array of lens options. Another noteable feature is the autofocus. Offering a quick 425-point phase detection AND 425-point contrast detection autofocus system, combined with a variety of focus modes, there is a setting for every situation. The A6400 also offers 4K video at 30 fps, fast 11fps bursts, and more.
Key Features:
24.2 Megapixel APS-C type Exmore CMOS sensor for outstanding light sensitivity.
425-Point Phase-detection Fast Autofocus with Real-Time Tracking AF A.I. Technology
4 Focus modes with 6 focal area settings
4-speed Sequential Shooting. Hi+ – 11fps; Hi – 8 fps Mid 6 fps; Lo: 3fps.
4K Cinema Video at 30/25/24 fps
1/160th Shutter Sync for flash
Lightweight and Weatherproof Body
Underwater Housing Options:
Camera Body & Lenses:
Sample Underwater Image:
Wolf eel photographed with the Sony a6400, 16-50mm lens, UWL-09F wet lens, single Sea & Sea YS-D1 strobe and Fantasea Sony a6400 underwater housing. f/8, 1/160, ISO-400
---
Best APS-C Mirrorless Camera - Nikon Z50
The Nikon Z50 is Nikon's first attempt at creating an APS-C mirrorless camera - something Sony and Canon have been doing for quite a while. The Nikon Z50 is akin to a mirrorless version of the Nikon D500 or an APS-C version of the Nikon Z6. During the Z50's initial release many dubbed it a dud for it's lack of Z mount lens options and large lens mount on a small body. But this didn't necessarily mean that the Z50 wasn't useful for underwater photgoraphy. In fact, we think the Nikon Z50 is one of the best, if not the best, cropped sensor for underwater photo and video! Off the bat, the Z50 produces unbeatable image/video quality for its price points. The reason we have chosen the Nikon Z50 over other cropped sensor mirrorless cameras like the Sony A6000 series cameras, is because Nikon f mount lenses perform better underwater than Sony E mount lenses. The resulting effect is better image and video quality, even if the autofocus system is a little slower.
Key Features:
20.9 Megapixel Resolution CMOS sensor (APS-C - DX format)
Hybrid phase-detection/contrast AF with AF assist, 209 points
11 fps sequential shooting
4K Video @ 30/25/24 fps
FHD video up to 1080/120p
ISO range of 100-51200
Lens mount system: Z mount, can use F mount lenses with FTZ adaptor
3.2 inch tilting touchscreen monitor. It can also be flipped for selfies and vlogging
Built-in WiFi and Bluetooth
Underwater Housing Options:
Sample Underwater Image:
Nikon Z50, 8-15mm Fisheye, f/18, 1/160, ISO 100
---
Best Nikon Camera - Nikon Z7 II
Yes, we created a special category for Nikon. The reason for this is because Nikon cameras have been lagging behind Canon and Sony cameras in technological innovation over the past three years. Therefor, it was difficult to place any new cameras from Nikon on this list. However, there are a lot of avid Nikon DSLR shooters out there, and we think it's time for Nikon underwater shooters to make the switch to mirrorless. The recent Nikon Z7II camera release has answered many initial concerns that Nikon DSLR shooters had with dual card slots, longer battery life, and better autofocus. Video shooters will be even more pleased with 4K/60p recording capability for more stable video underwater. As a camera goes, the Nikon Z7II is by any measure a professional camera. And it's important to consider that Nikon lenses are some of the best for underwater photography on the market. But the Z7II just doesn't quite measure up to the Canon EOS R5 or Sony A7R IV, especially when it comes to autofocus.
Key Features:
45.7 megapixel full-frame BSI CMOS sensor (no lowpass filter)
ISO 64 - 25,600
5 axis in-body image-stabilization (IBIS)
dual Expeed 6 processors
3.6 million dot EVF
1/200s flash sync speed
Dual XQD and UHS-II (SD) card slots
10 fps burst shooting
77 image buffer @ 12-bit lossless RAW files
493 point phase detect hybrid autofocus system
-3 EV low light AF sensitivity
4K video recording up to 60 fps
10 bit 4:2:2 recording with N-Log over HDMI output
360 shot battery life
Weight: 615 grams
Size: 5.3 X 4 X 2.8 inches
Underwater Housing Options:
Sample Underwater Image:
Whale shark photographed with the Nikon Z7II and the Nikon 8-15mm wide angle lens. 1/125, f/13, ISO 640
---
Best Micro Four Thirds Camera For Photo - Olympus OM-D E-M1 Mark III
Yes, Olympus may have sold its imaging business, but micro four thirds shooters should not despair! Olympus left us with one last OMD model that rounds out its line of cameras in a last hurrah. The Olympus OM-D E-M1 Mark III camera produces stunning and tack-sharp photos. It is packed with lots of awesome features that were originally introduced in the Olympus EM1X and is a great option for all levels of photographers. If you want to upgrade your Olympus camera one last time, you can't go wrong with the Olympus OM-D E-M1 Mark III.
Key Features:
20.4 Megapixel Live MOS Sensor
TruePic IX Quad Core Processor (faster upgrade to Mark II)
121 point cross-type phase detect AF system
5 axis image stabilization up to 7 stops
2.36M dot electronic viewfinder
3 inch touch LCD
Weathersealed
15fps [H]/10 fps [L] burst shooting with mechanical shutter
Topside features including handheld high res shot mode, live ND filter, electronic shutter
4K video @ 30 fps with an OM-Log mode
Underwater Housing Options:
Sample Underwater Image:
Beautiful low light wolf eel portrait captured with the Olympus OM-D E-M1 Mark III camera, Ikelite OMD EM1 Mark III housing, dual Ikelite DS 161 strobes w/ Ikelite TTL converter, Olympus 7-14mm Pro lens.
---
Best Micro Four Thirds Camera For Video - Panasonic GH6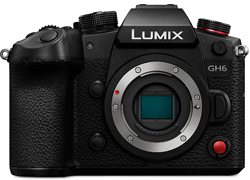 When it comes to video quality and features on a micro four thirds camera, it's hard to beat that Panasonic GH6. It's a solid workhorse that many topside and underwater photographers have come to rely on. The GH6 provides a range of codecs to record in and offers 5.7K/60p video recording functionality. Panasonic has a great history of producing highly capable micro four thirds video cameras, and this is no exception. A 25.2-megapixel sensor enables photographers to shoot high-resolution photos mode as well as video, making the GH6 more than just an extremely capable video camera. The Blackmagic Pocket Cinema Camera 4K was a close runner up, so be sure to check out that camera as well!
Key Features:
25.2MP high-sensitivity MOS sensor
Micro four thirds sensor (x2 crop)
5.7K/60p, 4K/120p video recording
5-axis in-body image stabilization
CFexpress & SD card slots
Built-in cooling fan
ProRes 422 HQ, V-Log and DR Boost
14 fps mechanical shutter and 75 fps electronic shutter
HDMI output
Tilting LCD touchscreen
3,680,000 dot electronic OLED viewfinder
Magnesium alloy construction
100MP handheld high-resolution mode
Underwater Housing Options:
Camera Body & Lenses:
Panasonic GH6 Camera - $2,197.99
---
Learn more here:
https://www.bluewaterphotostore.com/
Contact our sales department:
Phone: 310-633-5052