Buyers Guide to the
Best Sony A6700 Underwater Housings
Sony A6700 Underwater Housing Options
Nauticam Sony A6700 underwater Housing
*Excellent Ergonomics, User-friendly, Durable*
When it comes to pioneering underwater housing designs, Nauticam stands out as a true industry trailblazer. Their commitment to delivering the ultimate user experience for underwater photography and video knows no bounds, and their latest gem, the Nauticam NA-A6700 underwater housing, is a testament to their ingenuity. Meticulously crafted from premium aluminum, this housing redefines ergonomics with intelligently placed controls and dials, all within effortless reach of your fingertips. Seamlessly diving up to 100 meters, its compact design makes it an ideal companion for globetrotting adventurers. Every button bears clear labeling, ensuring precision even in the depths.
Ikelite 200DL Sony A6700 underwater Housing
*Lightweight, Polycarbonate with Great Ergonomics, User-friendly, Durable*
The Ikelite 200DL Underwater Housing for the Sony A6700 is constructed from robust polycarbonate material, offers remarkable advantages for underwater enthusiasts. Firstly, its lightweight design makes it a breeze to transport and use, ensuring you can focus on capturing stunning shots without unnecessary strain. Moreover, the polycarbonate construction grants it immunity to corrosion, making it a reliable companion for your underwater adventures.
In addition to its durability, the Ikelite 200DL housing presents a cost-effective option compared to aluminum housings, making it an excellent choice for those looking for exceptional value without compromising on quality. As a bonus, it comes equipped with a vacuum valve right out of the box, providing added peace of mind to budding underwater photographers by safeguarding against potential leaks. This vacuum system, combined with Ikelite's innovative dry lock (DL) port system and a clear back, allows you to keep a vigilant eye on your camera's safety, ensuring it remains dry even at depths of up to 200ft.
The Ikelite to Canon TTL converter, renowned for its speed and accuracy, further enhances the shooting experience for underwater photographers, making Ikelite housings a top choice for many professionals and enthusiasts alike.
Pairing the Ikelite 200DL housing with the Sony A6700 unlocks a world of possibilities for underwater creatives. The A6700's 26-megapixel back-illuminated Exmor R CMOS sensor guarantees exceptional image quality, capturing the mesmerizing beauty of the aquatic world with stunning clarity. Its hybrid autofocus system, boasting 759 phase-detection points and 25 contrast-detection points, ensures swift and precise focusing on your subjects, even in challenging underwater conditions.
Marelux Sony A6700 underwater Housing
*Superb Ergonomics, Durable, High-end Innovative Features*
Immerse yourself in the ultimate underwater photography experience with the Marelux A6700 underwater housing, expertly crafted from a high-grade aluminum alloy. Embodying durability and resilience, this housing surpasses all expectations, withstanding the most demanding conditions without a hitch.
Experience flawless ergonomics as all camera controls remain readily available at your fingertips, ensuring a seamless shooting experience. Its compact design boasts a small footprint, making it an ideal travel companion for adventurous photographers.
Labeled with utmost clarity, the buttons on this housing offer intuitive operation, granting you effortless access to essential functions. Additionally, assembling the housing is an absolute breeze, further enhanced by the quick release plate, facilitating swift camera installation.
The Marelux A6700 underwater housing boasts an impressive depth rating of 100m, providing you with the freedom to explore and capture the mesmerizing underwater world.
About the Sony A6700 Mirrorless Camera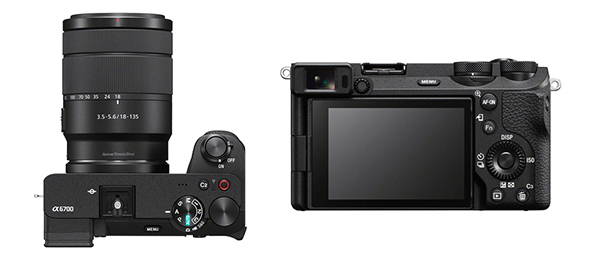 Sony has announced the A6700, a brand-new APS-C interchangeable lens mirrorless camera designed for enthusiast photographers and videographers. Promising high-end, professional-grade performance, the Sony A6700 mirrorless camera incorporates an improved image sensor and dedicated AI processor.
The Sony A6700 has been a long time coming. Its predecessor, the A6600, was announced way back in August 2019. More Megapixels, Power, and AI The lengthy wait has allowed Sony to include a lot of new features in the A6700, including a new sensor. The A6700's 26-megapixel back-illuminated Exmor R CMOS sensor appears to be the same sensor that debuted in the FX30 cinema camera Sony released last September. For reference, the Sony a6600 includes a 24.2-megapixel sensor that is not backside-illuminated. Paired with the new sensor is a powerful Bionz XR image processing engine and a dedicated AI Processing Unit. The AI Processing Unit enhances image processing and autofocus performance.
The camera's native ISO range goes from 100 to 102,400 for still photography and is capped at ISO 32,000 for video. Sony claims that the camera delivers 14+ stops of dynamic range during movie recording. Despite not being a stacked image sensor, Sony states the 26-megapixel APS-C Exmor R sensor delivers "extremely fast" sensor readout speed. The camera can shoot up to 11 frames per second using its mechanical or electronic shutter with full AF/AE tracking.
Improved Video Performance and Modes Underpinned by Better Sensor and new AI As for video, users can record 4K video with full-pixel readout or 6K oversampled footage. Among other noteworthy video features, the camera offers 4:2:2 10-bit video, All-I, 4K/120p, FHD/240p, and S-Cinetone and S-Log3 profiles. Sony a6700 crop factors The AI processor offers numerous benefits. Beyond the expected subject recognition and tracking features for autofocus, the AI also promises smoother focusing during movie recording and can be used for an Auto Framing feature. Auto Framing automatically centers, repositions, and crops the frame to keep the subject in prominent positions within the scene.
The Sony A6700 mirrorless camera has a 759-point phase-detection AF system, with points covering 93% of the total image area. Alongside new subject detection modes such as Insects, Cars, Trains, and Planes, the Human and Animals and Birds autofocus modes promise improvement. The a6700's Eye AF is 60% better, while Animal and Birds AF performance is more than 40% improved.
Features:
26MP Exmor R APS-C BSI CMOS Sensor
5-Axis Stabilization
UHD 4K Video - Capable of capturing 4K video @ 120fps and FHD @240fps. No recording limit. 10-Bit 4:2:2
4D Focus
Sony NP-FZ100 Battery - for longer battery life (570 shots)
THE NEXT STEPS AFTER YOU PICK YOUR HOUSING: