Best Underwater Camera for Snorkeling
These are our favorite underwater cameras for snorkeling. Snorkeling is very streamlined activity and therefor it is important that cameras for snorkeling remain small and compact. You will want to consider the resolution and image quality of the sensor, the video capability, and ergonomics. Because you don't have a scuba tank, you will need to react quickly and know your camera well. We have selected the most ergonomic, easy-to-use, and lightweight underwater cameras availabe. We also added some smartphone housing options. Afterall, a smartphone housing can be one of the most affordable ways to get started taking underwater photos and video. An added benefit is that you can immediately start posting to social media as soon as you get out of the water!
---
Jump To:
---
SeaLife Micro 3.0 Camera
The SeaLife Micro 3.0 Camera  just might be the easiest underwater camera to use for both photo & video. We receommend it to any diver who is looking for a no-frills, ergonomic source of underwater content. These are the shooters that may not be looking to get a professional image, but need a simple tool to document their dive and what they see in the beatuiful underwater environment. The SeaLife Micro 3.0 is designed to be permanently which makes it flood-proof for the lifetime of the camera. There is no need for any o-ring maintenance and no need to think about a flood. The battery life is also wonderful - it can be operated for more than 3 hours which is great for a full day diving.
Operating the camera is easy - it's equipped with three wide piano key type buttons that are easy to locate and control even while wearing thick gloves. The camera is also equipped with the  "Easy Setup" feature that quickly guides you through the correct settings based on the shooting environment, depth, and lighting accessories that are being used.
Camera Features:
16 MegaPixel Sony CMOS image sensor
Permanently Sealed
3+ hours battery life
Built-in 64GB memory card
Easy Operation
"Easy Setup" feature
Capable of manual white balance and RAW format for post-processing
100° Lens
SeaLife Micro 3.0 Packages: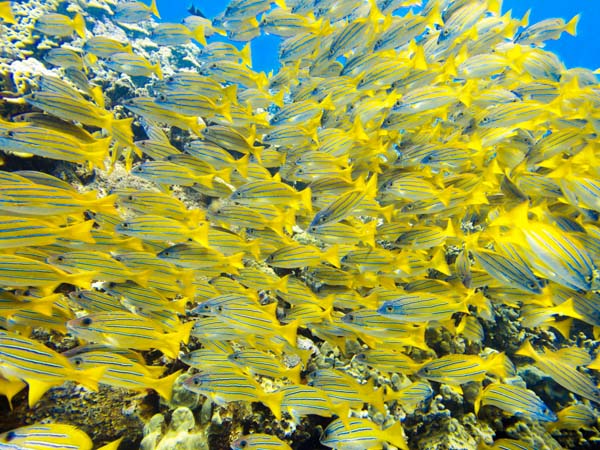 School of Ta'ape Lanai,HI. SeaLife taken with SeaLife Micro 3.0
SeaLife RM-4K Ultra Compact Camera
The SeaLife RM-4K Ultra Compact Underwater Camera is a small and compact action camera which features a 14 megapixel Panasonic CMOS sensor and allows you to capture 4K videos @ 30fps. This is great for divers and snorkelers. The camera captures sharp and colorful 14 MP photos and videos with its built-in color correction. Its fisheye lens gives you a 140° field of view. The ergonomics of the camera is also superb. It is very easy to operate even while wearing thick gloves.
Camera Features:
14 megapixel Panasonic CMOS image sensor
Captures 4K video @ 30fps
Built-in color correction
Whopping 140° field of view with a fisheye lens
Unique pressure lock thumb screw seal system
Integrated with Moisture Muncher
4 button control system
Wifi
2" LCD screen
SeaLife RM-4K Packages:
Olympus TG-6 Camera
Read our Full Review of the Olympus TG-6 Camera
The Olympus TG-6 Camera is small and compact, the same size as its predecessor (TG-5) which means the 2 cameras can share the same housing. The TG-6 is a very popular underwater camera that can also be used when snorkeling as the camera is waterproof up to 50ft. So if you don't do a lot of deep free diving, you don't need a housing! The camera features a high-speed 12 MP sensor designed for excellent low light performance and noise reduction. It shoots 4k video, RAW photos, and includes built-in WIFI, making transferring photos on the go a breeze. What makes this very special is its microscope mode which excels in macro shooting. 
Camera Features:
Bright f/2.0 Hi-Speed Lens
Anti-reflective coating to glass around sensor (reduces flare and ghosting)
12MP Hi-Speed Image Sensor for Improved Low Light Performance and Noise Reduction
Improved LCD: 1.04 million dots compared to 460 K dots on the TG-5
Improved microscope mode 
Microscope mode available in program and aperture priority mode
Dual Quad Core TruePic™ VIII Image Processor
Image File Format: RAW, JPEG and RAW+JPEG
4K and High Speed Video
Field Sensor System w/ GPS, Manometer, Compass & Temperature Sensor
Waterproof,  Shockproof, Freezeproof, Crushproof
3" LCD Screen
Olympus TG-6 Packages:
Shot in Mircroscope mode
Canon G7X Mark III
Read our Full Review of the Canon G7X Mark III
The Canon G7X Mark III camera is a tiny camera with a large 1-inch, 20 MP sensor, a direct competitor to the Sony RX100 series cameras. It is an excellent, fast-focusing camera with great image quality and has dedicated macro focus. The camera also boasts 4K video, slow motion video, a bigger image buffer, a new stacked sensor, a better image processor, and quicker burst shooting over the G7X II.
With all of these features at an affordable price, we have chosen the Canon G7X III as the Best Value Camera. The Canon G7X Mark III also has advantages over recent RX100 series cameras like the RX100 VII, because you can shoot both wide angle and macro on the same dive! The Canon G7X Mark III has advantages over the Olympus TG-6 camera because you can have full manual control with the G7X Mark III. 
Camera Features:
DIGIC 8 image processor
New stacked CMOS sensor
20 fps burst mode (upgraded from 8fps)
70 shot RAW buffer (upgraded from 21 shots)
Ultra-fast electronic shutter for shooting wide open aperture in daylight – 1/25,600s
4K video @ 30fps and 1080p @ 120 fps
Slow motion video (120 fps in 1080p)
Supports vertical video shooting (not for live-streaming)
Supports live streaming videos to YouTube
Built-in Bluetooth and WiFi
Ability to shoot panoramas
Canon G7X Mark III Packages:
Sony RX100 VA, and VII
Both are excellent for image quality, autofocus speed, & shooting video
The Sony RX100 VA & RX100 VII cameras are the top-of-line compact cameras to date. One notable feature of the camera is its autofocus, it is lightning quick in both cameras which makes it great to capture action/behavior photos or shooting quick animals like sharks and sea lions. These cameras feature a large 1" sensor with 20 MP resolution. Each camera is equipped with excellent image quality, fast autofocus, useful video modes (like slow motion), and full manual controls. The RX100 VA's key upgrade is 24fps sequential shooting, enhanced image buffer, and a customizable menu system. The RX100 VII has some minor improvements over the VI including quicker autofocus with a better autofocus tracking system, burst modes without blackout, and quicker processing. The RX100 VII comes at a heftier price tag, but it's a great option for people who want to take advantage of its autofocus tracking system - especially for the video which can now be captured for an unlimited amount of time.
Comparison:
 

RX100 VII Key Features:

1-inch 20.1 MP stacked CMOS sensor
BIONZ X processor
Built-in 24-200mm (equivalent) f/2.8-4.5 zoom lens – same as the RX100 VI
Electronic shutter up to 1/32000s
4K video with full pixel readout (no pixel binning)
S-LOG2, S-Log3, and HLG picture profiles
Pop-up EVF (2.36 million dots)
No more built-in ND filter
Tilting touch screen LCD
Wifi and Bluetooth capability

RX100 VII Key Features:

20.1-megapixel 1-inch Exmor RS BSI CMOS sensor
315-point phase detection autofocus system - focuses in 0.05-sec
24 fps RAW burst with AF tracking for up to 233 photos
Zeiss Vario-Sonnar 24-70mm F/1.8-2.8 lens
Anti Distortion Shutter minimizes rolling shutter effect when recording video

 

 

 
Sony RX100 Mark VA and VII Underwater Housing Options:
Sony RX100 V/VA Underwater Packages:
Sony RX100 VII Underwater Packages:
Bext RX100 Series Wet Lenses: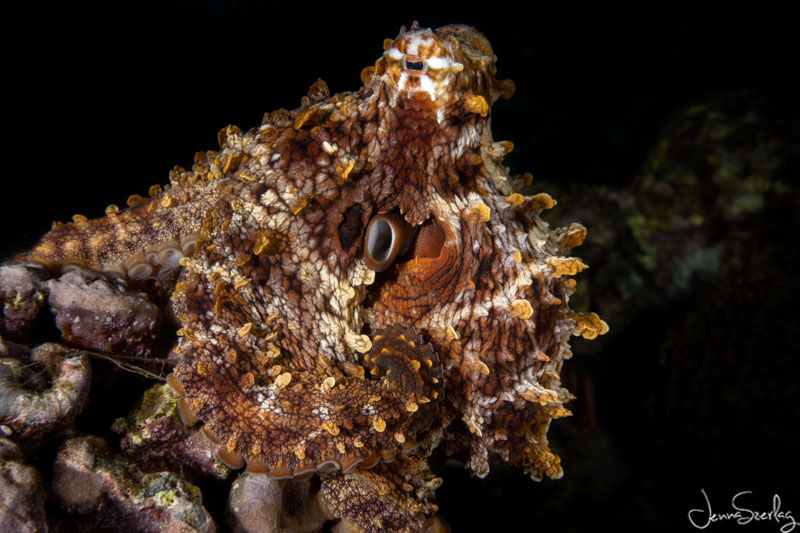 Day Octopus Sony RX100 VII f/6.3 1/250 ISO 10
---
Smartphones are a great way to capture content while snorkeling and immediately share it to friends and family, without needing to download the images to a computer first. It also tends to be more affordable to invest in a smartphone housing than to purchase a new underwater camera alltogether. Many smartphone housings are packed with safety features to ensure that you don't lose any precious data - including moisture alarms and vacuum systems. 
Kraken Sports KRH04 Universal Smart Phone Housing
The Kraken Sports KRH04 Universal Smart Phone Housing is our top choice for smartphone housings. It is built from aluminum material which makes it durable and robust. In addition, the build quality is outstanding and is filled with lots of features. It has a built-in vacuum pump and sensor which allows you to draw out air from the housing and check if there are leaks prior to diving. This gives you peace of mind that your phone is safe inside. There are also 2 options, basic and pro version (with temperature and depth gauge). To enhance your shooting experience, wet lenses are compatible with the housing. The most important feature of the housing is that it is compatible with the latest and most popular smartphones available in the market. 
KRH04 Packages:
SeaLife SportDiver Housing
The SeaLife SportDiver Smartphone Housing has been designed to be used with the popular iPhone and Android phones. It is compact and lightweight and built from polycarbonate material with stainless steel, aluminum, and optical glass which enables you to capture tack-sharp photos and videos. Setting up is a breeze. Operation is also very easy with its large shutter lever and rear control buttons 
SeaLife SportDiver Packages:
Nautismart Smart Phone Housing
The Nautismart Smart Phone Housing is the bang for the buck option. Affordably priced yet durable. It is built from polycarbonate material and features a 67mm thread attachment for macro & wide-angle wet lenses. It also features a clear back which means taking selfies is possible! Compatible with both Android and iOS phones. 
Wreck reefscape in Sri Lanka. Shot with iPhone 6s Plus in Kraken Smart Phone housing and dual 
Kraken Hydra 5000 lights
. Photo: Brent Durand
---
Related "Best Underwater Camera" Articles: