March 31, 2017
We have just put together an in-depth review with the team at the Underwater Photography Guide, testing the video capabilities and new features of the Panasonic LUMIX GH5 micro 4/3 mirrorless camera.
The GH5 is currently available for pre-order but we were able to get a pre-release camera to test and review.
The Panasonic GH5 is packed full of carefully thought-out features designed to let videographers of all levels record what they need with the new system. The body is larger and the price tag increased as a result, but the video produced speaks for itself.
Be sure to read the complete Panasonic GH5 Camera Review on the Underwater Photography Guide.
Purchase the Panasonic GH5 camera.
Panasonic LUMIX GH5 Specs
20MP Four Thirds sensor (no OLPF)
5-axis in-body image stabilization system with 'Dual IS 2' support
All 4K footage taken using full width of sensor (oversampled from 5.1K footage)
Internal 4K/30p 10-bit 4:2:2 video capture
4K/59.94p and 50p shooting with 10-bit 4:2:2 output or 8-bit, 4:2:0 internal recording
1080 video at up to 180p, enabling 7.5x slow-motion
225-area Advanced Depth-From-Defocus AF system
4K and 6K Photo, 18MP stills at 30 fps using HEVC or 8MP stills at 60 fps using H.264
12fps (AFS) or 9fps (AFC) burst shooting
Advanced DFD autofocus
Dual UHS II card slots (V60 ready)
Autofocus point joystick
5GHz Wi-Fi, NFC and Bluetooth
Pre-configurable rack focus mode
Waveform and vectorscope monitors
3.2" RGBW free-angle touchscreen LCD
Notes on Firmware Upgrade Path
The Panasonic GH5 will ship with firmware version 1.0. Those who have been following the first reviews know that some features will become available only after two scheduled firmware updates. Below is the schedule as we understand it.
Upgrade Available at Launch:
V-Log Color Profile ($100). Note that if you purchased this for the GH4 you will need to buy it again.
April Firmware Update:
4:2:2 10bit update for 1080p (v1.0 includes 4:2:2 10bit for 4K and UHD)
Summer 2017 Firmware Update:
High Resolution Anamorphic (4992x3744 pixels, 4:3, 18MP)
Full HD 4:2:2 10bit ALL-Intra (200Mbps)
4K 4:2:2 10bit ALL-Intra (400Mbps)
Panasonic GH5 Sample Footage and Test Video
Panasonic GH5 Sample Footage. Note that 60fps comparison is slowed to 50% speed. Video by Bobby Arnold.
GH5 vs. GH4 Comparison Video
Panasonic GH5 vs. GH4 Comparison Video. Note that 60fps comparison is slowed to 50% speed. By Bobby Arnold.
Stay tuned for updates on Panasonic GH5 underwater housings.
Including each of the sections below:
Kelli Dickinson: Detailed GH5 Comparison with Olympus E-M1 Mk II and Sony a7R II
Specs - Physical - Battery Life - Electronic Viewfinder / EFV - AF Speed - ISO
Image Detail - Kelli's Conclusion
Bobby Arnold: Detailed GH5 vs. GH4 Video Comparisons
First Impressions - Video & Photo Comparison - GH5 vs. GH4 Comparison Video
Image Stabilization - GH5 Test Drive Video - Final Thoughts
Brent Durand: General Shooting and Features
GH5 In the Field - Setting Custom White Balance - Post-Focus - 6K Photo - Burst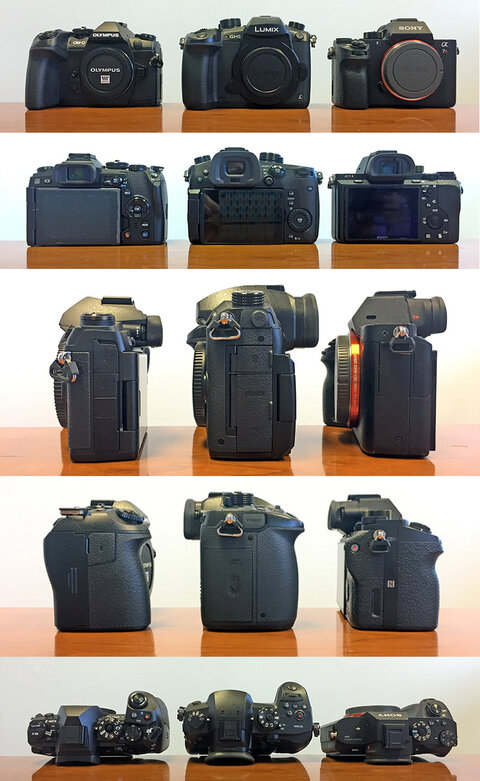 Comparing the physical size of the Olympus OM-D E-M1 Mk II, Panasonic GH5, and Sony a7R II.