G7X Mark II Camera Review
The Canon G7X Mark II Camera is an impressive camera squeezed into a compact body. The second generation of the G7X, it offers the same large 1" sensor size and lens, but incorporates Canon's DIGIC 7 image processor which supports a number of performance improvements. It offers a better autofocus tracking, faster continuous shooting, faster startup, enhanced images stabilization, and a longer battery life than its predecessor. It also records 14-bit RAW files instead of 12-bit like the G7X, which results in more data, which means more room for advanced post-processing.
Althought the Canon G7X Mark III has been released, the G7X Mark II is still a compelling camera for underwater.
---
Features | Lens Recommendations | Housing Options
Underwater Settings | Comparison | Final Thoughts
---
Why We Love the G7X Mark II
The Canon G7X Mark II compact camera is powerful and capable of creating some exceptional underwater photos/videos. It has a 1" large image sensor and a great lens. The fast processor allows for quick autofocusing for photo and video shooting while the small compact size is perfect for travel, without the sacrifice of image quality. Canon has a long reputation for excellent image quality and the G7X II holds true to this, delivering crisp images, great color, and bold contrast.
---
---
The Bottom Line: The Canon G7X Mark II delivers excellent image quality in a very small camera body. While it faces tough competition for underwater video from other cameras in its category, like the Sony RX100 series, the Canon G7X Mark II holds its own for still photography. 'Shutter Lag' (actually focus lag) is barely noticeable, even when shooting in low light underwater. The 1" sensor delivers great color, and the speed of the new processor is readily apparent when powering on the camera, shooting in burst mode and also while focusing. Pair the G7X Mk 2 with a nice underwater housing and you have a versatile, excellent photo rig for both macro and wide-angle.
Key Specs:
Bright f/1.8 (w) - f/2.8 (t), 4.2x (24-100mm equivalent) optical zoom lens with IS and 9-blade iris diaphragm
1-inch 20.1 megapixel CMOS sensor
New DIGIC 7 image processor
Multi-angle 3.0 inch capacitive touch panel display
1080p Full HD video recording
In-camera RAW conversion/editing (customize and view edits prior to sharing from camera)
WiFi and NFC built-in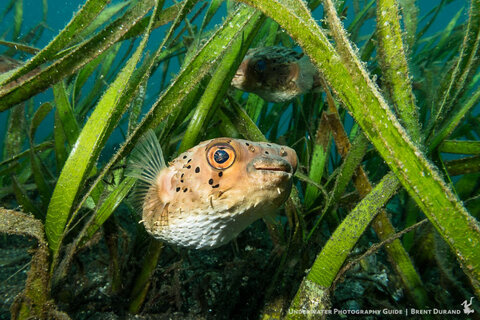 A pufferfish smiles from inside some sea grass. Canon G7 X II in Fantasea housing with single SeaLife Sea Dragon Flash. Lembeh Strait. ISO 125, f/8, 1/125. Photo: Brent Durand
G7X Mark II Features
Macro Powerhouse
Macro with the G7X II is really great. You can zoom in a bit past halfway and still use autofocus, or switch the camera to macro mode and get closer to the subject without even zooming in. Autofocus has no trouble finding the subject and maintaining track. The 24 - 100mm lens offers a great zoom capability right out of the box, but then when combined with a diopter like the CMC-1, provides you with some really amazing super macro opportunities. Once you've gotten yourself stable and ready, bump it to manual focus, zoom all the way in, snap on your diopter, and prepare to be amazed by some great images.
New Processor
Thanks to the DIGIC 7 processor that has been added to the G7X Mark II cameras, there have been some major improvements to processing power. This results in super fast autofocusing speeds, as well as reduction in noise helping capture images well in any lighting situation. This also provides faster continuous shooting, now reaching up to 8 fps when shooting both JPEG and RAW.
Better Battery Life
Thankfully improving its battery power, the newer G7X Mark II offers a longer battery life, allowing you to snap more photos before needing to swap for your next dive. Likely one of the main drawbacks on the original G7X, the new version offers a boost of 25% battery life. Although still not the strongest battery strength vs some of its rivals, it offers plenty to last through your dive and swap over once you're up and dry.
Body and Controls
The Canon G7X Mk II controls have great ergonomics, resulting in the camera being easy to hold and shoot. One great thing to note is the front control ring, which controls aperture when in manual mode (but can be changed quickly through a dedicated button). This in combination of the rear control ring allows you access to shutter control and aperture right out of the box. Both can also be custom-programmed to function differently as well. The video record button is also in a remarkably convenient location. It's tucked under the thumb grip on the back of the camera which makes it easy to access, but also difficult to accidentally hit. All the remaining menu buttons like playback and such are tucked under the thumb so that they are out of the way but easy to press as well.
Garibaldi photo by Michael Francisco.
G7X Mark II vs the Competition
Is the G7X Mark II the right option for you? Take a look at the specifications compared against other similar compact cameras. You'll see the camera matches or beats its competitors in a number of key aspects. It matches the Sony cameras on auto-focusing speed, while beating out the TG-5 and G16. Its lens holds the higher 20MP while also providing some of the best lens specs of 24 - 100mm F1.8-2.8 - ideal for macro photography. It's lower than average on battery life, but still should last 2-3 dives. Most noticeably, it's one of the more affordable camera options vs some of the other options.
G7X Mark II

Sony RX100 V

Olympus TG-5

Panasonic LX10

Price

$699

$899

$449

$699

Max Resolution

5472 x 3648

5472 x 3648

4000 x 3000

5472 x 3648

Effective Pixels

20 MP

20 MP

12 MP

20 MP

Sensor Size

BSI-CMOS

(13.2 x 8.8 mm)

BSI-CMOS

(13.2 x 8.8mm)

BSI-CMOS

(6.17 x 4.55 mm)

BSI-CMOS

(13.2 x 8.8mm)

ISO

Auto, 125-12800

(Expands to 25600)

Auto, 125-12800

(Expands to 80 - 25600)

Auto, 100-12800

(Expands to 100)

Auto, 125-12800

(Expands to 80 - 25600)

Custom White Balance

Yes

Yes

Yes (4 Slots)

Yes (4 slots)

Image Stabilization

Optical

Optical

Sensor-shift

5 Axis 'hybrid' when recording 1080p and below

Auto-focus

Contrast Detect, 31 pts

Contrast & Phase Detection, 315 pts

Contrast Detection, 25 pts

Contrast Detection, 49 pts

Flash Sync Speed

N/A

N/A

N/A

N/A

Burst Shooting

8 fps

24 fps

20 fps

10 fps

Video Formats

MPEG-4, H.264

MPEG-4, AVCHD, XAVC S

MPEG-4, H.264

AVCHD Progressive, AVCHD, MP4

Max Video

Resolution

1920 x 1080 (60p)
3840 x 2160 (30p)
3840 x 2160 (30p)
3840 x 2160 (30p)

LCD Screen Size

3" Tilting

3" Tilting

3" Fixed

3" Tilting

Screen Dots

1,040,000

1,228,800

460,000

1,040,000

Electronic Viewfinder

N/A

100% Coverage at 0.59x magnification

N/A

N/A

Viewfinder Resolution

N/A

2,359,296

N/A

N/A

Battery Life (CIPA)

265

220

340

260

Weight

319 g (.70 lb / 11.25 oz)

299 g (.66 lb / 10.55 oz)

250 g (0.55 lb / 8.82 oz)

310 g (0.68 lb / 10.93 oz)

Dimensions

106 x 61 x 42 mm (4.17 x 2.4 x 1.65")

102 x 58 x 41 mm (4.02 x 2.28 x 1.61″)

113 x 66 x 32 mm (4.45 x 2.6 x 1.26″)

106 x 60 x 42 mm (4.17 x 2.36 x 1.65″)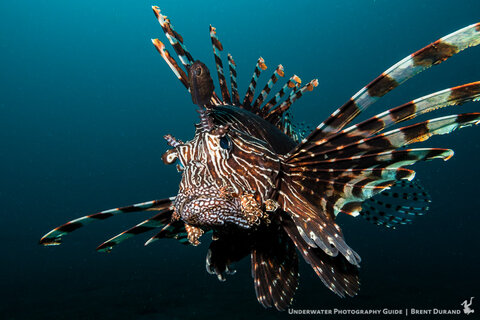 A lionfish eyes the Canon G7 X II in Fantasea FG7X II housing. Shot with a single SeaLife Sea Dragon Flash. Photo: Brent Durand
Best Wet Lenses with the G7X Mark II
There are a number of great lens options that are compatible with the G7X Mark II camera. Due to the camera being a compact camera, you are restricted to just its native lens, but when combined with wet lenses, you end up with the versatility of shooting super macro, or wide angle even during the same dive!
Macro Wet Lenses:
When shooting with a macro lens, the camera is able to focus much, much closer to the subject than without. In addition these lenses provide varying degrees of magnification, further improving the macro capabilities of the Canon G7X Mark II. Zoom the camera in all the way, and choose a lens with a level of magnification that is good for the type of subject you plan to shoot - from small, to miniscule!
Bluewater +7 Macro Lens - The Bluewater +7 is a high-quality two-element macro lens made of optical glass. It is UV-coated and anti-reflective. It offers a much cheaper price point than the Nauticam lenses, although it also offers slightly less magnification. Bluewater +7
Nauticam Compact Macro Converters (CMC-1 & CMC-2) - Both Nauticam CMC lenses offer amazing sharpness, with varying strengths of magnification. 4.5 & 2.8 average magnification respectively, it's great to have both within your quiver of lenses for maximum versatility while diving and shooting macro. Nauticam CMC-2 or Nauticam CMC-1
---
Read our complete guide to Wet Macro Lenses on our Buyer's Guide.
---
Wide Angle Lenses:
Adding a wet wide angle lens to the front of your port drastically increases the angle of view and often allows you to focus the camera closer to the subject than before. This means, easier & improved lighting, less chance of backscatter and a wider angle of view for stunning reefscapes! The Canon G7X Works well with several different wide angle lenses, though you may need to zoom in a touch with lenses designed for 28mm cameras or you will see a bit of vignetting in the corners of your image.
Fantasea UWL-09 Wide Angle Lens - This wide-angle option provides a great 130-degree Field of View, allowing you to switch over to wide angle for reefscapes, large animals coming in close, etc. Image results are sharp from corner to corner with minimal abberations. In addition, the lens will focus through out the zoom range of your camera. Fantasea UWL-09
Kraken Sports KRL-01 - The KRL-01 was designed to work with a variety of cameras at 24mm focal length, and features full zoom through capability. It has a multi-layer BBAR coating for anti-reflection and improved optical clarity. It is even compatible with micro 4/3 and full frame cameras, providing a great choice for anyone who may upgrade in the future. Kraken KRL-01
---
Read our complete guide to Wet Wide Angle Lenses on our Buyer's Guide.
---
Spanish Shawl Nudibranch photo by Michael Francisco.
Underwater Housing Options
There are five great underwater housing options to choose from when taking the G7X Mark II underwater. Note - the G7X Mk II is not compatible with the original G7X underwater housings, and vice versa.
---
---
Each of the underwater housings above will offer control of all primary camera functions and provide a secure enclosure for use underwater. Some housings are higher quality, and offer a variety of added accessories, while others stick to the basics and allow users to enjoy a no frills, straightforward diving experience.
Choose Fantasea, Recsea CW or Ikelite if your focus is on the dive and photos are just for fun. In addition either of these options are great for those on a budget. If you really like to tinker with your photos or settings a higher end aluminum housing, such as Nauticam or Recsea Aluminum is recommended. All housings feature fiber optic ports for attaching strobes, and the ability to add a tray with handles for a more professional feel.
The Nauticam G7X Mark II underwater housing goes one step further with a unique port system allowing you to swap the front port for a more dedicated shooting set up - a flat port which does not allow the camera to zoom for shooting wide with a wet lens (reduces or removes any vignetting), a domed port for basic wide angle and the standard flat port for shooting just the camera or with a macro diopter.
---
---
Juvenile Goby by Michal Ross. G7X Mark II, with CMC-1 Diopter.
Underwater Settings for the Canon G7X Mark II:
Check that these key functions are set on your camera menu before diving with your Canon G7X Mk II.
Image Quality - RAW

If you don't do post-processing, then set to JPEG with the L / smooth icon.

AF-assist Beam - OFF

We use our focus light for underwater!

Flash - Red Eye Lamp OFF
On white balance: Underwater videographers will find that the Canon G7X Mark II has no one-touch custom white balance. Videographers looking to record with a custom white balance must take a photo at depth, then enter the camera's menu (camera menu tab 6), select Custom WB, and then follow instructions to set the WB off the desired image (2 more clicks). The white balance mode can be adjusted through the Quick menu (in 2 clicks) or through customizing the Ring Control button (1 click), but note that this simply provides access to the menu for selecting the WB mode (auto, cloudy, tungsten, etc.).
---
Read through our comprehensive article on the Best Underwater Settings for the G7X Mark II for more useful tips and starting points when shooting with this camera underwater.
---
Shooting Macro:
Remember that aperture controls your depth of field, choosing a larger number aperture will mean more of the image will be in focus.
When shooting Macro with a strobe:
Manual Mode
Aperture between F9
Shutter Speed 1/250 and up!
ISO 125
Auto White Balance
Strobe on manual power, start at 1/2 power and adjust from there

Position the strobe(s) slightly above your camera and facing down and slightly towards (but not directly at) the subject for good even lighting and shadows.

If using a zoom lens and a diopter remember to zoom all the way in.
When shooting Macro with a video light:
Manual Mode
Aperture between F5-F11
Shutter Speed - start at 1/100th

Change shutter speed to get the best exposure without blurring.

ISO 125 (if you have a strong dive light or video light)
Auto White Balance
Video Light on High Power

Position it above and pointing down at your subject for best coverage.

Get close! Remember the video light will not travel far through the water.
Shooting Wide Angle
Remember that shutter speed controls the amount of ambient light in the photograph. The faster the shutter speed, the less light in the background.
When shooting Wide Angle with a strobe:
Manual Mode
Aperture at F5.6
Shutter Speed at 1/125th (adjust shutter speed to get a well-exposed background)
ISO 200
Auto White Balance
Camera on Fill in Flash, Strobe on TTL (or manual if preferred)

Position dual strobes the same distance apart as you are from the subject (ie: 2ft from your subject, strobes are 2ft apart). Face them straight forward or slightly turned out to help eliminate backscatter. If subject is more than 2ft away, turn off your strobes to minimize backscatter (since strobe light won't reach that far anyway).
When shooting Wide Angle with ambient light:
Adjust your aperture and shutter speed from the settings above properly expose the foreground (ie: let in more light).
Shoot with the sun behind you for better colors and less shadows.
Photo by Jennifer Raiche in Anilao Philippines
Final Thoughts:
The Canon G7X Mark II offers fantastic image quality in a small camera body. While it has tough competition in its category, it performs well (if not slightly below) the RX100 series in relation to underwater video, while holding its own/outshining competitors in relation to still photography. The biggest focus for the camera would be its macro and supermacro capabilities. The new processor has provided a wealth of upgrades from the original G7X, offering quick power-ons, focusing, shooting in burst mode, and more. The 1" sensor delivers great color and quality. Also offering a large selection of housings, this camera is a great option for providing you with a versatile photo rig for macro and wide-angle.
Cenote photo by Michael Francisco.