Sola 800 Photo Light
LIMITED QUANTITY AVAILABLE
Possibly the best focus light ever made
Product Overview:
The Sola 800 photo light from Light & Motion is the latest upgrade to the revolutionary SOLA lights.  Simply better and still half the size of the competition, it produces more light than any focus light in its price range. Its wide flood doubles as a general video light for the new classes of camera with video capability and the red light lets you sneak up on the sea-life.
Here is a quote from Bluewater Owner Scott Gietler: "The Sola photo 800 is one of the best focus lights that I"ve ever used. It is small, and ultra-easy to turn on, turn off and change power. The strength and beam angle are perfect for macro photography. You can not go wrong with this light."
** Please note: no mount is included with the Sola 800 Photo light, please select your mounting option from the drop down above. Thank you*
Sola 800 Product Video:
Sola 800 Light Features:
3 levels of broad, 60 degree white light, 3 levels of red
65, 130, and 260 minutes of burn time respectively on the 3 power settings
Tiny and light, only 283 grams, 57mm x 101mm in size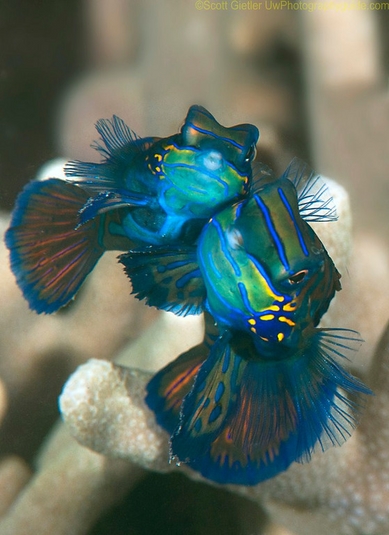 Mating mandarin fish, taken with the Sola "red" light. The red light did not scare the otherwise shy mandarin fish, and actually allowed my Nikon 105mm lens to lock focus fairly quickly, even though it was after dark. Amazing! Photo by Scott Gietler
This very shy Scythe Butterfly fish was deep in a small cave. From a distance with my 105mm lens and Sola 800 red light, I was able to get a shot I was very happy with.
This Zebra Goby is extremely shy, and only lurks in very dark out of the way places. I switched from red light to white light to maximize my focus speed - since the red on red did not produce the best contrast, and the white light did not seem to affect the fish. This allowed my Nikon 105mm lens to focus as quickly and accurately as possible.
Still want to focus extremely fast but don't want to pay for the red light? Check out the Sola 500 photo light. 
Sola 800 CHARGER
The Sola 800 photo lights have a factory sealed body so you never need to worry about flooding. Control is accomplished through a magnetic tap switch that allows quick power changes and locks for travel.  Three indicator lights behind the bezel report the power and battery charge status.
Mounting Options:
Choose from a wide variety of mounting options. For photography the 1" ball mount allows you to mount your dive light on your SLR rig and use with Ultralight arms. Video, LocLine mount works for 1/2" Locline flex arm systems. YS Mount allows for attachment on YS style flex arms. The wrist mount offers comfortable neoprene padded molded plate with locking light release and adjustable straps Size large and small available.  
Lumens (White / Red):
High- 800 / 226
Med- 400 / 113
Low- 200 / 57
Run Time (Min):
High- 65
Med- 130
Low- 260
Charge Time:
150 Minutes
System Weight:
283 gr w Ball Mount
Size:
57mm x 101mm
Lumens (White / Red):
High- 800 / 226
Med- 400 / 113
Low- 200 / 57
Run Time (Min):
High- 65
Med- 130
Low- 260
Charge Time:
150 Minutes
System Weight:
283 gr w Ball Mount
Size:
57mm x 101mm
Dimensions:
4.00 (in)
×
4.00 (in)
×
6.00 (in)
Free Worldwide Shipping:
No