Sony A6300 Review
First impressions by Scott Gietler, with input from Larry Garvey
Intro to the Sony A6300
The Sony A6300 boats a new 24 megapixel APS-C sensor with 425 phase detection auto-focus points. It also adds 4K video, and doubles the resolution of the OLED viewfinder. Auto-focus is fast, and lens selection is now quite good. But is this camera a revolutionary upgrade, or just a decent improvement over the A6000?
Sony A6300 Auto-focus
The Sony A6300 boats 425 phase detection auto-focus points. Auto-focus is quite fast, although the responsiveness is not what you would expect from a dSLR. Performance is best with a mid-range or wide-angle lens. It is a huge difference from any compact camera you would use. The auto-focus does slow down a little at longer focal lengths in low light, which may cause issues when shooting small fish – but this will be the case with almost any mirrorless camera. Generally, the auto-focus underwater is fast and accurate - but this can vary by the lens.
One of our customers has found that the "Lock-on AF" focus area (only available in continuous focus mode) is very helpful in tracking dynamic subjects such as Clownfish etc.
Viewfinder
The electronic viewfinder is quite sharp and bright, and it is much easier to see details when using the viewfinder than the LCD screen. The viewfinder is my preferreed choice when shooting macro so I can see what I am shooting.
Controls / Handling
The A6300 offers well laid out controls, with several customizable buttons. For example, white balance can be assigned to one of the buttons.
The camera is small and light, but not small that the camera is difficult to hold, or that the controls feel cramped. In fact, it was quite a comfortable camera to use.
Menu
I really like the Sony menu system, it is intuitive and one can master the menu system after about an hour of use. The camera itself is highly customizable, especially the auto-focus settings, making this camera well suited for tinkerers.
High ISO performance
The A6300 is capable of shooting at ISO 51,200. which is quite a high ISO. It also has an innovative noise reduction mode that takes several shots in a row and combines the results to lower the noise of the photo.
Shooting at ISO 6400, the results were outstanding, and noise was barely visible, as you can see by the example photos shown here.

Sony A6300, F8, 1/4000th, ISO 6400

100% crop of ISO 6400 image, looks great!
High speed shooting
The A6300 is capable of shooting at a very fast rate of 10fps, with a 21 shot buffer. I tested this and it works well, with auto-focus locking on during my shots.
Detail
Detail will depend on the lens, but using the kits lens at 16mm at F8, the results are exceptional, with great detail right out of the camera at 100% crop.

Sony A6300, 16-50mm lens, F6.3, 1/1250th, ISO 200

100% crop of the photo above it, showing exceptional detail
Dynamic Range
As expected for having a large APS-C sensor, the dynamic range is outstanding, exceeding the range of micro-four thirds sensor cameras.

Sony A6300, shooting directly into the sun.
F11, 1/200th, ISO 100. Looks great for a sunball! Just a little flare.
White Balance
The custom white balance works quite well, it appears to be quick and accurate, and it can be assigned to one of three custom white balance banks, which is nice for a video shooter who wants to white balance at 3 difffernt depths.
Panorama Mode
The mode dial as a panorama mode that works quite well. The image stiitching is done in-camera, and produces a 6 megapixel jpeg file.
16-50mm kit lens, Nauticam WWL-1 lens
The 16-50mm kit lens is a small, low profile lens that is OK for starting out, and not bad for video, although when using this camera underwater I prefer to use a dedicated macro or wide-angle lens myself. The macro performance of this lens is not very good, unless you use a dedicated macro lens like the Bluewater +7 macro lens, and then you can focus much closer.
The 16-50mm lens can be combined with the Nauticam Wet Wide Angle Lens, for an excellent "wet" wide angle solution. The Nauticam WWL-1 lens is a zoom through lens, so the entire range of the 16-50mm lens can be used. A bayonet mount is available.
What we didn 't like
Can't set flash power to manual flash power; you may want to consider using an electronic sync for the fastest shooting capability with strobes
Sync speed in only 1/160th, which is not at all ideal for shooting wide-angle into the sun
Have to go into the menu to set to viewfinder or LCD monitor
Can't review photos in LCD if set to viewfinder
Battery drains easily. If you turn the camera off underwater some of the time, you can get 2 full dives underwater. You will want a spare battery.
Sony A6300 Lens Choices for Underwater Photography
Zeiss 12mm F2.8 - small lens and very good options, if you want a prime wide-angle lens
Sony 16mm prime + fisheye lens  - the best choice for coral reefs, divers, close focus wide angle, whale sharks, stunning photos
Tokina 10-17mm fisheye lens - you can use a Canon EF-S mount Tokina 10-17mm fisheye lens with the Sony A6300, with either a Metabones Mark 4 adapter ($399), or a Fotodiox adapter ($99). Both adapters allow you to auto-focus the Tokina fisheye lens. Email sales for more information on this solution.
Sony 16-35mm F4 FE ZA OSS - An excellent wide-angle zoom lens with a constant aperture for Sony E-mount full-frame cameras.
Sony 10-18mm F4 lens – a great wide-angle lens for sharks, rays, pelagics, tuna, dolphins, marine life portraits
Sony 28mm F2 FE (with Nauticam WACP and Nauticam WWL-1) - An affordable, fast prime lens with a versatile focal length for underwater photography.
Sony 16-50mm F3.5-5.6 Power Zoom - Pair this with a quality wet lens to capture stunning images time and again. 
Sony 30mm macro lens – not the best macro lens due to its short focal length, which means you have to get nanometers away from the subject to get 1:1 magnification. Because you are so close to the subject, it can be difficult to light the subject with strobes. However, it is a small light lens at a good price point.
Sony 90mm macro – the ideal macro lens for small fish and small critters, this lens has exceptional image quality, although it is a larger lens and a little costly. It does tend to hunt, and it needs a lot of light to focus on the subject.
Recommended Topside Sony Lenses
While we love to dive with Sony lenses, they perform to the same high standard on dry land too. If you're considering adding to your topside kit bag, look through the options below.
Telephoto
Sony 600mm F4 FE GM OSS - Ideal for capturing fast-moving subjects from a distance. This top-of-the-line telephoto lens is everything you'd expect from a flagship product.
Sony 200-600mm F5.6-6.3 FE GM OSS - The 200-600mm focal range is very versatile and can be used in a variety of situations.
Wide-Angle
Sony 12-24mm F4 FE Wide-Angle - A high-quality wide-angle zoom that's perfect for landscapes, interiors and other times when the goal is to get as much in the frame as possible.
Differences from the Sony A6000
Megapixels - both are 24 megapixel cameras
Autofocus points - the A6300 boats 425 autofocus points vs 179 in the A6000
LCD resolution - the OLED LCD shows much finer detail in the A6300, with 2.36M dots vs 1.44M dots in the A6000
Native ISO of the A6300 increase from 25600 to 51200.
4K video, only in the A6300
1080p video at 120fps for slow-motion video, only in the A6300
Compared to the Olympus / Panasonic mirrorless cameras
The Sony A6300 has a larger sensor than the micro-four thirds cameras, which means larger dynamic range, and less noise at high ISO's. Video and wide-angle capability of the A6300 is stunning and is equal to or better than the micro-four thirds cameras. If there was any drawback to the A6300, it would be that the Olympus 60mm macro lens is smaller, lighter, less costly, and focuses a little faster than the Sony 90mm macro lens. The Sony 90mm macro lens is a sharper lens that can create better bokeh than the Olympus 60mm macro lens. The 35mm equivalent of the Sony macro lens is 135mm, and the 35mm equivalent of the Olympus 60mm macro lens is 120mm. Personally my favorite lens is using a Nikon 105mm lens on a full-frame camera.
Sony A6300 Underwater Housings
Ikelite  A6300 Housing – Larger and heavier than the other housings, but at a different price point, and the housing itself works well and supports the major lenses, although there is only a dome port option for the 18-55mm & 16-50mm lenses, not a flat port option.
Nauticam A6300 Housing – well made aluminum housing, optional vacuum pump system, lightweight housing, very easy to handle. You can use the WWL-1 wide-angle lens with their 16-50mm port, for a good wet wide-angle lens option.
Recsea A6300 Housing  - Coming soon. The smallest housing on the market, made of aluminum, good ergonomics and easy to use in a wide variety of conditions. Not yet available, coming soon.
Aquatica A6300 Housing - Coming soon.
Conclusion
If you want the latest and greatest mirrorless camera, with the highest dynamic range and best image quality, the Sony A6300 is a top choice. However, we found the auto-focus speeds to be very good, but not revolutionary in low light as you may think from the marketing. Also, at almost half the price the excellent Sony A6000 looks very attractive if you don't have to have the very latest model.
Audio Commentary by BWP Owner Scott Gietler

With camera features, lens discussion, and a brief discussion of housings.
Sony A6300 Underwater Photos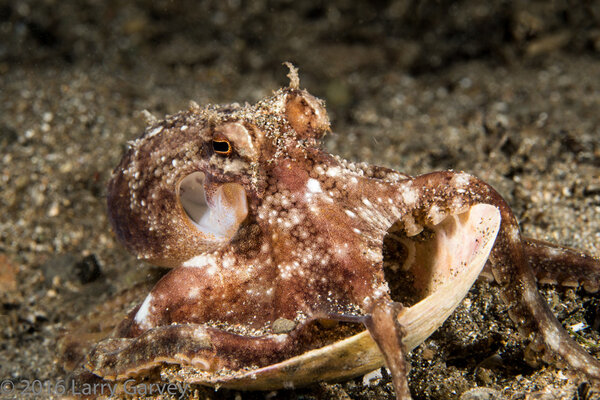 Portrait of a coconut octopus with shell. Sony a6300, Sony 90mm macro lens. ISO 200, f/16, 1/160.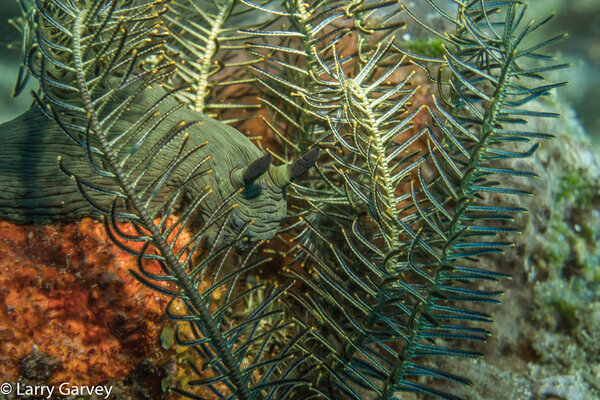 A nudibranch shot with ambient light. Sony a6300, Sony 18-55mm lens. ISO 800, f/16, 1/80.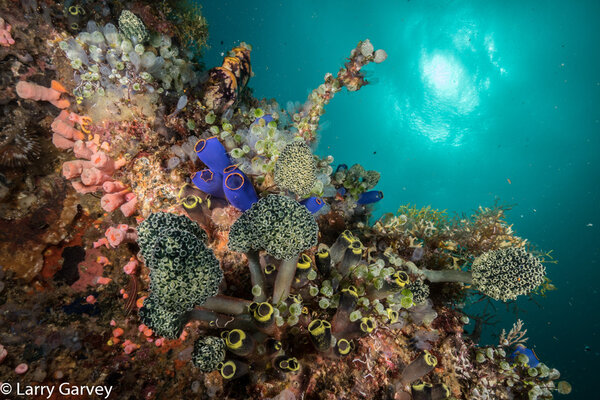 A beautiful Anilao reefscape with sunball. Sony a6300, Sony 10-18mm lens. ISO 200, f/22, 1/160.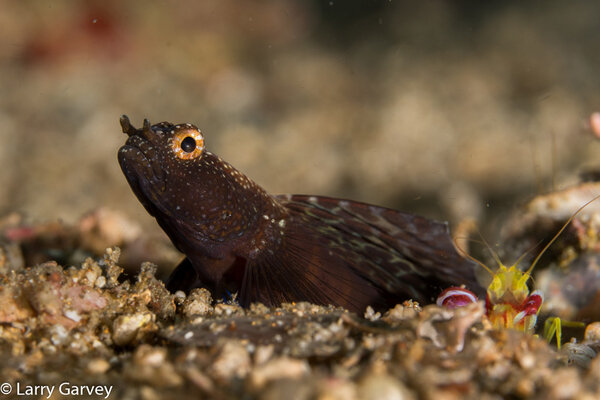 A magnificent shrimp goby and companion rest on the sand. Sony a6300, Sony 90mm macro lens. ISO 200, f/13, 1/125.