Buyer's Guide to the
Best Sony A7CR Underwater Housings
The Sony A7CR is a new full-frame mirrorless camera that was announced in September 2023. It is the successor to the popular Sony A7C.
The A7CR is a powerful camera that is well-suited for a variety of photography and videography applications. It is a good choice for both professional and amateur photographers who want a high-quality camera in a compact and lightweight body.
Here are some of the key features of the Sony A7CR in more detail:
61MP full-frame sensor: The A7CR's 61MP sensor is capable of capturing stunning images with incredible detail. It also offers a wide dynamic range and low-noise performance, making it a great choice for both stills and video.
New BIONZ XR processor: The A7CR's new BIONZ XR processor is faster and more powerful than the processor found in the A7C. This allows for faster autofocus, smoother video recording, and better image processing.
Improved autofocus system: The A7CR's autofocus system has been improved over the A7C's system. It now features 759 phase-detection points and 425 contrast-detection points, which cover almost the entire image area. This makes it easier to track and focus on moving subjects.
4K video recording up to 60fps: The A7CR can record 4K video up to 60fps. It also offers a variety of other video features, such as S-Log3 and S-Gamut3.cine, which are designed for professional videography.
In-body image stabilization: The A7CR features in-body image stabilization, which can help to reduce camera shake by up to 5.5 stops. This is useful for hand-holding the camera in low-light conditions or when using longer lenses.
5-axis sensor-shift stabilization: The A7CR also features 5-axis sensor-shift stabilization. This is a more advanced form of image stabilization that can help to reduce camera shake by up to 7.0 stops.
Tilting and touchscreen LCD screen: The A7CR's LCD screen can tilt up and down, which makes it easier to compose shots from different angles. It is also a touchscreen, which makes it easy to select focus points and navigate the menus.
Weather-sealed body: The A7CR's body is weather-sealed, making it resistant to dust and moisture. This makes it a good choice for shooting in challenging conditions.
The below Sony A7CR underwater housings are our recommended housings for taking your camera underwater. Contact us at sales@bluewaterphotostore.com, for all your underwater photo and video needs! We can put together customized packages based on your requirements and offer free online training sessions to get you started.
Sony A7CR Underwater Housing Options
*Excellent Ergonomics, User-friendly, Durable*
*Light, Polycarbonate with Great Ergonomics, User-friendly, Durable*
Introducing the Ikelite 200DL Sony A7CR underwater housing – an exceptional choice for avid divers and underwater enthusiasts. Crafted from durable polycarbonate material, this housing offers a unique combination of feather-light design, effortless portability, and outstanding resistance to corrosion. These advantages set it apart from traditional aluminum alternatives, addressing common concerns associated with underwater gear.
By selecting polycarbonate, you not only gain these remarkable benefits but also enjoy a cost-effective advantage over various other housing options available in the market. An additional advantage is the incorporation of a convenient built-in vacuum valve, a true asset for budding underwater photographers aiming to optimize their experience. It's important to note that the vacuum pump can be purchased separately.
The innovative vacuum system, combined with Ikelite's pioneering dry lock (DL) port system (also available in a 200DLM/A Port Mount option) and a transparent rear section for easy leak checks, offers an unbeatable defense against potential water damage. With a depth rating of up to 200ft., the 200DL model (or 200DLM/A) enables you to explore underwater depths with confidence, making it the superior choice compared to the Ikelite 50DL model.
Enhancing your underwater photography pursuits, the Ikelite to Canon TTL converter sets a new standard for speed and accuracy among trigger systems. This feature is the driving factor behind the strong preference that many individuals have for Ikelite housings.
About the Sony A7CR Mirrorless Camera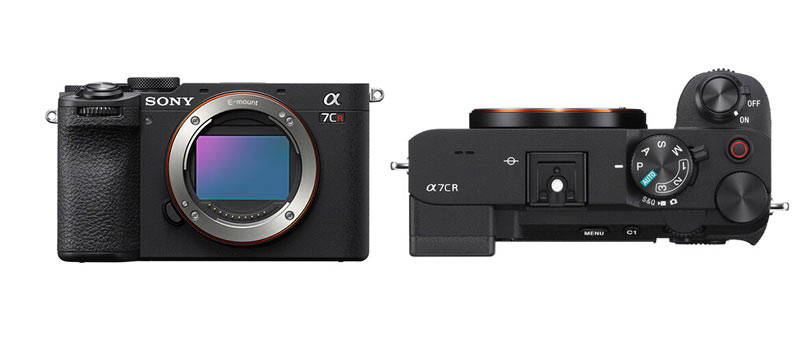 Unveiling the Sony a7CR (ILCE-7CR) - a marvel that redefines the limits of photography. Crafted with innovation, this camera boasts a remarkable 61MP full-frame BSI Exmor R CMOS sensor, seamlessly harmonizing with the BIONZ XR image processor and the groundbreaking Sony AI processing unit. These cutting-edge components converge to deliver unparalleled subject recognition autofocus, a feature also found in the esteemed a7R V.
Capturing the essence of movement, the a7CR achieves an impressive 8fps continuous stills shooting with EF/AE, capturing up to 36 raw photos. Experience the versatility of switching between full-frame 60MP photos and APS-C 26MP photos, even while shooting lossless compressed raw.
Autofocus, IBIS, ISO
Experience the future of autofocus technology, as the camera astutely identifies a diverse array of subjects and objects - from human and animal eyes, faces, heads, and bodies, to airplanes, cars, trains, and even insects. The real-time tracking, empowered by a comprehensive 693-points phase-detection autofocus system, encompassing 79% of the sensor, ensures unwavering focus. Sony's pioneering AF technology remains steadfast even in low light conditions (up to EV -4.0 in AF-S).
Embark on a journey of stability with the 5-axis in-body image stabilization (IBIS) offering an astounding 7.0-steps compensation. This surpasses the a7C's 5.0-steps and rivals the a7R V's 8.0-steps. Delve into the realm of video creation with enhanced stability through the Active Mode, presenting more controlled and steady clips.
ISO Unleashed
Unlock the spectrum of light with an ISO range spanning from 100 to 32000 (extendable to ISO 50-102400). While the base ISO values remain undisclosed by Sony, it's worth noting that the a7R V boasts a base ISO of 800 in S-Log3.
Mastering the Art of Cinematography
Elevate your videography endeavors with the a7CR, diverging from its predecessors. Capture stunning 4K video at up to 60fps in full-frame mode, adorned with a slight 1.2x crop that maintains full pixel readout with binning. Alternatively, bask in the brilliance of 6.2K oversampling when recording 4K in Super35 format, all presented in 4:2:2 10-bit color. The camera embraces XAVC S-I and XAVC HS codecs, while also accommodating 16-bit external raw video output through the HDMI port, fostering seamless connectivity with Atomos Ninja V and Ninja V+ for impeccable external recording.
Video Profiles and More
The a7CR offers a symphony of colors through diverse video profiles, including S-log3, Creative Look, and S-Cinetone. The Mi-shoe interface facilitates up to 4 channels of audio recording, elevating the auditory dimension of your videos. Explore an array of innovative video features, from in-camera time-lapse creation to auto framing that intuitively adjusts composition based on recognized subjects.
Camera Body and Connectivity
The a7CR exudes elegance with its compact dimensions measuring 124 x 71.1 x 63.4mm and a lightweight design tipping the scales at 525g. Within this sleek frame, discover a 0.39"-type 2.36MP XGA OLED viewfinder with a magnification of x 0.7 and a refresh rate of 60 or 120fps. The magnesium alloy body combines durability with a dust- and moisture-resistant design, complemented by an improved grip and a novel front dial. Atop the EVF, a 3"-type 3:2 vari-angle LCD touchscreen boasting 1MP resolution invites intuitive interaction.
Empowered by a Sony Z battery, the a7CR features a USB-C connector with power delivery, enabling rapid charging (USB 3.1 Gen 2 at speeds of up to 5Gbps). A symphony of audio connectivity unfolds with 3.5mm microphone and headphones jack connectors, accompanied by a UHS-II SD card slot and an HDMI type D video output connector.
Quick Specs:
Image Processor: BIONZ XR
Resolution 61.0 MP
Pixel Dimensions: 9504×6336
Sensor Dimensions: 35.7 x 23.8 mm
Sensor Size: Full Frame
Sensor Pixel Size: 3.76 microns
Low Pass Filter: No
IBIS (In-Body Image Stabilization): Yes
ISO range: 100-32,000
Extended ISOs: 50-102,400
High-Resolution Sensor Shift: Yes
Focus Stack Bracketing: Yes
Pre-Shoot Burst Mode: No
Shutter Speed Range: 1/8000 to 30 seconds
Continuous Shooting: 8 FPS
Buffer Size (Raw): 36 frames at 8 FPS
Autofocus System: Hybrid PDAF with deep learning subject recognition
Autofocus Points: 693
Maximum Low-Light AF Sensitivity (Standardized to f/2, ISO 100): -4 EV
Standard Flash Sync Speed: 1/160 second
Curtain to Protect Sensor at Shutdown: No
Card Slots: 1x (SD, UHS-II compatible)
Maximum Video Resolution/framerate: 4K60p
THE NEXT STEPS AFTER YOU PICK YOUR HOUSING: