Aquatica Nikon D810 Underwater Housing
The Aquatica Nikon D810 underwater housing is the most rugged and durable D810 housing on the market, working well to at least 330ft (100 meters).
Aquatica Nikon D810 housing - recommended lenses
Tokina 10-17mm fisheye (best choice) or Sigma 15mm fisheye lens
Nikon 16-35mm F4 for wide-angle, sharks
Nikon 105mm VR macro lens
About the Aquatica D810
Aquatica is incorporating the ultimate comfort in ergonomics for this housing. This includes access to the highly programmable Fn and DOF preview buttons.
The housing features an internal flash up/flash down capability, a quick access ISO lever actuated by your thumb, access holes of different size are incorporated in the design and are ready to accept various accessories such as our Aquatica's remote trigger, external monitors, newly introduced Surveyor vacuum monitoring system, or other third party accessories.
The AF-L/AE-L & AF-ON button are accessed with a combined lever and rotating collar that prevents ambient pressure from pushing it back towards the housing. The menus buttons are angled to provide better access to your left hand thumb. The AD810 uses the 4xxxx generation lens gears system with a smaller housing pinion gear and a larger lens gear, the results is a smoother action while zooming in a video sequence.
The AD810 housing is lighter than previous Aquatica housings, however, this lightness should not be misinterpreted as a weakness. This housing still has the same standard 90m/300ft depth rating and can still be upgraded to 130m/425ft depth rating. Its knurled knobs and oversized controls mean easy operation no matter what the situation is. Anyone familiar with the Canadian climate knows that being built there also means that all the Aquatica housings are born and bred in one of the world most rugged diving environment.
Aquatica Nikon D810 Features
Great ergonomics, great video button placement
Solid handles with molded grips
Easy to install camera tray that slides smoothly into the housing
1/4-20 Mounting Hole on the top of the housing for adding accessories (like a focus light)
Depth of field preview button
Excellent non-reflective robust finish on the housing
Manufactured from aircraft grade aluminium
Recommended Accessories
Related Underwater Gear Categories:
Aquatica D800 / D810 Housing Video Review
Related Underwater Gear Categories:
Nikon D810 Underwater Photos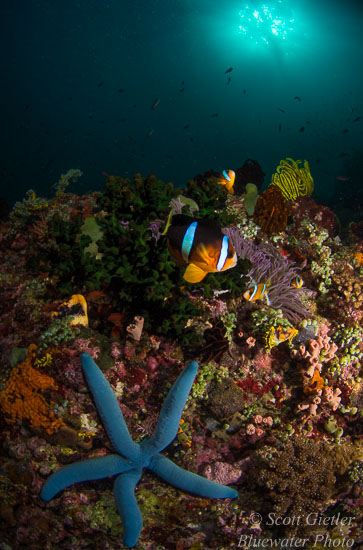 Nikon D810 underwater photo, Tokina 10-17mm fisheye lens, taken in Anilao, Philippines

Ribbon Eel, Nikon D810 underwater photo, Nikon 105mm VR macro lens @F10, taken in Anilao, Philippines
Email us at sales@bluewaterphotostore.com or call (310) 633-5052 with any questions.
Dimensions:
12.00 (in)
×
10.00 (in)
×
12.00 (in)
Free Worldwide Shipping:
No