Sea & Sea Nikon D810 Underwater Housing
Compatible with optional internal TTL converter.
Part # SS-06173
Sea & Sea Nikon D810 housing specs:
Awesome internal TTL converter can be built into the housing. The TTL converter uses the camera's hot flash, but communicates with the strobe via fiber optic cables
Small, lightweight housing with great ergonomics
Sea & Sea D810 housing features
Constructed with high grade lightweight aluminum
Includes 2 fiber optic ports. An electronic bulkhead is optional
All control dials easily accessible while holding the handle
Supports almost all functions of the Nikon D810
Includes a built-in leak sensor
100 meter (330ft) depth rating
Nikon D810 Recommended Lenses
Bluewater Photo staff are experts in using lenses underwater with the D800. The Sigma 15mm fisheye or Tokina 10-17mm fisheye, Nikon 16-35mm F4 VR, and the NIkon 105mm VR lenses are all excellent choices. You can also use the Sigma 12-24mm, Nikon 24-70mm, Nikon 60mm macro. Many other lenses also work. Contact us for more information on these lenses.
D810 housing Recommended Accessories
There are a couple for viewfinders available that would suit your needs - 45 Degree Viewfinder and 180 Degree Viewfinder. The Sea & Sea housing lanyard is a great way to carry this housing. Get an 36-pack AO cooler bag to keep your housing warm and safe on a dive boat.
Related Underwater Gear Categories:
Sea & Sea D810 Housing Video Review
Demonstration of the Sea & Sea Internal TTL converter
Nikon D810 Underwater Photos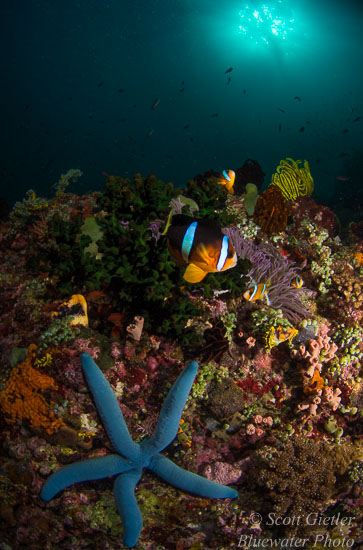 Nikon D810 underwater photo, Tokina 10-17mm fisheye lens, taken in Anilao, Philippines

Ribbon Eel, Nikon D810 underwater photo, Nikon 105mm VR macro lens @F10, taken in Anilao, Philippines
Email us at sales@bluewaterphotostore.com or call (310) 633-5052 with any questions.
Dimensions:
12.00 (in)
×
12.00 (in)
×
12.00 (in)
Free Worldwide Shipping:
No