Ikelite Nikon D780 Underwater Housing
Ikelite has a reputation to produce high quality underwater camera housings, and the Ikelite Nikon D780 Housing lives up to the name. The housing is small, compact and lightweight which makes it great to bring when going on dive trips. It is also built from ABS-PC material which provides strength and requires minimal maintenance. The housing also has great ergonomics. Button and lever location has been well thought off to make your shooting experience wonderful even when wearing thick gloves.
Housing Features:
Port System - The housing utilizes Ikelite's DryLock Port System which is robust, durable and ultra-lightweight. It has been designed that the o-ring on located outside of the port mount to improve visibility when installing and it also reduces the chances of water dropping onto your camera. It can be easily and quickly installed and removed.
Vacuum Testing - The Ikelite D780 comes with vacuum valve pre-installed. The optional kelite Vacuum Pump with Gauge allows you to draw air out of the housing and check for leaks before to entering the water. This provides you the peace of mind that the camera is safe inside the housing while diving.
M16 Accessory Port - A spare M16 threaded accessory port to attach third party accessories such as HDMI bulkheads.
TTL Exposure - It supports shooting via manual exposure or TTL. By adding the Ikelite DL1 DS Link TTL Converter, you can enjoy shooting with fast and accurate TTL exposure. It also supports rear curtain synchronization and exposure compensation can be added or subtracted in the camera.
Ergonomics - The housing has excellent ergonomics. Buttons, levers and dials are located exactly where you need them. Operation of the camera is a breeze even while wearing gloves. 
Setup - The camera mount is front-loading for easy installation and removal. A small mounting plate attaches to the bottom of the camera and secures in the front of the housing. 
Viewfinders - LCD screen of the camera can be tilted when installing into the housing. For a more enhanced view, the optional Ikelite Enhanced Straight 180 Degree Viewfinder or Ikelite 45 Degree Magnified Viewfinder is compatible with the housing
Strobe Firing - Strobes are connected with the housing using electronic sync cord.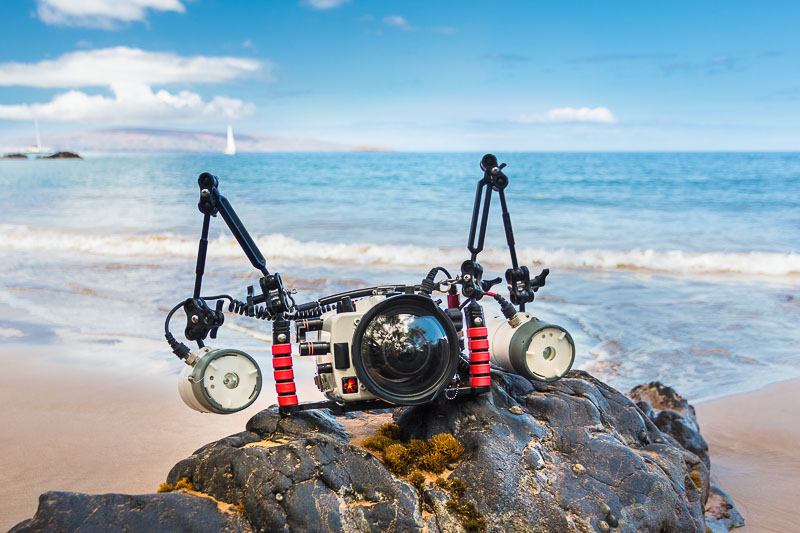 Nikon D780 Key Specs
• 24.5 full frame BSI CMOS sensor
• Expeed 6 processor
• ISO Range - 100-51,200
• Burst shooting: 7fps viewfinder, 12 fps live view (silent mode)
• 51 AF points (15 cross-type), 273 points in live view
• shutter speed (min/max): 1/18000 sec / 900 sec
• Dual SD (UHS-II) card slots
• Video: 4K up to 30fps. 10-bit N-log over HDMI
• 3.2" 2.4 million dots LCD
• 28 RAW image buffer
•Weather Sealing
• Battery Life: 2260 shots
• Weight: 840g
Learn more about the D780 features and why we love it for underwater photography in our full Nikon D780 Review. Also check out the Nikon D780 review on the Underwater Photography Guide!
Related Underwater Gear Categories:
Depth Rating: 200' (60m) depth rating
Port System: DryLock Port System
Controls: All camera controls are accessible through the housing except for: Diopter adjustment control; Focus selector lock;  Fn button; Pv button; Release mode dial / Release mode dial lock release; Focus mode selector
1/4-20 thread base mounts with 3.5" spacing
Slightly positive buoyancy in fresh water
Housing Weight: 4.68 lb (2125 g)
Tray with left handle weight: 11 oz (312 g)
Dimension: 9 x 7 x 6.25" (229 x 178 x 159 mm) 
Dimensions:
8.00 (in)
×
6.00 (in)
×
8.00 (in)
Free Worldwide Shipping:
No
Ikelite D780 Housing
Rear O-ring 
Front O-ring
Zoom Gear Retainer 
Port Hole Cover 
Waterproof Bulkhead Cap
Base with Left-Hand Quick Release Handle 
Tool for Zoom Gear Retainer 
.050" Hex Key
1/16" Hex Key
Silicone Lubricant 1cc Tube