Nauticam Sony A5000 / 5100 Housing
DISCONTINUED
Part #: Nau-17411
Product Overview:
This great underwater housing works for both the Sony A5000 and Sony A5100.
The Sony A5000 & A5100 are awesome tiny cameras with huge 20MP sensor replaces the Sony NEX-5R/5T. Fast focusing, excellent image quality
Very small, ergonomic underwater housing
Camera, Sony A5000 housing, port, and zoom capability for around $2,100 - great deal!
**Port pictured with housing is sold separately, no port is included with housing purchase **
Recommended Lenses:
Sony Fisheye conversion lens + 16mm pancake lens
Sony 10-18m wide-angle lens
Sony 16-50mm kit lens
Zeiss 50mm macro lens
Recommended Accessories:
Nauticam Sony A5000 & A5100 Underwater Housing Features:
The housing gains the new style port locking mechanism, which will be familiar to people who have seen Nauticam SLR housings. This style locking lever made it's mirrorless debut with the Nauticam NA-EM1 housing, and is an iconic symbol of Nauticam innovation. The new lock makes port changes quick, easy and as secure as ever.
The NA-A5000 comes standard with the Nauticam vacuum system electronic built in. By default, it serves as a audible and visual leak detector, but add a Nauticam M14 Vacuum Valve, (p/n# 25611) and it becomes a vacuum check system - early warning for any problem with watertight integrity - which means peace of mind when shooting underwater.
Milled from solid aluminum, the housing is rated to 100m/330ft depth, and is rugged and ready for use!
Signature Nauticam Port Locking System 
The iconic red locking lever is right at home on the NA-A5000; lens/port changes made quick, easy and secure. 
Vacuum System:



The integrated vacuum check and leak detection system adds extra assurance of watertight integrity. Use it without an optional vacuum valve and it serves as a audible/visual water ingress detector. Add the vacuum valve, and get watertight integrity indication via a color coded LED light. 

On Camera Zoom Lever:
New is this class of camera, the convenient zoom control on the camera means no zoom gear needed for the 16-50mm power zoom lens. 
Locking Latch:
The locking latch, proven in use with thousands of housings, is secure and easy to use. 
Ergonomic Controls: 
Controls on the housing are designed with shooting in mind, and each control is clearly labeled.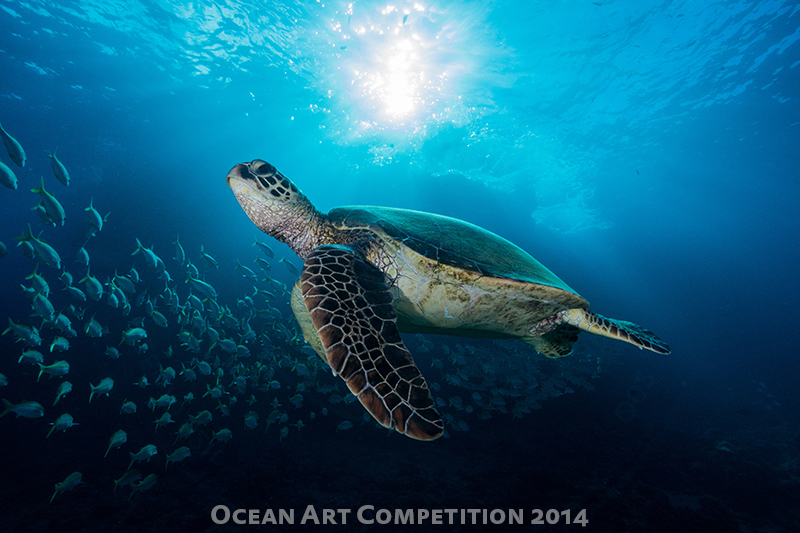 Photo by Renee Capozzola, taken with the Sony A5000, Nauticam A5000 housing with Sony 10-18mm lens in Hawaii
Sony A5000 Camera:
The Sony Alpha A5000, when coupled with the versatile 16-50mm retractable power zoom kit lens, is one of the smallest and lightest mirrorless camera systems ever made. Despite it's small size and weight (with camera tipping the scales at a an amazing 269g/9oz including battery and card!), the A5000 is not short on features, including a 20 megapixel APS-C sized sensor (same size as found in many DSLRs), 25 point fast autofocus, tilting 3" LCD monitor, built in popup flash, WiFi, full HD video recording, and much more. The menu system has been refined; the controls are easy to use and menus are logical with just the right amount of options for most people.
One new feature of this camera that most of the camera press does not report, is the addition of a zoom lever on the camera itself, which is able to operate power zoom lenses like the 16-50mm. What this means is that no zoom gear or special port is required to operate the zoom, further lessening the overall cost of the system for underwater use. Nothing to prep on the camera; it can go from pocket to housing in seconds. Compact shooters will feel right at home with this rig!
Sony A5100 camera:
The Sony A5100 is very similar to the A5000, but it increases the megapixels from 20 to 24 megapixels. The highest ISO level is now 25,600 instead of 16,000, and the LCD screen has much higher resolution. You also have improved video specs such as the XAVC-S codec, and clean HDMI output. The number of phase-detect contrast points has increased from 99 to 179.
Dimensions:
6.00 (in)
×
6.00 (in)
×
8.00 (in)
Free Worldwide Shipping:
No