Nikon Z50 Underwater Review
The
Nikon Z50
is Nikon's first attempt at creating an APS-C mirrorless camera - something Sony and Canon have been doing for quite a while. The Nikon Z50 is akin to a mirrorless version of the
Nikon D500
or an APS-C version of the
Nikon Z6
. During the Z50's initial release many dubbed it a dud for it's lack of Z mount lens options and large lens mount on a small body. But this didn't necessarily mean that the Z50 wasn't useful for underwater photgoraphy. In fact, we think the Nikon Z50 is one of the best, if not the best, cropped sensor for underwater photo and video! The Z50's mirrorless capability mixed with Nikon's renowned F mount lens selection (with an FTZ adapter) creates an unstoppable underwater camera system. Off the bat, the Z50 produces unbeatable image/video quality for its price points. It also features mirrorless capability that underwater photographers crave - like EVF's, edge-to-edge focus points, and quick focus using an LCD.
But it's also important to consider the crowded APS-C mirrorless field. So how does it stack up to
Olympus micro-four-thirds systems
or Sony a6000 series cameras like the
Sony a6100
and
a6600
? We took the Nikon Z50 diving in the tropical waters of Maui,
Hawaii
to find out....
U.S. MSRP Nikon Z50: $859.95
Testing the Nikon Z50 off the coast of Maui, Hawaii. Nikon Z50 in an Ikelite Z50 housing with dual Ikelite DS 161 strobes.
---
Jump to Section:
Nikon Z50 Specs   |   Nikon Z50 vs Nikon Z6/Z7   |   Key Features
Z50 for Underwater Photo and Video   |   Best Settings   |   Best Lenses   |   
Underwater Housings   |   Conclusions
---
Nikon Z50 Specifications
20.9 Megapixel Resolution
23.5 x 15.7 mm CMOS sensor (APS-C - DX format)
Hybrid phase-detection/contrast AF with AF assist, 209 points
11 fps sequential shooting
4K Video (3840x2160) at 30/25/24 fps
FHD video up to 1080/120p
1/4000 mechanical shutter, to as slow as 30 sec
1/200 sec max shutter sync speed for flash, auto FP high-speed sync supported up to 1/4000 sec
ISO range of 100-51200
2.36 million dot OLED elecontric viewfinder (EVF) with 1.02x magnification
Lens mount system: Z mount, can use F mount lenses with FTZ adaptor
3.2 inch tilting touchscreen monitor (can flip it over underneath camera for selfies/vlogging)
450 g (0.99 lb) camera body weight, including SD card and battery; 395 g (0.87 lb) body only
Ports: USB Micro-B, Type D HDMI connector, Stereo mini-pin jack, plug-in power supported
Memory card compability: SD and UHS-I compliant SDHC and SDXC (only one card slot)
Built-in WiFi and Bluetooth, along with SnapBridge for automatic upload functionality via Bluetooth
Battery CIPA rating of 300 shots
Nikon Z50, 8-15mm Fisheye, f/18, 1/160, ISO 100
Nikon Z50 vs Nikon Z6/Z7
The Nikon Z50 has the same Z lens mount as its bigger relatives, the
Z6 and Z7
. However, it is much cheaper, smaller, and lighter on specs, with an APS-C sensor instead of a full-frame sensor. Nikon has released two Z mount lenses specifically for this sensor size, and the FTZ adaptor gives access to standard Nikon F mount lenses.This is a huge deal for anyone considering taking the Nikon Z50 underwater, as the F mount lenses are currently the only real underwater options for the camera.
The main differences you will find between the Nikon Z6 and Z7 cameras is:
Much better autofocus on the Z6/Z7
Higher resolution and image quality, with better low light performance on the Z6/Z7
In-body image stabilization on the Z6/Z7
Similar battery life across the three cameras
DX 1.5x lens focal length multiplier on Z50 for full frame lenses
Same video specs (4K 30p and FHD at 1080/120p).
Smaller body size and weight on the Z50
Nikon Z50 Key Features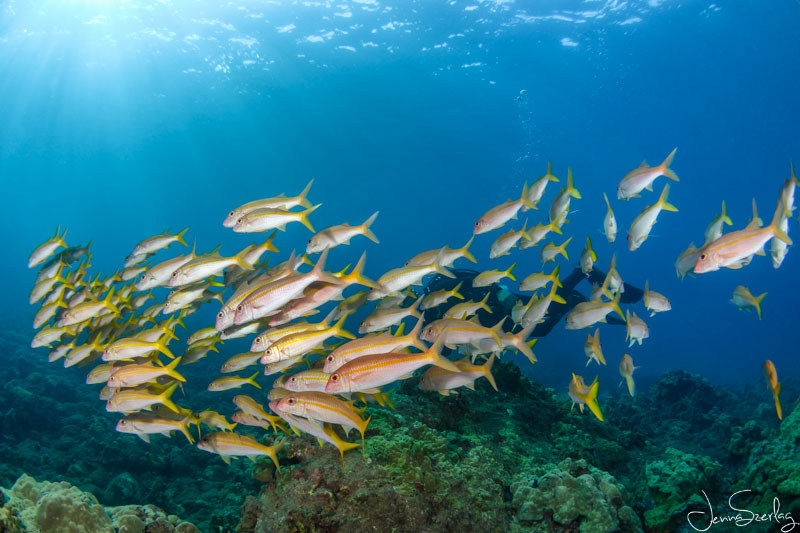 School of Goatfish Maui, Hawaii. Nikon Z50, 8-15mm Fisheye, f/9, 1/125, ISO 100
Body, Build, & Ergonomics
The Z50 is smaller and slimmer than its larger Z6 and Z7 cousins. The Z mount does result in the body being a bit large; noticeably larger than other crop-sensor mirrorless cameras like the Sony a6600 and Olympus OM-D E-M5 III. Unfortunately, the larger Z mount will require underwater housing manufactures to use larger ports and result in housings only slightly smaller than DSLR systems. If optical quality is a top priority, then this is still a great option because Nikon's FTZ adapter works seamlessly with F lenses, and the F mount Nikon lenses are of the best optical quality in the industry. 
The electronic view finder (EVF) in the Nikon Z50 is clear and crisp. Although it doesn't produce quite the same dynamic range as an optical viewfinder, it is very useful to look through and review images and settings. The LCD is specifically designed for vlogging and selfie taking, as it folds underneath the cameraa into a position where it can be viewed from the front of the camera. 
This camera features twin control dials, very important for being able to control aperture and shutter speed underwater without needing to go into menus or toggle button functions. Overall, we found the ergonomics on the Z50 to be quite good while diving. It operates very similar to the Nikon Z50. It is just as easy to change aperture, shutterspeed, and ISO. It also has a useful "i" menu that can be customized to include all functions necesary to underwater photography. The only issue we found with the ergonomics is that the zoom buttons for review images are now touch screen and cannot be used underwater. It's not a deal breaker, but it does make checking your focus more difficult when you are reviewing a shot. 
Red Pencil Urchin closeup, Maui Hawaii. f/14, 1/160, ISO 100
Sensor & Image Quality
The sensor is similar in quality to Nikon's DSLR-style DX lineup, like the
D500's 20.9 MP APS-C sensor
. The D500 received quite a strong sensor rating on DXOMark, with a rating of 83. Since the sensor for this camera is similar in quality, it offers a very strong sensor for the cost of the camera!
Although the resolution of this camera is very close to that of the
Olmypus OM-D E-M5 III
, or even the latest
Sony RX-100 cameras
(20.9 MP vs 20 MP), the larger sensor brings its own benefits beyond its resolution spec. Since the Z50's sensor is larger, for a similar amount of megapixels, this means that each individual pixel on the sensor is significantly larger (roughly 60% larger by volume than those of the E-M5 III, and 200% larger than those of the RX100V). Larger pixels mean better dynamic range performance, meaning more capturing details from the highlights and the shadows, and less image noise, for overall better image quality. 
After our dives, we've found the image quality of the Nikon Z50 to be of the highest quality for a cropped sensor camera. The dynamic range and details were almost comparable to the Nikon Z6, one of our favorite full-frame underwater cameras. The quality of the Z50 is clearly much better than micro four thirds Olympus cameras, which can sometimes be even more expensive. It is similar to the Sony a6000 series image quality, but in some cases we even preferred the Nikon. The combination of this sensor with Nikon Fmount lenses, just makes the Nikon Z50 a little bit better than Sony a6000 series cameras. 
White Stripe Cleaner Shrimp Maui Hawaii. f/20, 1/200, ISO 100
Autofocus
The autofocus specs of the Z50 are quite strong, especially for such a low cost camera body. Dual contrast and phase detection with 209 points is not too far off from the Z6's 273 point dual contrast/phase detect system. During our underwater tests we found the autofocus on the Z50 to be quite good, especially in well lit places. It was able to quickly focus on the eyes of turtles that were passing by. However, in low light, we some difficulty acquiring autofocus. It was noticeably slower than the autofocus on the Nikon Z6. So it would be a good idea to use a focus light with the Nikon Z50. At this point the autofocus of the Nikon Z50 is a little slower than the autofocus on the
Sony a6400
or Sony a6600. 
Image Stabilization
Disappointingly, the Z50 does not feature any in-body image stabilization. This is one of the reasons for the very low price tag, but it's also one of the reasons to buy a mirrorless camera. This is primarily an issue for videography and topside photography though, as with most underwater photography you will be using strobes, meaning shutter speeds should typically be fairly high. However, when getting into lower light conditions, where you might want to push your shutter speed down to 1/60 or 1/80 sec, or lower, the lack of image stabilization might be a limitation. We found that our macro and supermacro was at times affected with a lack of image stabilization. With high surge underwater, it was difficult to control motion blur at times.
Harlequin Shrimp Maui Hawaii. f/20, 1/200, ISO 100. A lack of image stabilization can make getting crisp shots with macro photos a little trickier
Flash Sync Speed
The flash sync speed is pretty standard at 1/200. However, this camera also has Nikon's high speed sync functionality, allowing external flash use up to 1/4000 sec. Of course syncing this quickly underwater with strobes is expected to cause significant issues, but if it is possible to sync up to 1/500 sec while still getting in a full strobe discharge (and strobes typically discharge faster than 1/500 sec, depending on power setting), then this will provide some fantastic latitude for pulling out more details in sunball shots. We tested this function underwater and it workded!
Battery Life
The CIPA battery life rating of 300 shots is about par for the course for this type of camera. Nothing too great, but certainly not bad, and solid enough to get two full dives in, with lots of LCD use, before needing to swap batteries.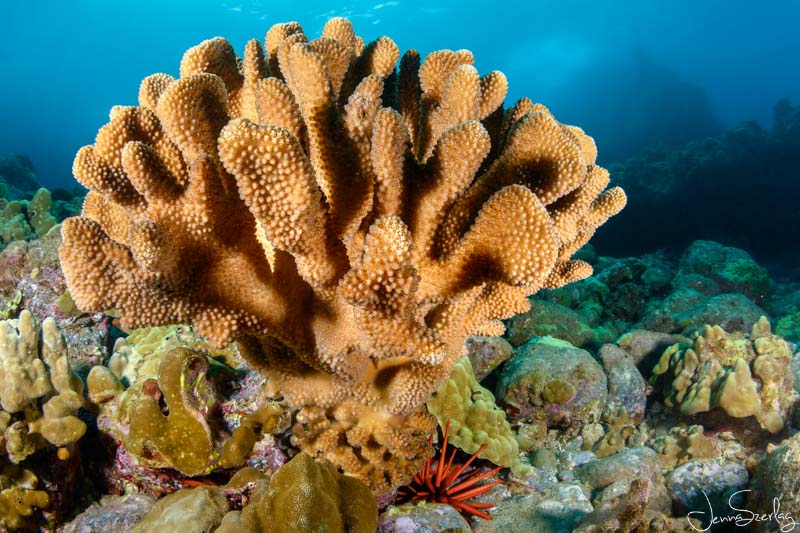 Nikon Z50, 8-15mm Fisheye, f/9, 1/125, ISO 100
Z50 for Underwater Photo and Video
We brought the Nikon Z50 to Maui, Hawaii shooting both wide fisheye and macro shots with the
Ikelite Z50 housing
and dual Ikelite strobes. The Micro Nikkor 60mm lens with FTZ adaptor and Bluewater's +7 wet closeup lens captured impressive contrast and detailed supermacro shots. The tiny "Hot Dog" nudibranchs we found in the sand are barely 1mm wide and the Z50 autofocus didn't hesitate to focus on point. The impressive dynamic range in the images with the 8-15mm fisheye lens created a smooth variance from the shadows in the background to the bright highlights in both the sunbursts and the images of the reflective schools of goatfish.
The Z50 is a very exciting offering for underwater photography. High speed sync for the flash has the potential to allow for excellent sunburst shooting, and the great autofocus specs should mean not much time spent hunting for focus. The lack of any Z mount lenses which are good for underwater photography is an issue, but Nikon's excellent underwater lens lineup can be used with the FTZ adaptor (see below section). Overall, the large sensor provides great details, dynamic range and overall image quality, and the price is right. 
The Z50 does fall a little short for underwater video. Although it has some nice video recording specs of 4K 30p and 1080 120p, it is missing any form of image stabilization. Image stabilization is very important for underwater video, where it is often very difficult to hold the camera totally steady. That being said, the 4K video sampled from an APS-C sensor is going to be higher quality than 4K video taken with a micro-four-thirds camera or a camera like the
GoPro Hero 8
.
Nikon Z50, 8-15mm Fisheye, f/18, 1/160, ISO 100
Best Nikon Z50 Settings for Underwater Photos
Before taking the Z50 underwater, there are a few basic settings that should be applied to the camera for its best underwater performance:  
Shooting Mode: (M) Manual
Image File Format: RAW (RAW+Jpeg if you'd like to have files for immediate use without editing)
ISO 100
Monitor View Only (if you are planning on shooting with the LCD)
Active D Lighting: OFF
Auto Focus Mode: AF-S or AF-C for moving subjects
Flash Mode: Fill Flash
Spot Metering for Macro and Evaluative for Wide Angle
Custom Setting D Shooting/Display: Apply settings to live view OFF 
Custom Setting E Bracketing Flash: 1/200 (1/500 for the extended flash sync option for shooting sunbursts but note this will only show as an available option when an external strobe is attached.)
Lighting will vary from scene to to scene and each lens has a dedicated aperture range but when it comes to the best exposure settings with dual strobes and ISO 100 we found these are a good place to start:
Super Macro - f/32, 1/250 for black backgrounds
Macro - f/18, 1/200
Wide Angle - f/9, f/160 down to 1/125 for more color and detail in the background
Sunbursts - f/11, 1/160 up to 1/500 for more detail in the highlighted areas
Best Lenses for Underwater Use
As this is a new lens system, Nikon only has a few Z mount lenses available. However, they have released their lens lineup until 2021, which is quite informative.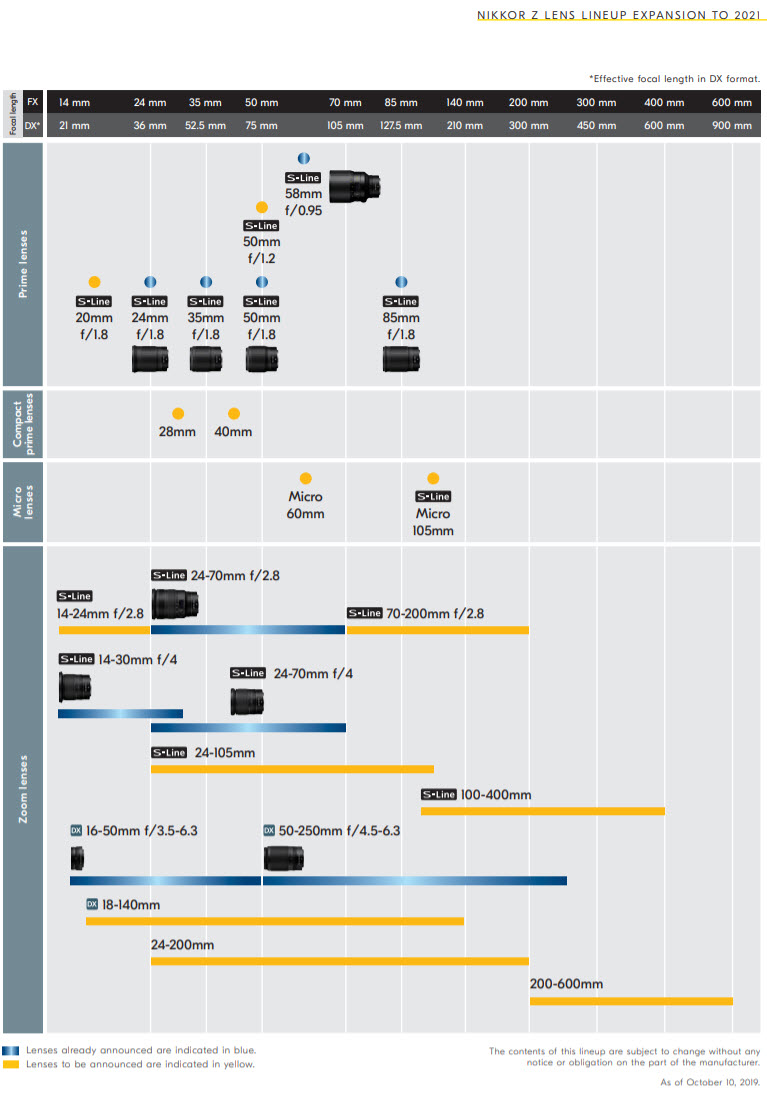 As can be seen here, although there are a lot of exciting lenses for topside use, many are prime lenses in mid focal ranges so not well suited to underwater photography. And although there are some nice wide angle zooms (14-30mm f/4 and 14-24mm f/2.8), there is no fisheye lens. Additionally, with the 1.5x crop factor of the Z50, 14 mm ends up being 21 mm full frame equivalent, which won't cut it as a wide angle lens for underwater use. The DX lenses either available or in development (specifically designed for the Z50 or other future APS-C mirrorless cameras) are not as wide as the abovementioned lenses, so even less use underwater. 
The good news is that a 60mm and a 105mm micro lens are now planned. The 105 is especially interesting as it is a S-Line lens, which is the premium line of Z mount lenses. These should be released in the next couple of years, but that still means there are no good Z mount underwater lenses, especially for use on the Z50.  Fortunately, there are a lot of great underwater lenses on Nikon's old F-mount.
Recommended Underwater Lenses with the FTZ Adapter
Macro
Nikon 60mm 2.8G Macro: Great all around lens and especially great for blackwater diving
Nikon 105mm 2.8G VR Macro: Great for small and shy subjects, giving you more working room than the 60mm and essential for super macro. You will get even more working room than normal on the Z50, with an approximately 150 mm full frame equivalent focal length; even better for shy subjects, but difficult for larger macro subjects
Nauticam Super Macro Converter: the Nauticam super macro converter (SMC-1) is a wet diopter perfect for taking sharp super macro images. In fact, it is the strongest, sharpest diopter on the market. For the best super macro results, use it with the Nikon 105 mm 2.8G VR lens. 
Wide Angle Fisheye
Nikon 8-15mm: Get creative with the full circular image, or zoom in for a more standard fisheye lens. Read the Nikon 8-15mm FX AF-S f/3.5-4.5E ED Zoom Fisheye Review by Mark B. Hatter. We used this lens for our review. Please note this is a full frame lens, so there is some crop when used with the Nikon Z50. Although it's an excellent fisheye lens, you can't zoom out as far as a circular field of view.
Nikon 16mm 2.8 Fisheye: Also a great lens, and a popular choice for full-frame 
Wide Angle Rectilinear
Nikon 16-35mm 4.0: Great for large animals and extremely sharp lens, but requires a larger dome to get sharp images. Keep in mind that on the Z50 it will act like a 24 mm equivalent lens, which rules it out for much wide angle shooting
Underwater Housing Options
Housing options for the Nikon Z50 are currently available from two top underwater housing manufacturers - Ikelite and Nauticam. Ikelite makes simlple, ergonomic, polycarbonate housings perfect for taking photos in any situation. Nauticam makes elegant, well machined, aluminum housings. 
Ikelite has announced their housing 200/DL housing for the Z50 which we brought to Hawaii. It is a light weight, durable polycarbonate housing featuring the new Dry Lock port system, both manual and TTL support and the reassuring vacuum pump system to check for leaks prior to entering the water. We found that the side dial Ikelite installed to control the aperture away from the other buttons was very useful.
---
Nauticam is constantly rethinking their underwater housing designs to create the absolute best user experience when shooting underwater, and the Nauticam NA-Z50 housing is no exception. Their housings are crafted from high quality aluminum with controls and dials designed for great ergonomics. The housing is depth rated to 100m. All buttons are clearly labeled. There are two fiber optic ports and a leak sensor. The rotating housing latch is secure, yet easy to use.
Conclusion
The Z50 is another exciting mid-range mirrorless option. Now that Nikon and Canon have entered into the mirrorless race, expect the pace of innovation to continue to increase. It's an exciting time for mid-range mirrorless cameras, as the technology continues to get better and better, and smaller and less expensive, while the lens ecosystems continue to grow and evolve.
The Z50 is a very good first foray by Nikon into the mid-range mirrorless camera world. This camera is worth a serious look, especially for people who want quick and seamless integration with their smartphone and social media, who like vlogging and selfie taking, and who want a simple but powerful piece of photographic equipment.
Sony's offerings may have better specs, though they tend to come at a higher price. And the Z50's specs are already very competitive with more established mirrorless players like Olympus and Panasonic.
The lack of native Z-mount lenses is a weak spot, especially now while the ecosystem is so new, and certainly one of the things that may make Olympus or Panasonic cameras better options. Nikon's great line of F-mount lenses can be used with the FtZ adaptor, but that adds significant cost and bulk, while the whole point of this camera is to be small, simple and budget friendly.
Every camera is a unique tool that has its own advantages and disadvantages over the competition. The key is to be very clear about what facets are most important to you, what jobs you need it to fill, and then pick the best tool for the job. If that's the Z50, then great, it will do an excellent job. If not, there are lots of other fish in the sea!
Barred Wire Coral Shrimp Maui Hawaii. f/22, 1/250, ISO 100