Nauticam Nikon Z50 Underwater Housing
DISCONTINUED
Nauticam is constantly innovating their underwater housing designs to create the absolute best user experience when shooting underwater, and the Nauticam NA-Z50 housing is no exception. The housing is crafted from high quality aluminum with controls and dials designed for great ergonomics. Everything is within a finger's reach! The housing is depth rated to 100m, maintains a fairly small footprint making it great for traveling. All buttons are clearly labeled, and it includes two fiber optic ports and a leak sensor. The rotating housing latch is secure but easy to move for easy access to the camera body.
Learn more about the Z50 features and why we love it for underwater photography in our full Nikon Z50 Review.
Top Recommended Nauticam Nikon Z50 Configurations:
The Nikon Z50 is an interesting camera to say the least. If used properly, it promises unmatched quality from an underwater APS-C camera. But being Nikon's first mirrorless APS-C offering, it does come with some considerations when configuring the camera. With the Nauticam Z50 housing there are two distinct routes that you can take when shooting wide angle and macro photography underwater: 
The Z mount route - Nikon created it's Z mount lenses in order to have a shorter flange distance which yields better detail in the edges of the image.Unfortunately there are currently no viable wide angle or macro options for DX (APS-C) Z mount systems. That being, said there is still a way to take Z mount lenses underwater and get great results. The Nikkor Z DX 16-50 mm is a great mid rangle lens that allows for versatility underwater. Not only does it take great mid range photos, but you can add wet lenses to the system to get great wide angle and macro images. We recommend the Nauticam WWL-1 to shoot great wide angle photos and the Bluewater +7 for macro.
The F mount route - Nikon's traditional F mount lenses work great with the Nikon Z50. In order to adapt them to the Z mount, you need to use an FTZ adapter. This will not hinder auto focusing ability at all. Going this route allows you to use a wide range of F mount glass and enjoy those benefits topside as well. However, there is less versatility and ability to swith lenses underwater as you would have with wet lenses. It's important for us to note - the popular Tokina 10-17mm dx lens unfortuantely does not work with the FTZ adapter. Therefor, we recommend using the Nikon 8-15mm fisheye lens. Although it's an FX lens, the image quality is amazing the zoom capability comes in handy - though you won't be able to use the true circular fisheye at 8mm due to crop factor. Both the Nikon 60mm and 105mm macro lenses work great for macro with the Nikon Z50.  We used all of these configurations in our review of the Nikon Z50 on the Underwater Photography Guide.
Recommended Accessories:
Strobes
For other options, see our other recommended strobes see our Buyer's Guide for Best Underwater Strobes
Video Lights
For other options, see our other recommended strobes see our list of best underwater video lights.
Accessories
Nikon Z50 Camera Specifications:
20.9 Megapixel Resolution
23.5 x 15.7 mm CMOS sensor (APS-C - DX format)
Hybrid phase-detection/contrast AF with AF assist, 209 points
11 fps sequential shooting
4K Video (3840x2160) at 30/25/24 fps
FHD video up to 1080/120p
1/4000 mechanical shutter, to as slow as 30 sec
1/200 sec max shutter sync speed for flash, auto FP high-speed sync supported up to 1/4000 sec
ISO range of 100-51200
2.36 million dot OLED elecontric viewfinder (EVF) with 1.02x magnification
Lens mount system: Z mount, can use F mount lenses with FTZ adaptor
3.2 inch tilting touchscreen monitor (can flip it over underneath camera for selfies/vlogging)
450 g (0.99 lb) camera body weight, including SD card and battery; 395 g (0.87 lb) body only
Ports: USB Micro-B, Type D HDMI connector, Stereo mini-pin jack, plug-in power supported
Memory card compability: SD and UHS-I compliant SDHC and SDXC (only one card slot)
Built-in WiFi and Bluetooth, along with SnapBridge for automatic upload functionality via Bluetooth
Battery CIPA rating of 300 shots
Recommended Underwater Lenses with the FTZ Adapter
Although the Nikon Z50 is equipped with a Z mount, there are currently no good DX (cropped sensor) Z mount lens options for underwater photography. We recommend purchasing a Nikon FTZ adapter and using it with F mount lenses (this works seamlessly). Unfortunately the popular Tokina 10-17mm fisheye lens does not currently work with the Nikon Z50.
Macro
Nikon 60mm 2.8G Macro: Great all around lens and especially great for blackwater diving
Nikon 105mm 2.8G VR Macro: Great for small and shy subjects, giving you more working room than the 60mm and essential for super macro. You will get even more working room than normal on the Z50, with an approximately 150 mm full frame equivalent focal length; even better for shy subjects, but difficult for larger macro subjects
Nauticam Super Macro Converter: the Nauticam super macro converter (SMC-1) is a wet diopter perfect for taking sharp super macro images. In fact, it is the strongest, sharpest diopter on the market. For the best super macro results, use it with the Nikon 105 mm 2.8G VR lens. 
Wide Angle Fisheye
Nikon 8-15mm: Get creative with the full circular image, or zoom in for a more standard fisheye lens. Read the Nikon 8-15mm FX AF-S f/3.5-4.5E ED Zoom Fisheye Review by Mark B. Hatter. We used this lens for our review. Please note this is a full frame lens, so there is some crop when used with the Nikon Z50. Although it's an excellent fisheye lens, you can't zoom out as far as a circular field of view.
Nikon 16mm 2.8 Fisheye: Also a great lens, and a popular choice for full-frame 
Wide Angle Rectilinear
Nikon 16-35mm 4.0: Great for large animals and extremely sharp lens, but requires a larger dome to get sharp images. Keep in mind that on the Z50 it will act like a 24 mm equivalent lens, which rules it out for much wide angle shooting
Sample Underwater Images:
Nikon Z50, 8-15mm Fisheye, f/18, 1/160, ISO 100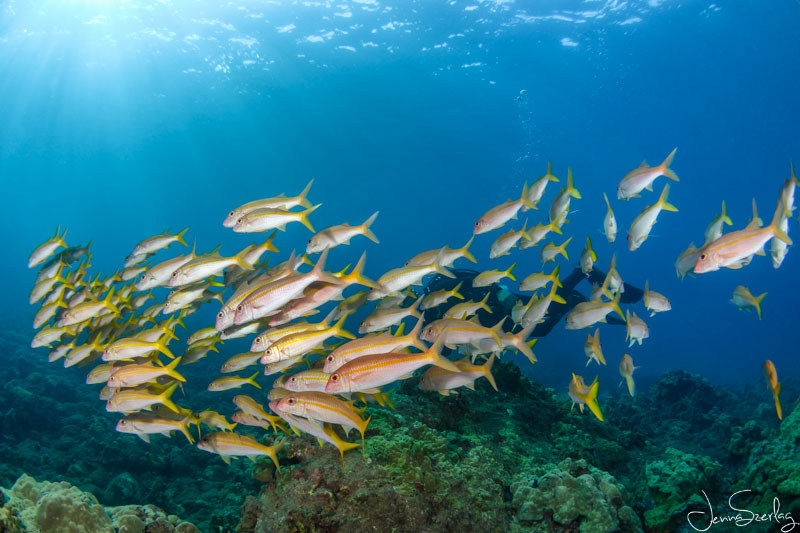 School of Goatfish Maui, Hawaii. Nikon Z50, 8-15mm Fisheye, f/9, 1/125, ISO 100
Red Pencil Urchin closeup, Maui Hawaii. f/14, 1/160, ISO 100
White Stripe Cleaner Shrimp Maui Hawaii. f/20, 1/200, ISO 100
Nikon Z50, 8-15mm Fisheye, f/18, 1/160, ISO 100
Related Underwater Gear Categories:
Dimensions:
10.00 (in)
×
8.00 (in)
×
16.00 (in)
Free Worldwide Shipping:
No