Ikelite Nikon Z50 Underwater Housing (Open Box)
Ikelite Nikon Z50 Housing (and accessories) during our underwater field tests
The Ikelite 200DL housing for the Nikon Z50 camera is a high quality polycarbonate underwater housing built from corrosion free ABS-PC blend material. This housing is designed to be used in a wide range of underwater environments including open ocean (60m depth rating), surf, pools, snorkeling, etc. The housing is compact and lightweight which makes it ideal for travel. Ikelite's new DL200 housings have excellent ergonomics with improved action on their buttons, properly designed lever placement (with optional lever extensions), and control placement that works great with cold water gloves. All necessary camera controls are available when using this housing.
We have used this housing on multiple dives with the Nikon Z50 and our staff love it! It's a great option if you're looking for one of the best APS-C cameras on the market for underwater photography. The price for the Nikon Z50 camera body is a steal when it comes to other competitors on the market. The fact that the camera is mirrorless means that you have edge-to-edge focus points, image review in the viewfinder, quicker AF in live view, the option to shoot with an LCD, and improved video. When combined with an Ikelite Z50 housing, the system is an excellent tool for taking professional grade photos. Just take a look at the ones we captured. And you won't be paying the price of a car like you might with a full frame underwater system! Yes, we know - the Z mount lens option for the Z50 aren't great....yet. But that doesn't matter when the FTZ adaptor works seamlessly with F mount glass and Ikelite's DL port system. So get some high quality F mount glass, and pair it with one of the world's top APS-C cameras and a reliable, made in the USA, Ikelite housing.
Ikelite Nikon Z7 Underwater Housing Features:
Vacuum System - The included vacuum valve allows you to pressurize the housing which gives you the assurance and peace of mind that your housing is fully sealed. The optional Ikelite Vacuum Pump with Gauge allows you to draw a vacuum on the housing to check for leaks prior to entering the water.
M16 Accessory Port - A spare M16 accessory port provides an attachment point for third party accessories including HDMI bulkheads.
TTL Exposure - The housing supports both shooting in manual or with TTL. The included manual hotshoe with Ikelite ICS-5 bulkhead supports manual strobe exposure with a wide variety of strobes including Ikelite, Sea & Sea, Inon and others. The recommended Ikelite DL1 DS Link Nikon TTL Converter with the compatible Ikelite DS stobes provides a fast and accurate TTL exposure.
Control and Setup - The ergonomics on Ikelite housings is great. The shutter and AF-ON levers stand out with super sensitive and natural feeling curved levers. All push button controls are machined and hard anodized aluminum to reduce weight and resist salt build-up. The back of the housing is laser engraved with control symbols which will never fade or fall off. The camera mount is front-loading for easy installation and removal. A small mounting plate attaches to the bottom of the camera and secures in the front of the housing. 
Viewfinder - The housing includes the Super-Eye Viewfinder provides an enhanced view of the camera's optical viewfinder when viewed through a dive mask. The viewfinder removes quickly and easily for the attachment of an optional Straight Magnified Viewfinder (Type 1) or 45° Magnified Viewfinder (Type 3)
Strobe Connection - An external strobe can be connected via electrical sync cord or fiber optic cable
Recommended Underwater Lenses with the FTZ Adapter:
Although the Nikon Z50 is equipped with a Z mount, there are currently no good DX (cropped sensor) Z mount lens options for underwater photography. We recommend purchasing a Nikon FTZ adapter and using it with F mount lenses (this works seamlessly). Unfortunately the popular Tokina 10-17mm fisheye lens does not currently work with the Nikon Z50.
Macro
Nikon 60mm 2.8G Macro: Great all around lens and especially great for blackwater diving
Nikon 105mm 2.8G VR Macro: Great for small and shy subjects, giving you more working room than the 60mm and essential for super macro. You will get even more working room than normal on the Z50, with an approximately 150 mm full frame equivalent focal length; even better for shy subjects, but difficult for larger macro subjects
Nauticam Super Macro Converter: the Nauticam super macro converter (SMC-1) is a wet diopter perfect for taking sharp super macro images. In fact, it is the strongest, sharpest diopter on the market. For the best super macro results, use it with the Nikon 105 mm 2.8G VR lens. 
Wide Angle Fisheye
Nikon 8-15mm: Get creative with the full circular image, or zoom in for a more standard fisheye lens. Read the Nikon 8-15mm FX AF-S f/3.5-4.5E ED Zoom Fisheye Review by Mark B. Hatter. We used this lens for our review. Please note this is a full frame lens, so there is some crop when used with the Nikon Z50. Although it's an excellent fisheye lens, you can't zoom out as far as a circular field of view.
Nikon 16mm 2.8 Fisheye: Also a great lens, and a popular choice for full-frame 
Wide Angle Rectilinear
Nikon 16-35mm 4.0: Great for large animals and extremely sharp lens, but requires a larger dome to get sharp images. Keep in mind that on the Z50 it will act like a 24 mm equivalent lens, which rules it out for much wide angle shooting
Strobe Compatibility
Ikelite DS Strobes - Strobes may be used in manual exposure modes by attaching one or two with a compatible electrical sync cords. TTL mode can be used by adding the DL1 DS Link TTL Converter. It can also be connected via fiber optic cable by using Ikelite Fiber Optic Adapter. 
Sea & Sea, Inon, Retra Strobes -  Strobes can be triggered in manual exposure modes using an electrical sync cord. It can also be connected via fiber optic cable.
Learn more about the Z50's specifications, features, and changes from the Nikon Z6/Z7 and why we love it for underwater photography in our full Nikon Z50 Review.
Nikon Z50 Camera Specifications:
20.9 Megapixel Resolution
23.5 x 15.7 mm CMOS sensor (APS-C - DX format)
Hybrid phase-detection/contrast AF with AF assist, 209 points
11 fps sequential shooting
4K Video (3840x2160) at 30/25/24 fps
FHD video up to 1080/120p
1/4000 mechanical shutter, to as slow as 30 sec
1/200 sec max shutter sync speed for flash, auto FP high-speed sync supported up to 1/4000 sec
ISO range of 100-51200
2.36 million dot OLED elecontric viewfinder (EVF) with 1.02x magnification
Lens mount system: Z mount, can use F mount lenses with FTZ adaptor
3.2 inch tilting touchscreen monitor (can flip it over underneath camera for selfies/vlogging)
450 g (0.99 lb) camera body weight, including SD card and battery; 395 g (0.87 lb) body only
Ports: USB Micro-B, Type D HDMI connector, Stereo mini-pin jack, plug-in power supported
Memory card compability: SD and UHS-I compliant SDHC and SDXC (only one card slot)
Built-in WiFi and Bluetooth, along with SnapBridge for automatic upload functionality via Bluetooth
Battery CIPA rating of 300 shots
Sample Underwater Images:
Nikon Z50, 8-15mm Fisheye, f/18, 1/160, ISO 100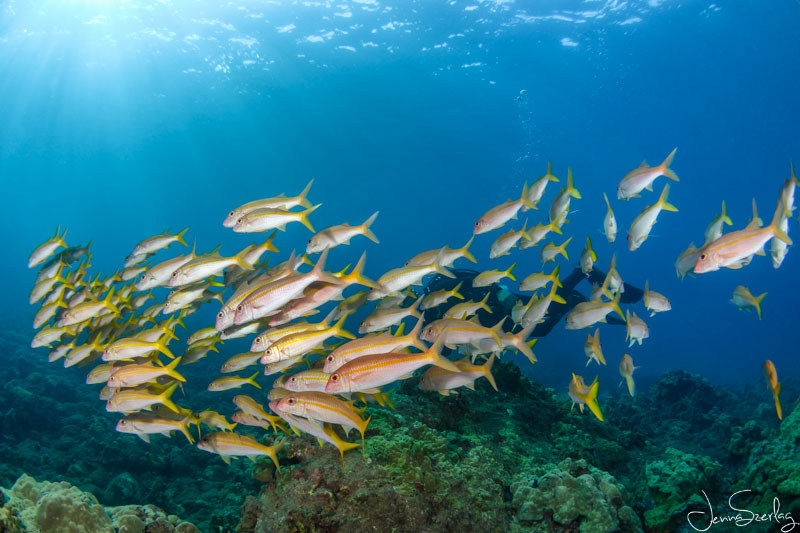 School of Goatfish Maui, Hawaii. Nikon Z50, 8-15mm Fisheye, f/9, 1/125, ISO 100
Red Pencil Urchin closeup, Maui Hawaii. f/14, 1/160, ISO 100
White Stripe Cleaner Shrimp Maui Hawaii. f/20, 1/200, ISO 100
Nikon Z50, 8-15mm Fisheye, f/18, 1/160, ISO 100
Related Underwater Gear Categories:
Depth Rating: 200ft. (60m)
DryLock Port System
Controls are provided for all camera functions except: Fn1, Fn2, Flash pop-up, Diopter adjustment dial, and Touchscreen; 
Weight:  4.77 lb (2165 g)
Dimension: 9 x 7 x 6.25in (229 x 178 x 159 mm) 
Vacuum valve included
Included Ikelite ICS-5 bulkhead connector with manual hotshoe for reliable electrical triggering of underwater strobes;
ABS-PC construction
Dimensions:
10.00 (in)
×
10.00 (in)
×
15.00 (in)
Free Worldwide Shipping:
No
Underwater Housing
Rear O-ring 
Front O-ring
Zoom Gear Retainer
Port Hole Cover
Waterproof Bulkhead Cap
Base with Left-Hand Quick Release Handle
Tool for Zoom Gear Retainer
.050" Hex Key
1/16" Hex Key
Silicone Lubricant 1cc Tube