Related Articles:
Best Nikon Cameras for Underwater
Best Olympus Cameras for Underwater
Best Panasonic Cameras for Underwater
Best Sony Cameras for Underwater
---
Jump To:
Full Frame DSLR   |   Mirrorless Camera   |   Compact Camera

Canon 1DX Mark II
Professional Level
The Canon 1Dx Mk II is one of Canons "powerhouse" professional cameras. The camera utilizes a 20.2 megapixel full-frame sensor in combination with dual DIGIC 6+ image processors - giving it awesome low light capabilities, plus a 61-point AF system and can shoot up to 16 fps. For video, it can capture 4K 60P of full HD 1080p at 120p. It's a killer flagship camera for underwater photography and Canon's top of the line camera.
Canon 1DX Mark II Underwater Housing Options:
Nauticam Housing - High-quality aluminum, great ergonomics, vacuum electronics included, and it uses a helpful patented port locking system which does not require rotation of the port.
Aquatica Housing - Features high-quality aluminum and robust design. Full camera controls accessible while in the housing. It readily accepts a full selection of ports, viewfinders, wet lenses, and more.
---
Canon 5D Mark IV
Exceptional Photo Image Quality and Fast & Accurate Live View for Videos

Canon 5D Mark IV is a full-frame dSLR, offering stunning images with a full spectrum of colors and the best dynamic range of any Canon DSLR. The 5DIV produces very good high ISO results and the ISO can be "boosted" to an incredible ISO 102,400 (we advise not ever using this though). It also has vastly improved auto-focus over the previous 5D Mark models.
Canon 5D Mark IV Underwater Housing Options:
Canon 5D Mark IV Packages Available: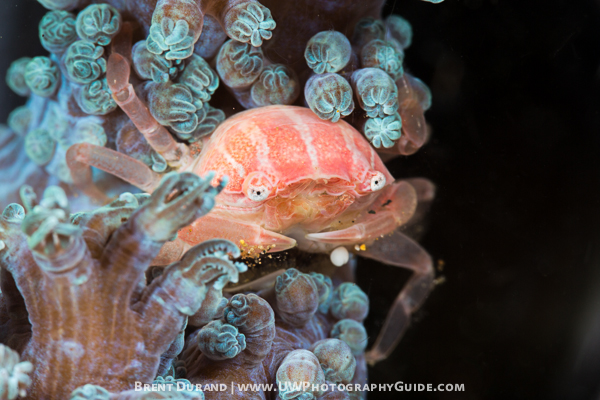 Shot with Canon 5D Mark 3 and Canon 100mm Macro Lens in 
Anilao, Philippines
.  Photo: Brent Durand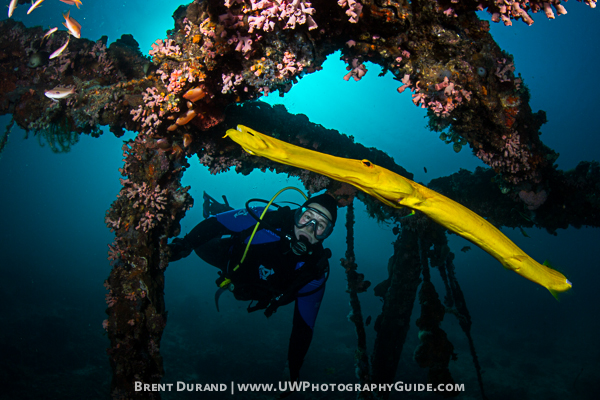 Shot with Canon 5D Mark 3 and Tokina 10-17mm Lens in Anilao, Philippines.  Photo: Brent Durand
---

Canon EOS R

The Canon EOS R is Canon's first full-frame mirrorless camera. The EOS R did not receive the same hype bestowed to Sony's A7RIII or Nikon's Z7, but those are high standards and varying circumstances. The EOS R would surely not disappoint if that's the camera you are considering. The Canon EOS R is characterized by a 30.3MP sensor, excellent AF performance, and a lovely touchscreen. The EOS R is a very capable camera and will prove to be a great alternative to loyal EOS DSLR owners looking for a lightweight, run-and-gun camera. Mirrorless seems to be the future of the professional camera market and if you are a loyal Canon shooter looking to expand into the more compact mirrorless world, this is the system for you.
---

Canon G7X Mark II

The Canon G7X II is a tiny camera with a large 1-inch sensor, a direct competitor to the Sony RX100 series cameras. It is an excellent, fast-focusing camera with great image quality and has dedicated macro focus. The camera also boasts improved auto-focus capability and battery life over the G7X, a new time-lapse mode, and significantly improved high-speed continuous shooting speeds.
With all of these features at an affordable price, we consider the Canon G7X II as the "best overall value" against competing compact cameras in its line.
Canon G7X II Underwater Housing Options:
* We recommend the Recsea or Nauticam Housings for best controls.
Canon G7X II Packages Available: