Fantasea Canon G16 Underwater Housing
Product Overview:
Fantasea has announced their new FG16 underwater housing fro the Canon G16.  The G16 is the newest "G" series camera from Canon.  These are a favorite amongst compact camera shooters because of their excellent control and macro capabilities.  The new processor is said to have increased the focus speed by 45% .  Other improvements include better color depth, dynamic range, image quality, and less noise at high ISO
The FG16 Underwater Housing:
Full access to all camera controls & functions with clearly marked controls
Increased depth ratio of 60m/200ft
Shock resistant system
Ergonomic design
Double O-ring seal for a perfect watertight seal
Built-in moisture detector for increased confidence
Manufacturer's warranty included
Best value-for-money deal
Complete dedicated accessory system available, including optic accessories, flash and video lighting sets and more
Fantasea G16 recommended wet lenses:
 (Any 67mm threaded lens requires the Fantasea EyeDaptor)
Fantasea G16 strobe choices:
Fantasea G16 Housing Review:
Canon G16 Sample Underwater Photos:

Fantasea G16 housing, Bluewater +7 macro lens, dual YS-D1 strobes, photo by Joshua Musselwhite

Canon G16 with the Bluewater +7 macro lens, F8, 1/1000th, ISO 100

Fantasea G16, Bluewater +7 macro lens, dual YS-D1 strobe, photo by Joshua Musselwhite
 
Canon G16 underwater photo, with Bluewater G-series wide-angle lens. F6.3, 1/100th, ISO 100
Fantasea FG15/FG16 Housings compared to Canon WP-DC52 & WP-DC48
Fantasea FG15 & FG16 Housings were developed and designed by underwater photo professionals in order to create the best possible housings for the Canon Powershot G16 & G15. Accordingly, they offer many features not found in Canon's WP-DC52 & WP-DC48 Housings. The impressive design, endurance and function of the FG16 & FG15, together with their affordable cost, make them the best products for value in the market today.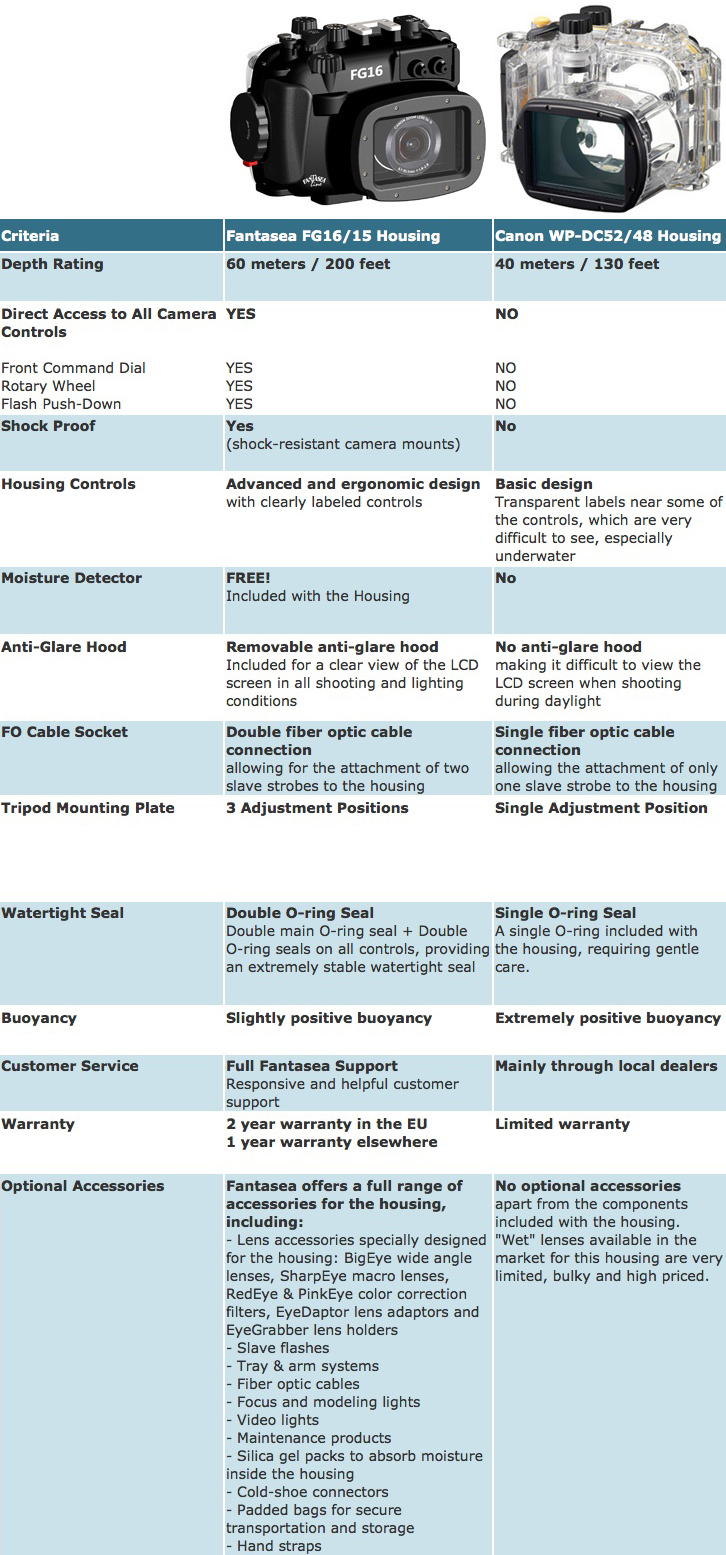 Dimensions:
6.00 (in)
×
6.00 (in)
×
6.00 (in)
Free Worldwide Shipping:
No