Ikelite Nikon D810 200DL Underwater Housing 
Part #: IKE-71009
Ikelite D810 Housing Features
A full featured and durable waterproof housing for Nikon D810 DSLR cameras. Suitable for scuba, snorkel, surf, pool, and any application in or around the water.
Special ABS-PC and Lexan material is used for the housing to make it corrosion resistant and durable.
New Dry Lock Port System for the most secure connection.
Includes the Ikelite Vacuum Valve for added security before diving (pump sold separately).
Supports both manual strobe firing with all strobes, TTL available with optional TTL Converter. #4301.3.
Depth Rated to 200 ft (60m)
All important camera controls included (not accessible: release mode dial, release mode dial lock release, diopter adjustment control, focus  mode selector, PV button, Fn1 button, Eyepiece shutter leverl, Sub selector, Focus selector lock
1/4-20 Thread base mounts
Nearly neutral buoyance in fresh water
4.9lb (2.2kg)
9.1 x 7 x 6.5" (231 x 178 x 165mm)
Recommended Accessories
Full Ikelite D810 Product Details:
Lens Ports
The single most important feature is our long awaited new Dry Lock (DL) port system. This exciting new system is even more robust and even easier to assemble than our time-tested Four Lock (FL) system. The new ports are lighter and more adaptable, and can accommodate extremely large diameter lenses with ease. If you're considering shooting professional quality lenses like the Nikon 14-24mm or Sigma 10-20mm HSM, then the DL system is essential.
Most popular zoom lenses and select lens focus rings can be engaged using a simple yet effective gearing system that puts adjustment right at your fingertips. A large, soft-touch lobed knob on the side of the housing makes fine tuned adjustments a breeze. Zoom and focus gears differ depending on which lens you are using. All are lightweight and affordable. Refer to the DL System Port Chart to choose the correct gear. Zoom gears sold separately.
Due to differences in mount diameter and zoom engagement, DL and FL system ports cannot be used interchangeably. The DL port mount may be removed and replaced with old style Port Locks for FL Port System (Set of 4) # 5509.04 for legacy users with standard or modular ports from our Four Lock system. This modification will prevent the use of newer DL ports. The housing cannot be converted back and forth repeatedly. Re-installation of the DL port base will require the housing to be returned to Ikelite or an Authorized Dealer and may incur additional service charges. There are significant advantages to upgrading your lens ports which you can read about here. If you're shooting an 8" diameter dome, you'll also save almost 2 pounds by using the DL version instead.
Vacuum System
The included vacuum valve allows you to vacuum test the housing to check for leaks prior to putting your expensive equipment in the water. Combined with a full view of the camera and o-ring seal through the back of the housing, there is no greater assurance that your gear will be safe. Our signature open-groove design suspends the rear o-ring in a natural position that is easier to maintain and more reliable than forcing the o-ring into a channel. Use of the vacuum valve requires a compatible Vacuum Pump with Gauge # 47011, sold separately.
TTL Exposure
This housings supports your choice of shooting all manual or adding a TTL converter depending on your application. The flash bulkhead has been moved to the top of the case for improved cord routing and reduced strain. Reliable locking connectors between the hotshoe and bulkhead make it easy to install the optional TTL hotshoe or carry back up parts when traveling to remote locations.
You can still enjoy the fastest and most accurate TTL exposure on the market by adding the NT2 Nikon TTL Hotshoe # 46064, Nikon TTL Converter with Ikelite plug # 4301.3, and a compatible Ikelite DS strobe. Exposure compensation can be used added or subtracted in the camera.
Controls and Set-Up
We've upgraded the shutter and AF-ON levers to a more natural feeling curved design. Both controls can optionally be extended using the Shutter Trigger Extension # 4077.93 for more comfortable use when using a right-hand quick release handle. If you're not already using back button focus, we recommend learning this valuable trick.
Our push buttons have been redesigned to reduce weight and salt build-up. The back of the housing features laser engraved control symbols which will never fade or fall off.
The camera mount is now front-loading for easy installation and removal. A small mounting plate attaches to the bottom of the camera and secures in the front of the housing. The camera mounting plate does not need to be removed from the camera for surface use or when changing the battery or memory cards. The mounting plate features a 1/4-20 threaded mount on the bottom so that it can be attached to a tripod on the surface.
Viewfinders
The included Supereye Viewfinder provides an enhanced view of the camera's optical viewfinder when viewed through a dive mask. The viewfinder removes quickly and easily for the attachment of an optional Straight Magnified Viewfinder # 6890 or 45° Magnified Viewfinder (Type 1) # 6891.1.
Handling & Travel
Overall the housing is over 1/2 pound lighter than a typical FL counterpart. Our new hard anodized aluminum base with quick release handle has also been streamlined for travel and is over 3/4 pound lighter than our previous DSLR tray and handle system. The Right-Hand Quick Release Handle # 4077.02 (sold separately) can be added or removed depending on how you want to shoot. The precision machined aluminum base features 1/4-20 tripod mounting sockets and additional mounting locations for future accessories. Plus, the base and handle can be quickly removed when breaking down your system for travel.
A 1/4-20 threaded mounting point is located front and center on the housing above the lens port mount. This mount can be used to attach lightweight accessories like a focus light or GoPro camera.
If you're shooting with two strobe or lighting arms, then a top handle can be added to make the system easier to carry to and from the dive site. Top handles are available in a Cable Grip # 4080.07 or Aluminum Top Handle # 4080.08. The rigid aluminum version provides additional mounting points for lighting and accessories.
Construction
Our new white ABS-PC blend front is stronger than its clear counterpart, provides improved contrast and visibility, and keeps your camera running cooler in the sun.
Like its predecessor and all of our housings, this product is made in the USA, individually inspected for fit, and water pressure tested to 200 feet (60m).
Non-Ikelite Strobes
SEA&SEA, INON, and Nikonos strobes with an electrical connection can be triggered in manual exposure modes using an electrical sync cord. Strobes without an electrical sync cord connection cannot be attached to this system unless slaved off of a hard-wired strobe.
Ikelite Non-Digital Strobes
Older non-digital strobes featuring an ICS-5 electrical sync cord bulkhead can be used with this system in manual exposure modes.
Fiber Optic
Fiber optic only strobes are not compatible with this installation. An external strobe must be connected by electrical sync cord.
Remote Triggering
Strobes with remote slave capabilities may be triggered off of a flash attached to the housing by electrical sync cord. Ikelite DS strobes support remote triggering using the Optical Slave Converter Product number 4403 or the Water Wizard system (manufactured and sold by Aquatica).
Compatibility
This housing is only compatible with the Nikon D850 DSLR as shipped by the manufacturer. Unless otherwise noted, this housing does not accommodate the use of add-on grips, battery grips, eyepieces, LCD covers, or other accessories.
Differences in lens and control placement prevent other DSLR models from being used in this housing. We are not aware of any other models which may be used in or adapted to this particular housing.
Related Underwater Gear Categories:
Nikon D810 Underwater Photos: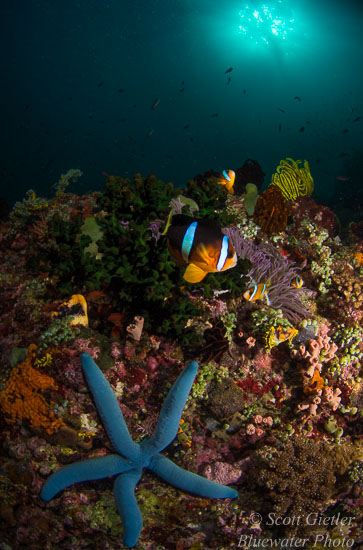 Nikon D810 underwater photo, Tokina 10-17mm fisheye lens, taken in Anilao, Philippines

Ribbon Eel, Nikon D810 underwater photo, Nikon 105mm VR macro lens @F10, taken in Anilao, Philippines
Email us at sales@bluewaterphotostore.com or call (310) 633-5052 with any questions.
Underwater Housing
Base with Left-Hand Quick Release Handle # 4077.67
Port Hole Cover # 0200.92
Zoom Gear Retainer # 75900
Tool for Zoom Gear Retainer # 0945.06
Waterproof Bulkhead Cap # 9104.5
4-40 Hex Key # 0945.11
1/16" Hex Key # 0945.16
1/8" Hex Key # 0945.18
Control + Push Button Tip Assortment # 9249
Silicone Lubricant 1cc Tube # 0184.2
Dimensions:
9.00 (in)
×
8.00 (in)
×
10.00 (in)
Free Worldwide Shipping:
No
Underwater Housing
Base with Left-Hand Quick Release Handle # 4077.67
Port Hole Cover # 0200.92
Zoom Gear Retainer # 75900
Tool for Zoom Gear Retainer # 0945.06
Waterproof Bulkhead Cap # 9104.5
4-40 Hex Key # 0945.11
1/16" Hex Key # 0945.16
1/8" Hex Key # 0945.18
Control + Push Button Tip Assortment # 9249
Silicone Lubricant 1cc Tube # 0184.2