Nauticam Housing for Sony A7 II & A7R II & A7S II
DISCONTINUED
Part #: Nau-17414
The new Sony A7 II camera blends a full frame (36mm x 24mm) sensor into a camera body that is essentially the same size as many "compact" cameras. The A7 II offers improved auto-focus over the original A7 camera. The result is a stunning blend of high resolution image quality and compactness. Pair this camera with the new Nauticam Housing for a stunning underwater rig with complete lens and accessory support.
Recommended Lenses and Ports:
Nikonos Lenses
Choose the Nikonos adapter in the port choices above
The Sea & Sea 12mm Nikonos, Nikonos 15mm, 20mm & 35mm are recommended
Best Sony FE Lenses (native Sony Full Frame Lenses):
Sony FE 90mm F2.8 Macro - Best choice for Macro Photography
Sony FE 16-35mm F4 - Great rectilinear lens for wide angle, large animals, etc
Sony FE 28mm F2 - Prime lens for video, medium range, fish portraits, etc

Pair with Sony 16mm Fisheye Conversion Lens for FE 28mm - Incredible 180° Angle of View, great for reef scenes, wrecks, etc
Pair with the Nauticam WWL-1 Wet Wide Lens - gives you flexible fisheye view at 130° Angle of View, with ability to remove underwater and shoot at 28mm.
Other Sony FE Lens Options:
Sony FE 28-70mm F3.5-5.6 - good basic kit lens, medium zoom
Sony FE 24-70mm F4 - more expensive medium range zoom lens
Sony FE 35mm F2.8
Canon / Sigma full frame lenses (require metabones adapter on lens)
** All these lenses require the Nauticam A7 II adapter 37303
Sigma 15mm fisheye - requires the 8 inch dome port + extension ring 10mm
Canon 8-15mm fisheye - requires the 8 inch dome port + extension ring 30mm
Canon 16-35mm II - requires the 8 inch dome port + extension ring 70mm
Canon 100mm USM macro lens - requires macro port 94
Read our recommendend Sony lenses for underwater
Learn more about the A7R III features and why we love it for underwater photography in our full Sony A7r III review.
Nauticam A7 II - How To Fire Your Strobes
Sync cords: The standard Nauticam A7 II housing includes a bulkhead, make sure to select the correct option from the drop down above. If you want to fire your a strobe electronically you will need a S&S sync cord for Sea & Sea and Inon strobes, or an Ikelite sync cord for Ikelite strobes. If you have 2 strobes, you will need the dual-cable versions.
Fiber optic cables: The A7 II housing includes 2 fiber optic ports, to use your fiber optic cables, you will need to purchase the Sony A7 optical flash trigger, because the Sony A7 does not have an internal flash, and use the Nauticam to Sea & Sea fiber optic cables. If you choose this route you can save $100 on the housing by purchasing the No Bulkhead option, using the drop down menu above.
Nauticam A7 II Housing:
The NA-A7II looks quite similar to the NA-A7, and the housings are approximately the same dimensions. The NA-A7II ships with built-in, yet adjustable handles, featuring Nauticam's contoured rubberized grip. The "AF/MF/AEL" button is given special treatment on the right side of the housing with a direct access lever immediately reachable by the right thumb. This allows the button to be programmed for AF-ON meaning "thumb focus" fans can easily have perfect functionality. The shutter release can be accessed at the same time, offering extremely quick focus-to-shoot finger action. Like many Nauticam housings, the play button is brought up to the left thumb, and the three command dials (think shutter speed, aperture and exposure compensation) can be adjusted quickly with minimal reach. The ISO button is within short reach of the right thumb, important for video shooters. Speaking of video, the record button is on the top right, thus eliminating camera shake during video start/stop.
Nauticam A7 II Features:
Unsurpassed build quality, designed by an award winning engineering team, and produced utilizing the most modern manufacturing technology available
Ergonomically placed controls with size, shape, and color differentiation

Access to all key camera controls 

All controls clearly labeled
Patented two stage shutter release system, allowing precise feel over half press and full press
Patented Port Locking System
Patent pending Multi Controller pad
Lens release button
Easy to operate locking housing latches
Rubberized ergonomic grips on adjustable handles
Laser-cut steel handle brackets
Quick release camera mounting plate
Optical strobe connectors for fiber optic flash triggering
Mini Flash Trigger
M16 accessory hole for electrical bulkhead, HDMI or hydrophone installation
M14 accessory hole for vacuum valve installation
Integrated vacuum monitoring and leak detection circuit (valve optional)
Dual 1" (25mm) strobe mounting balls included as standard equipment
1/4-20 tripod mounting holes
Dual M5/M10 threaded accessory mounting points
100m Depth Rating
Nauticam A7 II Housing Product Video:
Nauticam Sony A7 II Recommended Accessories:
180º Enhancing Viewfinder (32201)
45º Enhancing Viewfinder (32203)
Mini Optical Flash Trigger (26302)
Nauticam Super Macro Converter (81201)
Monitor/Recorder Housing for Atomos Ninja2 (17902)
Monitor Housing for SmallHD DP4 Monitor (17901)
Fiber optic cables for Inon (26211) and Sea & Sea (26212)
Snap-clip lanyard for easy carrying of the housing
Nauticam 67mm flip diopter holder for wet macro lenses, screws onto the flat ports
Related Underwater Gear Categories:

Sony A7R II, Sony 28mm + fisheye conversion lens

Sony A7R II + Sony 90mm macro lens, F8, 1/250th, ISO 100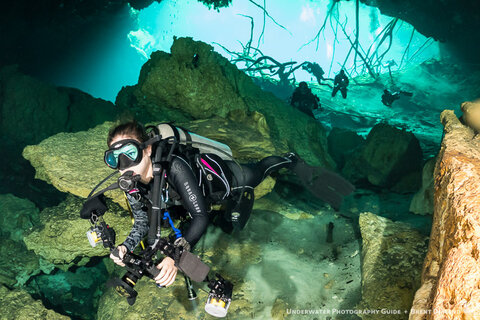 Sony a7R II with 28mm lens + Fisheye Converter. Shot in the
Yucatan Cenotes
. ISO 6400, f/5.6, 1/30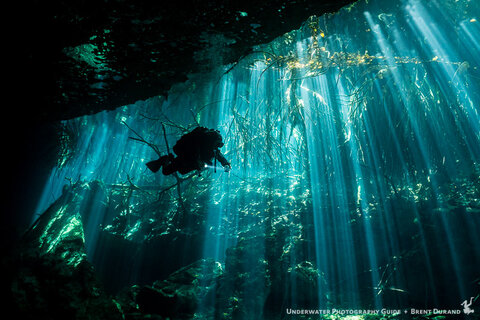 Sony a7R II with 28mm lens + Fisheye Converter. ISO 3200, f/6.3, 1/30
---
The Bluewater Photo sales team knows the lens and port choices very well, don't hesitate to contact us with any questions.
Dimensions:
12.00 (in)
×
12.00 (in)
×
12.00 (in)
Free Worldwide Shipping:
No