Posted by Nirupam Nigam on July 19th, 2023

The Nikon Z8 is the camera that every Nikon shooter has been waiting for. For years, market dominance has eluded Nikon in a world moving on from DSLR cameras to smaller, more effective mirrorless models. Despite excellent full-frame mirrorless offerings like the Nikon Z7II and Z6II, Sony and Canon offered cameras with significantly better autofocus and video features like the Sony A7R V and Canon EOS R5. The world noticed, and this left remaining Nikon shooters holding onto their trusty DSLRs. In fact, the majority of our staff has started out as Nikon DSLR shooters for their personal underwater camera systems, and remain so to this day. Well, if you are a Nikon DSLR shooter, it's time for an upgrade.
The Nikon Z8 After a Day of Diving
The Nikon Z8 takes all the flagship features and internals found in the Nikon Z9 and packs them into a smaller body for a much more affordable price point of $4000. No other camera company offers their flagship full-frame camera at a price point of less than $5000 for the body. With a stacked, full-frame 45.7 megapixel CMOS sensor, 20 fps RAW shooting, a massively improved autofocus system, and 8K/60p & 4K/120p RAW video recording, the Z8 is everything a professional Nikon shooter could ever need in both a photo and video system.
Thankfully both Nauticam and Ikelite announced underwater housings for the Z8 almost as soon as it was released to the public. We had the opportunity to snatch Ikelite's first Z8 prototype housing and take it down to Cozumel for some beautiful Caribbean drift diving. Cozumel is not the easiest location to take photos and requires true skill and quick autofocus. It was the perfect place to put the Z8 to the test...
A sea turtle and queen angelfish feed on sponges during a rare gloomy Caribbean day. Photographed with the Nikon Z8 in an Ikelite Z8 housing with a Nikon F mount 8-15mm fisheye lens, a Nikon FTZ adapter, and dual Ikelite DS 230 strobes. 1/160, f/18, ISO 400
---
Jump to a Section
Specifications | Why Mirrorless | Key Features
Nikon Z8 vs Z7II vs Z9 vs D850 | Z8 for Underwater Photo & Video
Nikon Z8 Underwater Housings | Top Lenses | Conclusions
---
Nikon Z8 Key Specifications
45.7 megapixel, full frame stacked CMOS sensor
Expeed 7 image processor for ultra-fast image readouts with almost no rolling shutter
One CF Express/XQD card slot and one UHS-II SD Card slot (2 total)
20 frames per second (RAW) up to 120 fps (11 megapixel jpeg) burst shooting
Updated autofoucs system with 3D tracking on par with Sony and Canon's autofocusing systems
Autofocus in lowlight down to -9 EV
ISO range of 64-25600
Flash sync speed: 1/200 sec
5-axis in-body image stabilization
8K/60p & 4K/120p video recording
N-Log, N-RAW (12-bit), and ProRes RAW recording
3.69 million dot EVF
Weight: 910 grams
Size: 5.7 inches x 4.7 inches x 3.3 inches
The Nikon Z8 is an excellent camera for blackwater. This tiny phronima shrimp was photographed riding a salp host with the Nikon Z8, Ikelite Z8 housing, Nikon 60mm macro lens, and dual Ikelite DS 230 strobes.
Why Mirrorless?
For those of you who remain faithful Nikon DSLR shooters, you may be wondering why you should even consider upgrading to a mirrorless camera when your D850s have been so reliable. The term "mirrorless" may have a cult-like aura around it, but it's simply an engineering term. Removing the mirror from DSLRs has allowed manufacturers to produce smaller camera bodies with more room for internal improvements. In fact, Nikon and Canon have both stated that they will no longer be producing new DSLR cameras, whereas Sony has never produced them.
Without a mirror, the Z8 can be equipped with a 5-axis in-body stabilization system that puts the sensor on a gyroscope, allowing you to get less motion blur at slower shutter speeds. The autofocus system is now the same through the viewfinder as it is looking through the LCD - allowing some to save on purchasing expensive magnified viewfinders. Because there is no longer an optical prism for autofocus through the viewfinder, the Z8 is equipped with autofocus points across the full width of the sensor - allowing for more creative compositions. And finally, a shorter flange distance has allowed for a relatively new Z mount to replace the F mount with lenses that produce less diffraction and sharper corners. The difference is noticeable.
For video shooters, the lack of a mirror and improvements with contrast/phase detect hybrid autofocus systems have allowed video features to progress lightyears faster than photo improvements. The 8K/60p RAW recording capability present in the Z8 was something only available with the highest-end cinema cameras only a few years ago.
Mirrorless cameras like the Nikon Z8 are equipped with animal eye autofocus tracking. However, this is newer tech that does not always work perfectly. 1/160, f/16, ISO 200
Key Nikon Z8 Features
A Re-engineered (Silent) Sensor and Shutter
The Z9 is an engineering marvel. A stacked sensor and fast processor has allowed Nikon to produce an image readout speeds so fast that there is no longer a need for a mechanical shutter. Every image you shoot with the Z8 is silent - unless you choose to add artificial sound to the camera's shutter. Without a shutter, there is no vibration when hitting the shutter button, improving image sharpness and reducing wear and tear on the camera.
Although we noticed that the lack of camera vibration improved our image quality slightly, it was difficult to shoot without mechanical feedback telling us that the camera had taken a photo in the housing. The best solution for this was to turn on automatic image review for each shot after two seconds. That way, if you blink when the strobe goes off, you'll still know you took a photo. We set the review for two seconds to check focus and image quality. But if you want to keep shooting photos, the image review doesn't slow you down as it'll go write back into focusing and taking photos.
When it comes to underwater video, a fast sensor readout means that rolling shutter is almost non-existant, leading to less warp in fast situations. But perhaps the largest benefit of a camera without a shutter is the theoretically infinite lifespan of the camera. With no shutter to degrade overtime, an almost unlimited shutter count is looking possible.
With no mechanical shutter, fish no longer hear your camera take the photo. This splendid toadfish was photographed with the Nikon Z8, a Nikon 105mm macro lens, and an Ikelite Z8 housing. f/11, 1/160, ISO 200
Image Quality
As with the Nikon D850, Z7 II, and Z9, the high-resolution, 45.7 megapixel image quality from the Z8 is excellent. Macro shooters will have enough room to crop to their heart's desire - as we did for many of our macro shots (especially black water). Overall, the image quality was reminiscent of other high-end Nikon cameras with similar dynamic range and color rendition from the RAW files.
Uncropped, full resolution image from the Nikon Z8 and Nikon Z 105mm macro
100% Crop
However, we like to be as nit-picky as possible in our reviews. One thing we noticed was that the dynamic range was slightly less deep than previous Nikon models. This is in-line with initial sensor assessments that can be found online. We found that getting an image of a nice sunball with good details in the middle was slightly more difficult than it would be with lower resolution cameras like the Nikon Z6.
While the Z8 is able to capture incredible details in highlights and shadows, we did feel like the dynamic range was just slightly shallower than with previous Nikon cameras. This photo from a Cenote does a great job of showing the range of detail from the highlights of the sun to the shadows in the depths of the cave. For an ISO of 1000, the Z8 did a great job. f/10, 1/30, ISO 1000
The Autofocus System We've All Been Waiting For
It's no secret that the predecessors to the Nikon Z8 and Z9 had a lot to improve upon when it came to autofocus. With the Z8, Nikon has exponentially improved autofocus acquisition speed, accuracy, and tracking. A new 3D tracking mode is reminiscent of DSLR autofocus with some nice mirrorless upgrades - including animal eye autofocus tracking and the ability to fine-tune responsiveness. The autofocus tracking box is also smaller and more accurate than it was on the Nikon Z7II.
Overall, we found that the autofocus system is almost on par with Nikon's Sony and Canon competitors. That said, the autofocus tracking is not quite as "sticky" the Sony A7R V - the world's best autofocusing camera to-date. But again, we are being nit-picky. We still managed to improve our "hit rate" by 30-40% compared to the Nikon Z7II. The animal eye autofocus only worked on a few underwater subjects, like the famous splendid toadfish. Like other cameras, it works better with a macro lens than wide angle. I wouldn't rely on the animal eye tracking yet, but you are able to easily lock onto any autofocus point you want with the 3D tracking system.
Perhaps the most impressive function of the Z8's autofocus system is its low-light capability. The Z8 is capable of focusing in light conditions that are up to 9 stops below proper exposure. This is great news for anyone who wants to focus without a focus light in order not to scare your subject! It's also great for divers that shoot in limited visibility or in post meridian light.
Quick autofocus is essential for photographing schools of fish. Captured using 3D af tracking with the Nikon Z8. f/16, 1/125, ISO 200
Lightning-Quick Burst Shooting Speeds
With a stacked sensor, the Z8 can shoot 45 megapixel uncompressed RAW photos at speeds up to 20 fps. When shooting compressed RAW and JPEG photos this increases all the way up to 120 fps with 11 megapixel jpeg files. Most underwater photo shooters will not need burst shooting speeds this fast. In fact, we spent a lot of our time shooting at 5 fps on a low continuous burst. However, as modern strobes increasingly have shorter recycle times, it is conceivable that a device like the Sea & Sea YS-D3, Scubalamp D-Pro, or Ikelite DS 230 could keep up as high as 10-20 fps. This creates a whole realm of creative possibilities. Cold water divers, who typically need lower power strobe light, will be particularly happy shooting with the Nikon Z8.
The Z8 is designed particularly well for ambient light shooters that light to photograph pelagic like dolphins, whales, and sharks. When you combine 20fps burst speeds with ultra-fast 3D tracking, anything is possible.
Sometimes you need quick burst shooting to get the right composition. That was the case with this grouper hiding among sponges. f/13, 1/160, ISO 200
More Battery Life Than on Paper
On paper, the Nikon Z8 is listed as having a battery life of 340 shots. We disagree. In our dives, we found that the Nikon Z8 lasted four dives with juice to spare. This was closer to 600 shots. Reality is usually faster shooting than a CIPA battery life test. So in most situations the camera can last a full day of diving before needing to be charged again.
8K/60p & 4K/120 RAW Video
Nikon has not traditionally been the first choice for underwater video shooters. While the color science in Nikon picture profiles is excellent, Nikon has made it difficult in older camera models to unlock essential features for color grading, like N-Log profiles. With the Nikon Z8, there is no longer a pay-wall. In fact, the Z8 might be one of the best underwater video cameras this year. The camera is capable of recording 8K video up to 60 frames per second and 4K video up to 120 frames per second. This allows macro shooters to record 8K and crop in significantly for their final, 4K product. It also allows videographers to film action at 4K/120p and slow it down up to four times in post production for stabilization and artistic control.
Underwater creatives also have the opportunity to choose from shooting in N-RAW (up to 12-bit), ProRes RAW, and N-Log picture profiles. This allows you to significant editing control in post production.
One of our few complaints about the Nikon Z8 is its manual white balance capability. Below 50 feet under the waves, the camera cannot capture a custom white balance. Above 50 feet, it is very accurate. But for deep diving, we highly recommend bringing an underwater video light to bring out color in your subjects. That said, it's only a few quick steps to set a custom white balance underwater with the Z8.
A beautiful sponge scene captured with the Nikon Z8, Nikon 8-15mm fisheye lens, Nikon FTZ adapter, Ikelite Z8 housing, and dual Ikelite DS 230 strobes. f/16, 1/200, ISO 200
A Solid Camera Body - If A Little Large...
When it comes to the overall build of the Z8, we were disappointed to see that it is a bulky camera. While about 30% smaller than the Nikon D850, it's about 30% larger than the Nikon Z7 II. Perhaps the Z8 was designed to feel less foreign in the hands of DSLR shooters. But overall we do wish it was lighter. That said, the large body size means it's designed like a magnesium alloy brick. The Z8 is clearly meant to withstand tough conditions.
In an underwater housing, it would be difficult to notice a difference in size between the Z7 II and the Z8. This is because housing sizes are more dependent on the size of the lens mount. While the Z8 is slightly heavier underwater, we noticed almost no difference in how it felt shooting a Nikon Z8 in an Ikelite housing than shooting a Nikon Z7 II in an Ikelite housing.
The ergonomics of the camera are quite nice overall. There are some throwbacks to the D850, but overall, the button layout and settings are very similar to other Z series cameras. The one major shift from previous models has been that the mode dial on the left side now consists of four buttons - white balance, mode, drive speed, and bracketing. This settings can be a little annoying to change underwater because you need to hold the button down and turn the dial at the same time. We recommend they are set beforehand. In fact, make sure to read this full overview of the best underwater settings for the Nikon Z8 before getting in the water.
The Nikon Z8 might not be the smallest camera, but you can still sneak up on parrotfish! f/13, 1/160, ISO 200
But Isn't It All the Same Image Quality?
The Nikon Z8 vs Z7 II vs D850 vs Z9
Until the release of the Nikon Z9, Nikon's flagship mirrorless camera, the Nikon D850 represented the best autofocusing high-resolution full frame camera that was seriously considered by Nikon underwater shooters - with the Nikon D5 and D6 being too large and expensive for most. Although the Nikon Z7 II, released 3 years after the D850, is an excellent mirrorless camera, slow autofocus stopped many Nikon DSLR shooters from upgrading. Considering that the D850, Z7 II, Z8, and Z9 are all equipped with similar, 45 megapixel sensors and produce similar image quality - is it really worth the upgrade? And if so, to which camera?
As the grandfather camera, the Nikon D850 is a tried and true DSLR. But because it's video recording of 4K/30p is now outdated, anyone who is considering to shoot a little video, should consider a mirrorless Nikon. The Nikon D850 also lacks compatibility with modern and sharper Nikon Z lenses. And finally, the lack of in-body image stabilization does mean you can capture better quality images at lower shutter speeds - a task essential for low-light underwater shooters. Finally, the D850 is about 30% larger than the Nikon Z8 and even more so than the Nikon Z7II, which makes it more difficult to travel with than all modern Nikon cameras, except for the Z9.
The Nikon Z7II now clocks in at $2997 for the body. This is a great price point, and is worth considering for anyone who does not need quick autofocus. It features 4K/60p video recording as well in-body image stabilization and the Nikon Z mount.
But if you're an underwater shooter, it makes sense to upgrade to the Nikon Z8 for an extra $1000 with a much better autofocus system. Our keeper rate increased by about 30-40% with the Nikon Z8 over the Nikon Z 7II. That's a lot more chances to get "the shot."
And finally, when we look at the flagship Nikon Z9, it no longer makes sense to purchase the camera. With a body that is 30% heavier than the Z8 and housings that are a lot more expensive, it makes more sense to save $1500 and get all the same features in a Nikon Z8. Yes, the Nikon Z8 has less battery life than the Nikon Z9, but we were able to get about five dives on a single battery - enough for a day of diving.
This photo could have been captured with the Nikon D850, Nikon Z7II, Nikon Z9, or the Nikon Z8. It was captured with the Nikon Z8. f/13, 1/160, ISO 200
The Nikon Z8 for Underwater Photo & Video
Nikon has always had a history of producing lenses with legendary image quality. And although the Z8 may appeal foremostly to Nikon shooters, Sony and Canon users who want to use Nikon's Z glass can now be comfortable switching brands and receiving comparable quality. The Nikon 8-15mm fisheye lens is tied with the Canon 8-15mm fisheye lens for being the best fisheye lens for underwater photography. Likewise, the Nikon Z 105mm macro lens is sharper than the Canon RF 100mm lens and Sony 90mm macro lens, though slower when it comes to autofocus.
The choice for most underwater photographers who might be considering the Nikon Z8 is if they want the novelty of not needing a mechanical shutter, great glass, and fast burst shooting speeds with the slight tradeoff of the camera having a slightly less accurate autofocus system to the Sony A7R V and Canon R5. That said, we found the autofocus performance of the Z8 to be a large leap ahead of previous Nikon models, including the D850.
For underwater video, the Nikon Z8 performs on par with other 8K cameras like the Canon R5 and the Sony A1. In fact, for many macro videographers, the Z8 is the better choice as you can film in 8K up to 60 fps - allowing you to both crop and slow your footage for stabilization. The Z8 also has a more powerful set of recording options than the Canon R5 but not as many as the Sony A1. An inability to set a manual white balance below 50 ft with the Z8 is its main hindrance.
Finally, there's the question of whether or not the Nikon Z8 overheats while filming 8K and 4K/120p video. During our dives, we never witnessed any overheating issues. Moreover, initial tests on the internet indicate that the Z8 should be able to record for significantly longer times than the Canon EOS R5 or even the Sony A1. While we cannot confirm this with our dives, it is promising that we did not receive a temperature warning in 86 F water.
This cleaner shrimp was photographed with the Nikon Z8, Nikon Z 105mm macro lens, Ikelite Z8 housing, and dual Ikelite D230 strobes. f/29, 1/160, ISO 125
Nikon Z8 Underwater Housings
The Nikon Z8 might just surpass the Sony A7R V as this year's most popular camera. Likewise, we can anticipate a housing from every popular underwater housing brand, including - Ikelite, Aquatica, Marelux, Nauticam, Sea & Sea, Aquatech, and Isotta. So far Ikelite has released an excellent polycarbonate option; Aquatica and Nauticam have released two great anodized aluminum housings; and Marelux has confirmed that there housing release is just around the corner! So let's get into our favorite underwater housings for the Nikon Z8 and what we can expect from each.
Ikelite Nikon Z8 200DL Underwater Housing
The Ikelite Z8 Underwater Housing After Two Weeks of Diving in the Field
We had the lucky opportunity to be the first to dive with the Nikon Z8 in an Ikelite underwater housing. This housing is a polycarbonate masterpiece that retails for only $1895. Depth rated to 200 ft with a dry lock port system, it's one of the best value options on the market. The Ikelite Z8 housing features a built in vacuum (pump sold separately), compatibility with Ikelite TTL converters and Ikelite strobes, and full control over all camera controls. We were particularly impressed by the smoothness the aperture and shutter speed dial controls, the new curvature of the edges of the housing, and the fact that the camera tray now sits firmly in the back panel. The latter upgrade makes the housing even more secure underwater.
Aquatica Nikon Z8 Underwater Housing
We were pleased to see just how quickly Aquatica announced their Z8 housing. Aquatica is known for their robust housings that come complete with a vacuum valve, pump, and moisture alarm. They also come with a flash connection method, including a flash trigger for those who want an optical connection. Although we know few details about the Aquatica Z8 housing, we know they are sure to be equipped with top-of-the-line Canadian ergonomics. We intend to keep them in stock for quick shipping, so be sure to preorder one now!
Nauticam Nikon Z8 Underwater Housing
The Nauticam Nikon Z8 underwater housing was announced almost as soon as the camera was announced! This anodized aluminum housing is equipped with Nauticam's classic and easy-to-use port locking system. The Nauticam Z8 housing is also compatible with popular Nauticam optics like the EMWL and WACP-1. The housing comes with a moisture alarm and allows for full control over all camera controls. Nauticam designs its housings so that all controls are just a finger's distance away.
Marelux Nikon Z8 Underwater Housing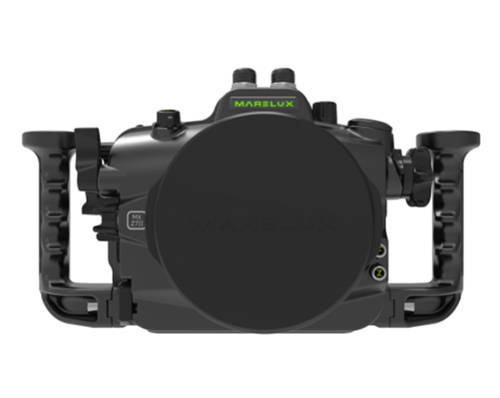 Marelux has confirmed that a Nikon Z8 housing is on the way! While we do not currently have many details about the housing, we do anticipate an affordable housing with excellent ergonomics. The Marelux housing should allow for full control of the camera and will have the option to add a flash trigger and vacuum system. Marelux housings have extra large port openings so that it is easy to place a lens through the housing (without needing to first separate the lens and camera).
Top Underwater Lenses for the Nikon Z8
Recommended Z Mount Underwater Lenses
Z mount lenses are superior to F mount lenses because the shorter flange distance of the Z mount allows for sharper corners in an image with less diffraction and ghosting. However, when it comes to lens focal lengths available for underwater photography, the Z mount has a smaller selection than the F mount. We are excited to see many more Z mount lenses arrive in the near future.
Wide Angle Rectilinear
Nikon Z mount 14-30mm f/4: An excellent rectilinear wide lens for shooting harder to reach wide angle subjects like sharks, dolphins, and whales. We found it to be a great rectilinear option for wide angle photography - especially with bluewater backgrounds where soft corners are less noticeable. It is noticeably sharper than F mount versions. Read the full review of the Nikon Z 14-30mm f/4.
Shrimp photographed with the Nikon Z 105mm macro and the Nikon Z8. f/20, 1/160, ISO 125
Macro
Nikon Z 105mm macro: This lens is perfect for photographing small and shy subjects as it gives you more working room than the Nikon 60mm F macro lens. The Z 105mm macro is also sharper but slower focusing than the Nikon F 105mm macro. Read the full review of the Nikon Z 105mm macro lens.
Recommended F Mount Underwater Lenses with the FTZ Adapter
Macro
Nikon 60mm 2.8G Macro: This is an excellent all around macro lens perfect for taking photos of larger macro subjects and especially great for blackwater diving.
Nikon 105mm 2.8G VR Macro: This lens is great for small and shy subjects, giving you more working room than the 60mm and essential for super macro.
Wide Angle Fisheye
A school of fish photographed with the Nikon F 8-15mm fisheye lens, Nikon FTZ adapter, and Nikon Z8. f/13, 1/160, ISO 200
Wide Angle Rectilinear
Nikon 16-35mm 4.0: This lens is a good option for large animals and an extremely sharp lens, but requires a larger dome to get sharp images.
Nikon 20mm 1.8G: Small, compact, sharp; this lens doesn't need as big a dome as the 16-35 mm
For further reading, check out Bluewater's guide to the best Nikon lenses for underwater.
Conclusions
If you are a Nikon DSLR or Z series shooter, it's time to breathe a sigh of relief. Nikon has finally caught up to the competition. The Z8 is a utilitarian option for users that need flagship-level quality for the best price possible. In many ways, the Z8 is a better camera than higher priced competitors. A stacked sensor allows the camera to unlock a host of new possibilities from lightning-fast burst speeds to 8K/60p video. The Z8 is also the first camera of its size that does not have a mechanical shutter. While this new style of silent shooting takes a little while to get used to, it presents a window into the future of camera technology. Nikon DSLRs have stayed stubbornly in almost every Nikon shooter's camera bag. Well, it's time for an upgrade.
A jellyfish photographed with the Nikon Z8, Nikon 60mm macro lens, Ikelite Z8 housing, and dual Ikelite DS 230 strobes. f/20, 1/160, ISO 400