Olympus TG-6 Underwater Camera Review
The Olympus Tough line is known as one of the top budget underwater compact camera lines on the market. These cameras are waterproof, they can handle a beating, maintain great image quality, and are sold at a very reasonable price point. The Olympus TG-6 is no exception.
Before the review the Olympus TG-6, let's talk about its predecessor. The Olympus TG-5 waterproof camera has been the go-to camera for compact and macro underwater photographers since its release in May, 2017. Two years later, the underwater photographic community has been itching for an upgrade. After all, who doesn't want an even better version of an already amazing camera? But the May, 2019 release of the Olympus TG-6 and Olympus TG-6 underwater housing has been met with mixed reviews. Overall, the "upgrade" appears to be a firmware update with a few surface changes to the camera and a good PR campaign. So if you have the Olympus TG-5, you may want to wait for the TG-7 before you upgrade.
The Olympus TG-6 in action during our real-world tests
However, this isn't to say the TG-6 isn't a great camera. It's one of the best compact cameras out there for the price, and the best camera in the Olympus Tough line. And fortunately for underwater photographers, the few upgrades made have been geared towards underwater photography. If you have yet to experience the macro magic of the Olympus Tough compact camera line, it's time to take a serious look at the TG-6. The Olympus Tough line of camera is known for an amazing image quality to size ratio, indestructible design, beautiful macro capability, and excellent options for underwater accessories. Underwater photographers and snorkelers alike will be happy to know that the few updates that have been made are mostly geared towards underwater use. So lets get to it….
Status: Available for Pre-order
U.S. MSRP Olympus TG-6: $449.99
Jellyfish photographed with the Olympus TG-6 in an Ikelite TG-6 housing, Ikelite DS 51 strobe, and RC1 TTL converter. 1/100, f/14, ISO 100
---

Bluewater Photo Olympus TG-6 Camera and Housings:
Olympus TG-5 Underwater Housing PT-059
Our Top Olympus TG-6 Underwater Bundles and Packages:
Olympus TG-6 Housing and Strobe Package
Olympus TG-6 Camera and Housing Bundle
Great Value Package for the Olympus TG-6
---
Jump to a Section
TG-6 Specifications | Key Upgrades | TG-6 Features | Implications for Underwater Photography
Wide Angle | Macro | Video | Underwater Lighting
Underwater Housings | Best Packages | Sample Images | Conclusion
Check out the Olympus TG-6 Settings Guide on UWPG
---
Olympus TG-6 Camera Specifications
Key Upgrades from the TG-5
• Anti-reflective coating to glass around sensor (reduces flare and ghosting)
• Better LCD: 1.04 million dots compared to 460 K dots on the TG-5
• 4K video with super macro autofocus
• Microscope mode (supermacro autofocus) available in program and aperture priority mode
• Video available in program and aperture priority mode
• Focus stacking and focus bracketing
• More underwater shooting modes/underwater white balance presets (aperture priority still yields best image quality)
Olympus TG-6 Complete Specs
• 12MP 1/2.3" BSI CMOS sensor optimized for low light (4000x3000 image resolution)
• Olympus TruePic VIII image processor
• Waterproof (50ft without housing), shockproof, crushproof, freezeproof
• Fast f/2.0-4.9 lens with 4.5mm - 18mm focal length (equivalent to 25mm - 100mm)
• Sensor-shift image stabilization (up to 2.5 stops)
• Minimum working distance 1cm (in super macro mode)
• ISO range 100 - 12,800
• 25 autofocus points with Single AF and Tracking
• 4K@30p video recording (approx. 102 Mbps bit rate)
• High Speed Movie mode with 1920x1080@120fps / 1280x720@240 fps / 640x360@480fps
• 4K timelapse video
• Pro Capture mode for 20fps image capture
• Shutter speed 4 sec to 1/2000 sec
• Custom white balance (4 slots)
• Built-in flash
• SD storage (SD, SDHC, SDXC)
• RAW and jpeg shooting
• WiFi capabilities, including camera control via smartphone
• Action track sensors record location, temperature, direction and altitude data
• Weight (approx): 250g / 8.72oz with battery & memory card
• Dimensions: 113mm x 66mm x 31.9mm (4.43in x 2.6in x 1.23in)
• Battery life (CIPA): 340
Curious wolf eel photographed with the Olympus TG-6, f/6.3, 1/130, ISO 400 wet wide angle lens, Ikelite TG-6 housing, dual Ikelite DS 161 strobes, dual RC1 TTL converters.
Key Upgrades from the TG-5
Although the Olympus TG-6 has few significant upgrades from the TG-5, there are still some things worth talking about - notably an improved LCD, underwater white balance modes, 4K macro video, and changes to the program and aperture priorirty modes.
Improved LCD Resolution
The resolution of the back LCD screen has been improved significantly - from 460 K dots on the TG-5 to 1.04 million dots on the TG-6. Although this won't result in any changes to your images, it can help make image review an easier affair. Personally, I review images quite a lot when I shoot with the Olympus Tough series underwater. It's essential for making sure I got proper focus and exposure on each shot. So I welcome the change.
Underwater White Balance Modes
Olympus added three underwater white balance modes to the TG-6. For avid underwater photographers and videographers - it's still better to shoot with auto white balance with strobes or a video light. If you're shooting with ambient light, it's still better to bring a slate and shoot with auto white balance. But if you're not a super serious photographer or you're a causal snorkeler/free diver, these modes will be great for easily capturing some color in your images on the fly.
More options while in Aperture Priority and Program Modes
With the Olympus TG-5, you had to move the ring dial to shoot in microscope or video mode. Now supermacro autofocus and video are both available in aperture priority and program modes. This means you don't have to switch to the microscope or video modes! It also means you can now shoot 4K macro video with supermacro autofocus (same as microscope mode).
Periwinkles on eel grass. Olympus TG-6 in an Ikelite TG-6 housing, Ikelite DS 51 strobe, and Ikelite RC1 TTL converter
TG-6 Key Features
Body and Build
The Olympus TG-6 is almost identical to the TG-5 in terms of design. It has the same level of indestructability – freezeproof to 14°F / -10°C, crushproof to 220 lbf / 100 kgf, and shockproof from 7 ft / 2.1 m. The size is the same, and it is compatible with the Olympus TG-5 underwater housing. Likewise, the TG-5 should be compatible with the Olympus TG-6 housing.
It is waterproof to 50 ft, so if you wish to take photos in the range of normal recreational scuba diving depths, it's recommended to purchase an underwater housing.
The LCD screen now has a much sharper resolution than the TG-5. However, it is still a little scratchable.
The one upgrade to the build that will be beneficial to underwater photographers is the anti-reflective coating to glass around sensor that reduces flare and ghosting. This is great for wide angle photographers that like to shoot into the sun and capture sunballs.
Wolf eel photographed with the Olympus TG-6 in an Ikelite TG-6 housing, wet wide angle lens, dual Ikelite DS 161 strobes, and dual RC1 TTL converters
Controls / Ergonomics
The controls and ergonomics on the TG-6 are the most significant improvement from the TG-5. However, it could have all been updated as a firmware update rather than a new model of camera. Regardless, microscope mode and video functions are now available in program and aperture priority modes. This makes it so you can shoot macro, wide, and video without switching modes!
Unfortunately, there still isn't a manual mode on the camera. The TG-6 does offer additional underwater white balance presets as upgrades to the TG-5, but we still recommend shooting in aperture priority mode with auto white balance and strobes for the best results. The underwater white balance presets are more enticing for snorkeling photography without strobes. The white balance presets are depth based which can be beneficial for free divers that want a small package.
Sensor and Image Quality
The sensor on the Olympus TG-6 is still the same great 1/2.3" BSI CMOS 12 MP sensor. Having shot the TG-5, we can say with confidence that the image quality on the TG-6 is excellent for a compact camera of this size. The lowlight performance is surprisingly good with less noise in the image and faster processing times than the TG-4. If you want beautiful underwater images at an excellent price point, this camera will not disappoint.
Sea star skin photographed with the TG-6 in microscope mode
Implications for Underwater Photography
Overall, the main upgrade in image quality is going to be the anti-reflective coating around the sensor. This will be welcomed by anyone who shoots regularly into the sun or in situations with high dynamic range.
All other updates in design focus on ergonomics. It's certainly easier to shoot with macro, video, and wide-angle all being available on one aperture priority mode! So Olympus did, in fact, make an already great camera even better. We just wish there was more!
TG-6 Wide-Angle Shooting
A wide-angle wet lens increases the field of view, which means that for shooting a given subject at a certain size in your photo, you have to be quite a bit closer to it. Although this can be a hassle with a skittish subject, what it does mean is that you get less water between the camera and your subject. And less water means a clearer subject, as well as better lighting from video light, photo light or strobe, which means much better colors. A wider angle also allows for more dramatic shots, especially with large subjects like oil rigs, kelp forests, large animals, reefscapes and wrecks.
We recommend using the UWL-04 fisheye lens, which with its 165 degree wide angle of view will allow you to create stunning wide-angle shots. Other great options to consider are the Kraken KRL-01 and KRL-02 wet wide anglelenses, which provide 145 and 150 degree angles of view, respectively. Olympus also offers a wet wide angle lens, the PTWC-01, which provides a 100 degree angle of view. Note that a step-up ring (52mm > 67mm) is necessary to be able to use the Olympus and Kraken KRL-01 wet lenses with the Olympus TG-6 housing.
Wolf Eel photographed with the TG-6
TG-6 Macro Shooting
With other compact cameras, the only real way to take great macro photos of small subjects is to use a wet macro lens (also known as a wet diopter). However, with the TG-6's amazing Microscope Mode, macro shooting can be done without using any wet wide angle lens. As mentioned in the above section on Microscope Mode, the TG-6 can focus on a subject only 1 cm away, and by using the optical zoom can get a magnification of 7x without using the added digital zoom capabilities.
If you want to get even more macro functionality, to shoot super-macro, the Bluewater +7 macro lens gives very good results. We recommend stacking 2 of these lenses for supermacro.
Sea urchin photographed by Allie Northey on her first ever dive with a camera!
Sample Video
The Olympus TG-6 can take amazing 4K video for a camera of its size! The details are wonderful and clearly better than the 1080p video that was available in earlier Olymput Tough models. However, with such a small camera, a 4K crop factor is there and expected. This means that ultimately, you will have less details than a camera with a larger sensor. But over the 4K quality is quite good. It is very simple to capture video with the Olympus TG-6 - it's just the quick press of a button. We took some stunning underater footage with the TG-6 and it handled dynamic range quite well. One of the important updates on the TG-6 for underwater video is the fact that you can now shoot amazing 4K macro video in microscope mode.
Strobes, Flashes and TTL Capability
Strobes are external flashes for use underwater. They help make your photos sharper, and more importantly, restore true colors to marine life. (When lit only by ambient light, subjects lose color through all the water between them and the surface, and between them and your lens). Check out this article about strobes for more information.
Through-the-lens (TTL) is a strobe setting where your camera controls your strobe power based on its own light metering. The internal flash trigger is transmitted to your strobes via fiber optic cables, and your strobes fire with a corresponding strength. You can get optical TTL when using fiber optic cables with the Sea & Sea YS-03 (also see TG-5 package with YS-03), YS-01, YS-D1, and YS-D2 strobes. You can also use the Inon Z240, Z330, S2000, or D2000 strobes. TTL works in all modes - P, A and auto modes.
One notable downside of the TG-6 when using with strobes, is that on max power the internal flash recycle time is about 4 seconds (meaning you will have to wait that long in between taking photos with the strobe). Often the flash should not be firing at max power though, meaning typically less time between shots. There is also an option to turn down the power of the internal flash using the flash compensation function, which will reduce the flash recycle time further, meaning even less down-time between shots.
Getting Proper Exposure with Your Strobe: The Best Option for TTL
When it comes to getting the right exposure with your strobe, we recommend using Ikelite DS strobes wiht the RC1 TTL converter. This is a device that takes the RC flash signal from your Olympus TG-6 and tells the Ikelite DS strobes what exposure you need for your shot - though it can only be used with DS strobes unfortunately. In simple terms, you are going to get accurate exposure with every shot. All you will need to do is point and shoot. For the TG-6 and RC1 TTL converter we recommend the DS 51 srobes, and the DS 160 strobes if you need a lot of light for wide angle.
Quick Tips and Tricks for Getting Started with your Olympus TG-6
Check out the Olympus TG-6 Settings Guide on UWPG
The Olympus TG-6 is generally a user friendly camera but because there are no full manual controls, it does make it a little quirky underwater. If you want full control over your images than we recommend that you look at other compact cameras like the Canon G7X Mark III and the Sony RX100 VII. If you just want an easy shooting experience and you don't care about the camera making decisions for you, the TG-6 is a great option. We have taken the TG-6 underwater and we have found some great tips and tricks for shooting with the Olympus TG-6 in underwater environments...
1. Get accurate exposure everytime: use the Ikelite RC1 TTL Receiver for DS strobes with the Olympus TG-6
This might sound like a mouthful, but using the RC1 TTL receiver is easier than it sounds. This device makes it so that your strobes properly exposure the photo with every shot without getting motion blur or a shallow depth of field. You won't ever have to worry about your photos being blown out or too dark. It really is just point and shoot! As we mentioned before, it's only compatible with Ikelite DS strobes.
The way it works it the RC1 TTL converter is plugged into the sync cord port on your strobes. Then you plug a fiber optic cable from your housing's port to the RC1 coverter. The RC flash signal is transfered to the strobe via fiberoptics and interperated by the TTL converter to choose the proper exposure.
Here are some recommended settings with the RC1 TTL receiver in microscope mode (our recommended best mode with the RC1 TTL converter):
Picture mode - natural
ISO 100
Auto white balance
4:3 aspect ration
RAW format
Still IS ON
Flash - RC mode
Exposure comp 0 (adjustable)
Frame rate - single
Meter - spot - this is extremely important. Pick spot metering if you're using the RC1 TTL converter
Face priority - off
Accessory - off
2. Use Super Macro Autofocus Instead of Switching to Microscope Mode to Shoot Macro
With the Olympus TG-6 its even easier to shoot macro now! Instead of switching to microscope mode to shoot macro you can now select super macro autofocus in any mode. To do this click "ok" on the camera, select the super macro autofocus mode and you're ready to shoot macro without turning the mode dial! This will streamline your shooting process.
Microscope mode doesn't let you select your aperture value, so if you want more depth of field in your macro shots - make sure to shoot aperture priority and use supermacro AF. This allows you to select a smaller aperture for more depth of field.
3. Use the custom menu to set a minimum shutter speed and maximum ISO in Auto ISO mode (for more manual control)
If you find that not being able to shoot manual is very frustrating or if you want to properly exposure your underwater shots, especially wide angle photos, using the custom menu is a great work around to not being able to control shutter speed.
In order to maintain a high shutter speed while shooting wide angle, you will need to be in Auto ISO mode. Hit your menu button, go to custom menu "C", and select ISO-Auto set. Then you can set the upper limit of your ISO to 400 and your lower shutter speed limit to whatever you prefer. Any shutter speed from 1/125 to 1/500 should work.
There is great news for photographers looking to upgrade to the Olympus TG-6 - it is compatable with the Olympus TG-5 underwater housings! That being said, many high-quality Olympus TG-6 housings are available as well!
The Olympus underwater housing for the Olympus TG-6 is compact and lightweight, with great ergonomics. It is rated to a depth of 45m (147 ft), and all camera controls can be accessed from the housing with ease. It can accept a variety of wet lenses for both wide angle and macro shooting, and most importantly, it is very affordable!
.
Purchase the Olympus TG-6 housing
Ikelite housings are made from an ABS polycarbonate blend, making it both lightweight and strong. This durable housing is rates for depths of 60m (200 ft). It features a side-mounted shutter release and a new zoom control, for easy operation. The housing port has a 67mm thread, making it compatible with multiple wet lens options, both wide angle and macro. Along with the Olympus housing, this is the most affordable TG-6 housing available. We highly recommend using this housing with Ikelite DS strobes and the Ikelite RC1 TTL converter for best exposure and easiest use from your TG-6.
Purchase the Ikelite TG-6 housing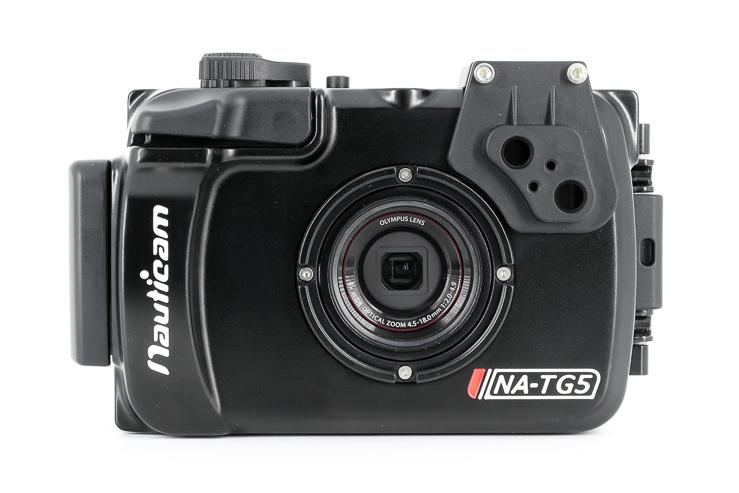 The Nauticam TG-6 housing, constructed from milled aluminum, was designed with a focus on ergonomics. It offers features found in their high end DSLR housings.
All controls are clearly labeled, with an easy-to-identify bright red video recording button.
The patented rotary lock system is used, facilitating easy opening and closing, while still providing a secure latch system that will not accidentally be disengaged
Sculpted thumb grip and shutter lever make it comfortable to hold and use underwater
Depth rating of 100m (330 ft)
The housing includes a 52mm threaded port, allowing addition of different wet lenses (macro and wide angle) to expand your underwater shooting ability. In addition both a cold shoe and M10 mount offer multiple mounting points for additional accessories. Dual Fiber Optic Connections are included, with holes that fit the standard Sea & Sea style plug or bare ended fiber optic cables. The 52mm port is great for use with the KRL-02 wet wide angle lens.
Purchase the Nauticam TG-6 housing
Isotta offers a top notch housing for the Olympus TG-5 and TG-6. The housing is made from high-quality thermo-coated & anticordal aluminum. It includes a back window to take advantage of the TG-6's high resolution LCD, and a flatport with an M67 thread for wet lenses. The housing also features
One handed open/close lock system
Double O-Ring seal for extra protection
Ergonomic button and lever placement with laser-engraved controls
Double lens threading for both 52mm and 67mm wet macro lens. This means no step-up rings required!
Purchase the Isotta TG-6 housing
Best Olympus TG-6 Packages
At Bluewater Photo, we make our recommendations based on real-world shooting experience. We took the Olympus TG-6 and were very impressed with its capability. Therefor, we decided to put together some packages specifically designed to maximize the effectiveness of the TG-6 for different people and needs. Here are our top TG-6 packages:
1. Olympus TG-6 Snorkel Package - Includes camera, housing, wide angle wet lend, dual tray, spare battery, 64 gb memory card, and eneloop batteries. Perfect for snorkelers and free divers.
2. Olympus TG-6 Macro Package - Includes camera, housing, tray, strobes, video light, fiber optic cables, arms & clamps, spare battery, memory card, and rechargable batteries. Perfect for divers to love capturing small critters.
3. Olympus TG-6 Video Package - Includes camera, housing, wet wide lens, tray and flex arms, video lights, mounts, spare battery, and memory card. Perfect if you're looking to take advantage of the TG-6's amazing 4K video.
4. Olympus TG-6 Ultimate Package - The ULTIMATE PACKAGE! Includes everything you need to take amazing wide angle, macro, and video with the Olympus TG-6
5. Olympus TG-6 Housing and Strobe Package - Perfect for anyone looking for a simple Olympus TG-6 package that still offers great lighting options.
6. Olympus TG-6 Camera and Housing Bundle - A simple bundle for anyone looking for an amazing camera at a great price point.
7. Great Value Package for the Olympus TG-6 - The best accessories for the Olympus TG-6
Buffalo sculpin photographed with the Olympus TG-6. f/13, 1/50, ISO 400
Sea cucumber skin photographed with the Olympus TG-6 using supermacro autofocus in aperture priority mode - a new TG-6 feature! f/16, 1/80, ISO400
The eye of a buffalo sculpin photographed with the Olympus TG-6. f/18, 1/100. ISO 400
Sea pen photographed with the Olympus TG-6. f/16, 1/80, ISO 400
Sea star photographed with the TG-6 in microscope mode
Lions mane jellyfish photographed with the Olympus TG-6, wet wide angle lens, Ikelite TG-6 housing, dual Ikelite DS 161 strobes, and dual RC1 TTL converters. f/6.3, 1/160, ISO 400
Flatfish photographed in microscope mode with the TG-6, Ikelite housing, DS 51 strobe, and RC1 TTL converter
Conclusion
Despite relatively few updates, the Olympus TG-6 is looking like it's the new top dog in the budget compact camera world. If you already own the TG-5, this may not be the upgrade of your dreams. However, if you are an avid snorkeler and diver and looking for a great compact camera, definitely consider the Olympus TG-6.
---

Bluewater Photo Olympus TG-6 Camera and Housings:
Olympus TG-5 Underwater Housing PT-059
Our Top Olympus TG-6 Underwater Bundles and Packages:
Olympus TG-6 Housing and Strobe Package
Olympus TG-6 Camera and Housing Bundle
Great Value Package for the Olympus TG-6
---
Additional Reading