Sony A7 IV Underwater Settings
Sony has come a long way from the days of clunky menu systems and ergonomics. The Sony A7 IV is a demonstration in functionality - with a very customizable button layout and an easily navigable menu. In fact, we think the Sony A7 IV is easiest-to-operate Sony camera to date. It's ergonomics and agility rival top cameras from Canon and Nikon while being familiar in feel to any Sony users.
Top Tip for Underwater Photographers: If your screen is black when you are shooting with strobes, check your live view display settings. Menu -> Shooting Menu - > 10 "Shooting Display" -> Live View Display Set. Turn this setting off for photos with strobes and on for photos without strobes or topside shooting.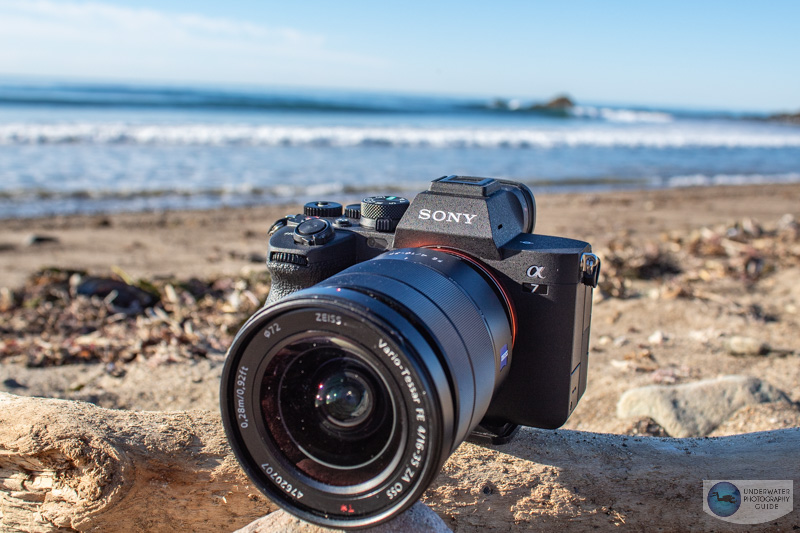 Sony A7 IV
---

Support our content and get your Sony A7 IV camera body and underwater housings at Bluewater Photo!
Ikelite Sony A7 IV Underwater Housing
Isotta Sony A7 IV Underwater Housing
Nauticam Sony A7 IV Underwater Housing
Aquatica Sony A7 IV Underwater Housing
Sea & Sea Sony A7 IV Underwater Housing
Marelux Sony A7 IV Underwater Housing
Sony A7 IV Underwater Housing Guide
Read our Sony A7 IV Underwater Camera Review
---
Sony A7 IV Dials, Buttons, and Joysticks
If you're a Sony shooter, the A7 IV's controls will seem very familiar, with a few key differences. As with all modern Sony cameras, the buttons are optomized for customizability including C1 - C4 buttons that you can assign to execute most functions. The camera has total of not three, but four dials! This makes it incredibly efficient underwater to change your triangle of exposure (i.e., shutter speed, ISO, aperture). There are two back dials and one front dial on the top of the camera as well as a dial on the D-pad. I found it useful to assign shutter speed and aperture to the top back dials as they are often the closest to your hand while operating an underwater housing. The front dial I used for my ISO. It's important to know that the right dial on the top of the camera has a lock. While this can be useful if you don't want to assign a function to it, I highly recommend checking the lock to make sure it's unlocked before putting in the housing.
Assigning Functions to Your Dials
Menu -> Setup 4 -> Dial Customize -> My dial settings -> Assign each dial with your desired control (aperture, shutter speed, ISO)
An Updated Mode Dial
Perhaps the most significant update to the button layout on the Sony A7 IV is the new movie and photo mode toggle switch below the mode dial. The mode dial is fairly standard as it switches between manual modes, automatic modes, shutter priority, aperture priority, and memory recall settings. However, there is no longer a "movie mode". Instead, the toggle switch below the dial allows you to switch from photo mode to movie mode to s&q mode (slow & quick). This mean that if you are in manual mode on the mode dial, you can switch between manual mode in photo mode and video mode just by using the toggle switch. Many divers are going to welcome this update as you no longer need to scroll through the mode dial to switch to video. Moreover, the settings you have in photo and video mode save independently. The "1, 2, and 3" settings are custom memory recall settings that can be set in the menu. To set your memory recall settings, click the "menu" button -> go to your "shooting" menu -> 4 "shooting mode" -> "camera set memory" -> select 1, 2, or 3.

Memory Recall
Considerations for Underwater Housings
The Joystick and AF Point Selection
AF point selection is a breeze with the A7 IV topside, but it can get a little tricky underwater, if your housing does not have compatibility with the joystick. Above water, both touch screen AF and the joystick can be used to move your AF point around. Unfortunately, no underwater housings currently have support for the touch screen and some don't have support for the joystick. So if you need an easy way to move AF points and are a photo oriented shooter, please contact us and we'll find you an underwater housing that has full joystick control. If you do decide to get a housing without joystick compatibility there are two workarounds to select your autofocus point:
1. In photo mode, we recommend using AF tracking. This allows you to press the AF-on button or half press the shutter button when your AF box is over the area of the image you want in focus. Then you can move the camera and the camera will track the subject. 
2. In video mode, sometimes we recommend using the "wide" AF area mode, but we found it was not it is not accurate at selecting an AF point in macro situations or situations with low light. For macro shooting, we recommend choosing a center AF area mode and allowing the camera to lock on to your subject with your subject in the middle. Then we recommend customizing the joystick button to toggle between autofocus mode and manual focus mode, as described below. When your subject is locked-in, you can select the joystick button and it will switch to manual focus mode. As long as you have focus peaking on, you can pan in and out with the camera and see when your focus in the right spot. 
Customizing Your Settings: 
Custom Settings Menu
As we've mentioned, the Sony A7 IV is very customizeable. The A7 IV even has four custom buttons (c1-c4) dedicated to your favorite custom settings and we highly recommend using them. To customize your buttons, click the "menu" button, go to the yellow "setup" menu, panel 3, and select "customize key settings." One option allows you to select settings in video mode and one allows you to select customizable settings in photo mode. If you wish to use the same custom setting in both modes, you can leave any button in the default "follow custom (*)" key. Every workflow and shooting situation will require different custom settings. Here are our top recommend custom settings:
Our custom buttons were set in photo mode. In video mode customization, we set our buttons to default to photo mode. This is a good starting point, but you can also set up different photo and video workflows - if you can remember all the different button combinations!
Rear1
1. Drive - this will allow you to set burst shooting
2. AF On
3. Switch Silent Mode - this allows you to switch to silent mode but is only recommended for topside shooting
4. APS-C S35/Full Frame - this will allow you to crop to super 35 mode with a push of the button if you are shooting at resolutions smaller than 4K
5. Focus Mode
6. Finder.Monitor Sel - this will allow you to switch between the EVF and LCD in your housing and is a very useful function.
Rear2
1. AF/MF Selector Toggle - this will allow you to adjust between AF mode and MF so that you can lock on your subject with AF when shooting video and then switch to MF and fine tune by panning in and out. 
2. Not Set - you want your center button to be able to select other functions
3. Drive Mode
4. ISO
5. Focus Magnifier - this allows you to fine tune your focus by zooming in on the focus area of the subject
Top
1. Movie Shooting - this is your record button, don't change
2. Focus Area
Lens
1. Focus hold - in most cases you won't be able to use this in an underwater housing
The Fn (Function) Menu
The Fn button on the back of the camera is perhaps the most useful button on the system - it opens the Function menu. When you're in an intense shooting situation, the Fn menu allows you to pull up your most important settings and quickly change them. We highly recommend customizing your Fn menu so that you can access the most frequent settings you will be changing. To customize your Fn menu,  click the "menu" button, go to the "setup" menu, panel 3, and select "Fn menu settings."
In Video Mode
Here are our top settings for the video mode Fn menu:
1. Audio Rec Level - adjust your audio levels. It's a good setting for topside shooting
2. Peaking Display - allows you to turn on peaking display for finetuning manual focus. We recommend setting your peaking display color to red underwater.
3. ISO - Adjust your ISO for proper exposure
4. Focus Mode - AF continuous or Manual Focus, it's your choice
5. Focus Area - in AF-C we use wide for most situations or expand spot if your housing has compatibility with the joystick
6. White Balance - read on to learn how to set custom white balance
7. Picture Profile - allows you to select Log profiles including S-Log2, S-Log3, Cine profiles, HLG, and more.
8. Steady shot - Set to active if you're not using a tripod. This will introduce a crop, but you need as much stabilization as you can get underwater. Use standard if you have a tripod or a really calm shooting environment.
9. Prioritize Rec. Media - Pick your media card slot
10. Zebra Display - turns your Zebra stripes on and off. You can set your exposure levels for the zebra stripes in the menu. 
11. Metering mode - we use spot standard with a video light and multi if the ambient lighting conditions are good.
12. Exposure mode - allows you to switch between manual, aperture priority, shutter priority, and program mode in video
13. There aren't 13 slots in the Fn menu, but we also recommend adding a Live View Display setting if you are a photographer. That way you can turn on live view display when you are shooting video.
Function Menu Customization
In Photo Mode
Here are our top settings for the Fn menu in photo mode:
1. Drive Mode - allows you to choose your burst shooting mode
2. Flash mode - use fill flash with strobes
3. Focus Mode - We like to set this at AF-C. We found that AF-S was actually slower than using autofocus continuous.
4. Live View Display - turn it on for shooting ambient light photos and photos with video lights. Turn it off for shooting with strobes. If your screen is black when you are shooting with strobes, check your live view display settings. 
5. Focus Area - Tracking: Expand Spot is our favorite setting as the AF tracking is very accurate.
6. White Balance - won't affect your image if you're shooting RAW
7. Face/Eye Subject - Setting the A7 IV to animal eye AF tracking never worked on fish. If you want animal eye AF tracking, the Canon EOS R5 is much more capable. 
8. Steady Shot - On 
9. ISO - the A7 IV is a great lowlight camera so you can push the ISO up quite high with this camera. You will still get useable underwater photos above 1000 ISO, but we recommend shooting at as low of an ISO setting as you can for the best quality.
10. Prioritize Recording Media - allows you to select your card slot
11. Metering Mode - set to spot metering if you're using strobes
12. Silent Mode - this is useful for topside shooting
Important Photo Settings
After setting up your Fn menu, the main menu becomes your repository for everything you might need to do with the A7 IV. Here are a few top menu settings that we recommend for underwater photography: 
Menu
Panel 1 Shooting Red
1 - Image Quality - Image quality settings (RAW) - File Format (XAVC HS 4K) - Movie settings (60p) 10-bit 4:2:2  - Color Space sRGB
2 - Format
4- Shooting mode - You can set your memoy recall function here.
6 - Drive Mode - set this in the function menu. Continuous low is our recommended option with strobes.
7 - Silent shutter - If you need to shoot silent, then you can set this here. However, we recommend shooting silent only above water.
8 - Image stabilization - steady shot adjust - changes stabilization based on focal length of lens
Exposure/Color (purple)
Flash Mode - we recommend fill flash.
All of this panel is in the fn menu.
Focus (purple)
1 AF/MF - AF tracking sensitivity (5) responsive - AF illuminator (off) - AF w/ Shutter (on) - Pre-AF (off)
2. Circ. of focus point (does not circulate)
3. Face/Eye AF - face/eye subject (animal)
5. Peaking  - peaking display (on) - peaking level (mid) - peaking color (red)
Setup
3/4 - customization (See above)
7. finder/monitor - select finder/monitor (monitor (manual))
8. Display Option - Autoreview (2 sec)
Important Video Settings
Selecting Your Resolution
The Sony A7IV is an excellent 4K video camera. As such, you probably bought it to shoot 4K video. Even if you don't intend to shoot in 4K, we recommend shooting in 4K so that you can crop your video in post processing if necessary. To select your resolution, go to the menu -> shooting menu -> 1 "image quality" -> File Format. The resolution options provided are paired with a file format (aka codec).
Resolution and File Type Selection (on the A7S III, but the A7 IV will look very similar)
Selecting Your Codec
The file format, or codec, you choose will determine how much your video is compressed and the bit rates you are able to shoot at. An uncompressed codec will take up more space on your hard drive, but it will also be easier for your computer to process as it will have to do less work decoding. So the more compressed your video is, the more time you should plan on spending in post. Here are the three 4k codecs available to you when shooting 4K.
1. XAVC HS 4K - This is the most compressed codec and we generally don't recommend using it unless you need to save a lot of space and want to spend more time in post processing. It uses an H.265 compression standard that some graphics cards may have trouble handling. 
2. XAVC S 4K - This is Sony's standard file type, and the codec that will suit the widest range of needs. We recommend this file type for most video shooters. It uses an H.264 compression standard that should be relatively easy to handle with standard editing software and graphics cards. 
3. XAVC S-I 4K - Ths is the least compressed file type available. It will be easier to playback, but it will also create large file sizes. It features a bit rate of 600M 10bit 4:2:2 at 60fps - that's a lot of data!
Selecting Your Frame Rate and Recording Setting
Your frame rate determines how many frames the A7 IV captures in a second. A higher frame rate creates less motion blur in the shot and allows you to slow down your footage so that you can stabilize it. Higher frame rates also require more data and take up more space on your card. For underwater shooting, we highly recommend shooting at a high frame rate because the 3D environment that water introduces is exceptionally shaky. We recommend setting your frame rate to 60p. To set your frame rate go to menu -> shooting menu -> Image Quality -> Movie Settings -> Rec Frame Rate. 
(on the A7S III, but the A7 IV will look very similar)
After selecting your frame rate, you'll want to choose your bit depth and bit rate. If you are shooting Log picture profiles like S-Log2 and S-Log3 then we recommend selecting 10-bit 4:2:2 for the most accurage color gamut. If you are shooting the standard picture profile then 8-bit 4:2:0 should be sufficient for the data that you need. To select your recording settings go to menu -> shooting menu -> Image Quality -> Movie Settings -> Record Settings.
Setting a Manual White Balance
To set a manual white balance on your camera, select the white balance setting in your Fn menu, scroll down to custom 1, click the right button on the dpad to highlight "set", click your center button, line up the square with a neutral area in the image or a white slate, and hit the center button to lock it in. You will need to do this every few feet of depth that you go up or down in the water column.
Selecting a Picture Profile
Picture Profiles are the reason to buy a Sony camera for video, specifically their logarithmic profiles. Log profiles preserve more data from the shadows and highlights of an image in order to provide better dynamic range and detail in a video after post production. Out of the box, Log video looks flat and ugly, but after working with your exposure levels and colors, you can get some amazingly detailed video. To select a picture profile, go to your Fn menu -> Picture Profile -> PP1 -> Gamma -> select your Log profile. We recommend setting recording settings to 10-bit 4:2:2 if you intend to shoot with a Log profile.
Recommended Picture Profiles
Standard (No Picture Profile) - We recommend the standard picture profile if you don't want to do much color grading or post processing. Sony's standard picture profile is quite nice, but you need to be accurate with your exposure and white balance when you shoot with the standard profile.
S-Log2 - S-Log2 offers the most detail out of the Log profiles with the least risk for introducing noise compared to other S-Log profiles. It is more difficult to edit than HLG or Cine profiles, but it can produce some of the best results. S-Log2 must be shot at a minimum of ISO 800. Try to use this profile in situations with a lot of light. We recommend overexposing your scene rather than underexposing. 
S-Log3 - S-Log3 offers more detail in the shadows than S-Log2 but it can be more difficult to work with and introduce more noise as well. S-Log3 must be shot at a minimum of ISO 800. Try to use this profile in situations with a lot of light. We recommend overexposing your scene rather than underexposing. 
HLG3 - HLG3 is our top recommended Log profile. It's easier to work with than S-Log2 and allows you to shoot at lower ISOs down to ISO 200.
Cine2 - Cine2 is a good hybrid between a Log profile and standard profile which makes it the easiest Log profile to work with in post. This is a good middle ground if you want to do some work in post but not a lot.
Quick Video Tips
1. Your shutter speed should be roughly twice your frame rate
2. Your aperture should be f/13 or higher for wide angle video. For macro, if you want background blur than use a lower f-stop, if you want most of it in focus, use a higher f-stop
3. After setting your aperture, adjust your ISO until the video is properly exposed. ISO in video can be moved higher than in photography. Shoot with auto ISO if you are in a dynamic lighting situation.
4. Set a manual white balance as described above if you are shooting wide angle video without video lights. With video lights, shoot auto white balance.
5. Use spot or center metering with video lights and matrix metering without video lights.
6. Shoot 4K@60 fps for underwater situations but be aware that there is a 1.5x crop in the field of view.
Formatting Your Card
To format your memory card, go to the "shooting" menu -> Panel 2. "Media" -> Format.
The Sony A7 IV is an ideal all-around full frame camera for both underwater photo and video. We think these settings will get you to a good starting point, but ultimately, it all comes down to your preferred workflow. If you still have questions after reading this settings guide, contact us and we'd be happy to answer any questions!
Learn more here:
https://www.bluewaterphotostore.com/
Contact our sales department:
Phone: 310-633-5052
Email: sales@bluewaterphotostore.com
---

Support our content and get your Sony A7 IV camera body and underwater housings at Bluewater Photo!
Ikelite Sony A7 IV Underwater Housing
Isotta Sony A7 IV Underwater Housing
Nauticam Sony A7 IV Underwater Housing
Aquatica Sony A7 IV Underwater Housing
Sea & Sea Sony A7 IV Underwater Housing
Marelux Sony A7 IV Underwater Housing
Sony A7 IV Underwater Housing Guide
Read our Sony A7 IV Underwater Camera Review
---