Recsea Sony RX100 II Underwater Housing
Recsea, known for their top-quality compact camera housings, have created a housing for the Sony RX-100M2 camera.
Recsea RX100 II Housing now includes the 67mm Direct to Port Adapter! However, please make sure to add the correct 52mm adapter if purchasing the UWL-04 Fisheye Lens.
Recsea RX-100M2 Features:
Compact and durable, precision machined corrosion-resistant aluminum housing.
Lightweight, designed to withstand depths of 100 meters (328 feet).
 Fixed Lens Port.
Original Secure-Latch locking mechanism for easy opening and closing.
Front Port Control Ring.
Rear Control Dial.
Half-Press Shutter Trigger for precise camera shutter control.
Double-wide O-Ring and Back Cover contact surface for added protection at greater depths.
Complete camera function control.
Includes: Camera Housing, Diffuser, Strobe Mask-External Strobe Connection Mount x 2 (Fiber-Optic 1, SEA&SEA 1) and Screw, Hand Strap, Reserve O-Ring, O-Ring Removal Pick, O-Ring Grease
Recommended Strobes:
Related Underwater Gear Categories:
About the Sony RX100 II:
3x the sensor size of most other high-end compact cameras, 20.2 megapixel sensor
 f/1.8 Carl Zeiss® Vario-Sonnar T* lens with 3.6x zoom
high speed Auto Focus
Tiltable 3" LCD screen
Supports TTL in Manual Mode
P/A/S/M modes
Video Review of the Recsea Housing for the RX-100 Camera
Note: the Recsea RX-100 and RX-100 II housings are pretty much identical
Video Commentary on the Sony RX-100 camera:
Note: everything in the video applies equally to the RX-100 II

Sony RX-100 II, F7, 1/1600th, ISO 200, dual YS-D1 strobes, taken at Catalina Island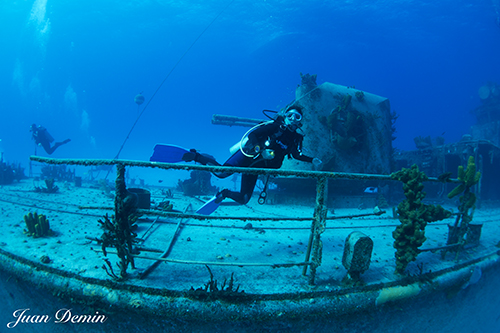 Recsea RX-100 II + UWL-04 fisheye lens
 

Recsea RX-100 II housing + UWL-04 fisheye lens, Catalina Island

Recsea RX-100 II with Bluewater WA-110 wide-angle wet lens, Cenotes, Mexico
---
Call us at 310-633-5052 or email us at sales@bluewaterphotostore.com with any questions. Our Underwater photography experts are ready to help you.
We offer lifetime support with all purchases.
Maximum Depth: 100 meters (328 feet)
Main Body Materials: Corrosion-resistant aluminum alloy, anodized
Monitor, Lens Materials: Hard Coat Acrylic
Dimensions: W133mm x D105mm x H88mm
Weight: Approx. 640g (Land) / 175 (Freshwater, w/camera)
Dimensions:
8.00 (in)
×
10.00 (in)
×
6.00 (in)
Free Worldwide Shipping:
No
Camera Type:
Sony RX-100 II