---
When it comes to image quality, lens selection, and focusing speed, a full-fledged dSLR for underwater photography will perform better than any compact camera. Sure, it will be larger and more expensive than a compact set-up, but the results speak for themselves. Many DSLRs can be considered to be professional underwater cameras, but it's also important to note that mirrorless technology has eclipsed DSLR innovation in the past three years.
So what is the best dSLR camera to use for underwater photography? The Nikon D850 & Canon 5D Mark IV are still very hot full-frame cameras right now. The dslr underwater housings for these cameras are excellent quality. The Canon SL3 is one of the best value underwater DSLR cameras. It's worth taking a look at for anyone who wants professional image quality that is a significant step up from a compact camera, while maintaining a relatively low budget and size profile.
Cropped sensor cameras, like the Canon SL3, make both macro and wide-angle easy to shoot underwater. Full-frame sensors really shine for ambient light shots and professional images, with their superior auto-focus, low light capabilities and dynamic range.
Please feel free to call if you have trouble choosing between the models listed below, or want to talk about the best mirrorless cameras versus a dSLR. Our professional and knowledgeable staff can be reached directly at 310-633-5052, or email our knowledgeable and dedicated sales staff at sales@bluewaterphotostore.com.
Best Value - Canon EOS Rebel SL3

While it may feel like the DSLR market is packed with ageing dinosaurs, the Canon SL3 is sleek new technology that will be sure to impress anyone looking for the best image quality on a budget. The SL3 is also the world's smallest DSLR camera, rivaling or beating the size of many cropped sensor mirrorless cameras. The camera itself is quite simple - it's specs are not flashy and it's ergonomics are designed for photographers that are new to professional bodies. But the image quality and video quality speaks for itself. We were particularly excited to use the SL3 underwater with the popular Tokina 10-17mm fisheye lens. Combined with an Ikelite housing, this system is the best value wide angle DSLR system on the market. The camera is equipped with quick dual-pixel autofocus for still shooting and video. Serious amateurs should take a serious look at this package.
Key Features:
24.1 MP APS-C format (22.3 X 14.9 mm) CMOS sensor
DIGIC 8 Image Processor
Built In flash
Compatible with Canon EF Lenses
Dual Pixel Auto Focus
9 AF points
Canon EOS Rebel SL3 Underwater Housing Options:
Canon EOS Rebel SL3 Package - TOP CHOICE:
Kelp crab captured with the Canon SL3, Tokina 10-17mm fisheye lens, dual DS 161 strobes, Ikelite Housing. 1/160, f/9, ISO 200
---
Best Overall High-End Camera - Nikon D850

The Nikon D850 camera is possibly the best all around DSLR camera in 2022 - especially in a world that's increasingly dominated by full-frame mirrorless cameras. The autofocus speed of the D850 is unrivaled among DSLR cameras, resulting in many photographers refusing to make the mirrorless switch. With 45 megapixel high resolution photos, you should be able to capture the smallest details in any photograph - a real treat for macro photographers. Wide angle shooters will be very happy with the D850's dynamic range and ability to capture details in complicated lighting situations. The camera is packed with lots of quality features including the ability to shoot full frame 4K video. If you are debating between the Nikon D850 and the Nikon Z7II, then we currently recommend the Z7II - especially for underwater video. But if you like your viewfinders, and you aren't ready to leave the DSLR market quite yet, there isn't a full frame camera better than the D850.
Key Features:
The D850 expands the resolution on the new backlit CMOS sensor from 36.3 to 45.7 megapixels, while improving the high ISO performance, and maintaining the class leading dynamic range. Base ISO of 64 on the D850 is absolute gold.
New autofocus system - The D850 borrows the AF system from the flagship D5 and is dramatically faster than its predecessor, the Nikon D810. It is also does an excellent job at locking onto subjects even in dark, low light environments - the center AF point being sensitive down to -4EV
Capable of full frame 4K Video
Increased shooting speed and buffer size
A true professional underwater camera setup
Nikon D850 Underwater Housing Options:
Nikon D850 Packages Available:
The Oil Rigs off California can be quite dark at depth, so shooting verticals with the crossbeams of the rigs and the bright surface produces a vast range of tones that the D850 has no problem handling.
Amazing detail in these spanish shawl rhinophores!
Hard to beat ISO 64 on the D850! Shadows and highlights in high contrast scenes contain huge amounts of detail and are able to be pulled back without degrading image quality.
Best Canon Camera - Canon 5D Mark IV

Many people think that the D850 has the edge over the 5D Mark IV. But Canon shooters might think otherwise. One thing is for sure - the 5D Mark IV is likely the best DSLR that Canon has ever released and will not limit your underwater photography in any way. If you are thinking about making the mirrorless jump, however, we do recommend the Canon EOS R5 over the Canon 5D Mark IV.
Key Features:
Choose the 5D Mark IV for the best underwater dSLR video out there
The Canon 8-15mm fisheye len is sharp and quite versatile for unique wide-angle images
The Canon 11-24mm WA lens is the widest non-fisheye (rectilinear) lens on the market, and gives amazing sharp images in a large dome port
Takes great hi-def video! The video bit rate on the 5D Mark IV is much higher than on Nikon dSLR cameras. Dual Pixel autofocus is also a new, practical feature that videographers will find extremely useful
Canon 5D Mark IV is a full-frame dSLR, offering stunning images with a full spectrum of colors and the best dynamic range of any Canon DSLR. The 5DIV produces very good high ISO results and ISO can be "boosted" to an incredible ISO 102,400 (we advise not ever using this though). It also has vastly improved auto-focus over the previous 5D Mark models.
Excellent ergonomics and build-quality in the Sea & Sea, Nauticam, and Aquatica housings
Canon 5D Mark IV Underwater Housing Options:
Canon 5D Mark IV Packages Available: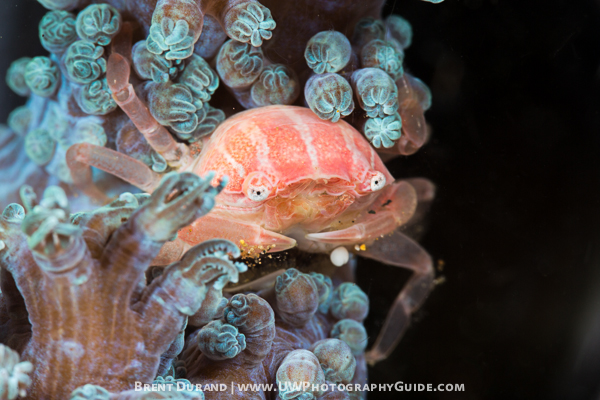 Shot with Canon 5D Mark 3 and Canon 100mm Macro Lens in
Anilao, Philippines
. Photo: Brent Durand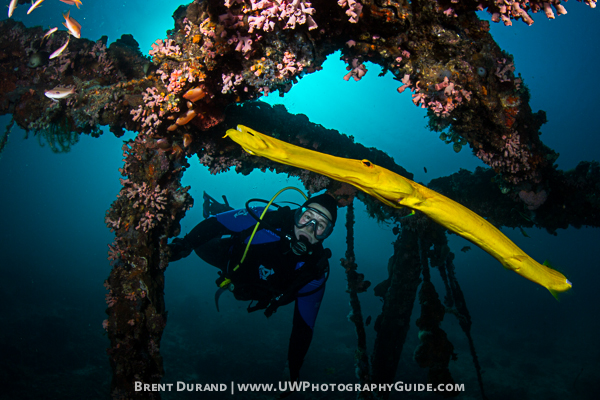 Shot with Canon 5D Mark 3 and Tokina 10-17mm Lens in Anilao, Philippines.
---
Best DSLR-Mirrorless "Hybrid Camera" - Nikon D780

The Nikon D780 is truly one of the most exciting DSLR camera offerings from Nikon in a long time. With phase detect live view AF migrated from Nikon's mirrorless cameras, the D780 is a revolutionary mix of DSLR and mirrorless technology. Underwater Photographers are finally going to have a solution to poor live view AF in a DSLR. The video specs are excellent and the Nikon D780 is Nikon's best DSLR for video yet (though we still recommend the Nikon Z6II and Z7II for underwater video)! For any underwater photographer or videographer who is looking to move up to a full frame DSLR with great all-around performance for a reasonable price, the Nikon D780 just might be the best option out there.
Key Features:
Updated 24.5 MP BSI CMOS sensor
Extended ISO range (now 100-51,200)
Increased burst shooting rate - now 7 fps and 12 fps in live view (silent)
Changes in max and min shutter speed (900 sec to 1/8000 sec)
Live view focus system - new 273 point on-sensor phase detect AF system
4K video up to 30fps
Improved LCD resolution - 2.4 million dots
Improved battery life - 2260 shots
Nikon D780 Underwater Housing Options:
Maui Green Sea Turtle Photographed with Nikon D780 in an Ikelite D780 housing, dual Ikelite DS161 strobes, and Nikon 8-15mm lens
Wide shot of wire coral in Maui, Hawaii with D780, 8-15mm Fisheye Lens, f/11, 1/125, ISO 200 Photo by Jenna Szerlag
Close up of Barred Shrimp on same wire coral as above. Nikon D780, 105mm Lens, f/18, 1/200, ISO 100 Photo by Jenna Szerlag
---
Best DSLR For Video - Canon 1DX Mark III

Underwater video is really where the Canon 1DX Mark III shines. As Canon's flagship DSLR camera, it is a serious contender for professional videographers who are in the market for high-end video cameras and even cinema cameras. With RAW recording capability combined with 5.5K @ 60 fps resolution, there are few cameras on the market as capable for taking detailed video that can be manipulated freely in post processing. True RAW recording is always going to be better than using Log profiles, like C-Log - which is also available with the camera. The footage can be captured using the full width of the sensor, which means maximum details, no crop, and downsampled 4K video that looks pretty tasty. Overall, underwater videographers should be pleased to finally have a Canon camera that doesn't compromise. There are no crops, all the frame rates you could want are there, and there are very few caveats.
Key Features:
20.1 MP Full-Frame CMOS Sensor
DIGIC X processor
ISO Range - 100-102,400
Burst shooting: 16fps viewfinder, 20 fps live view
191 (155 cross-type) AF points
JPEG, HEIF, and RAW image formats
Dual CFexpress card slots
Video: 5.5K @ 60fps with RAW recording, 4K @ 60fps, 1080p @ 120 fps. Capable of 10-bit 4:2:2 recording with Canon Log profiles
3.2" 2.1 million dots LCD
1000+ RAW image buffer
Canon 1DX Mark III Underwater Housing Options:
---
Best Cropped-Sensor Camera - Nikon D500
The Nikon D500 slots in below the D5 and D850 as Nikon's professional level APSC camera. It has become one of the most popular DSLR cameras for underwater shooting and for good reason. It shares the same autofocus system as the D5 and D850 for a much more wallet friendly cost and provides 4k video, 10fps shooting speed, and the best low light/high ISO performance of just about any APSC camera. We have used the camera extensively, and it is amazing. Housings are available from Nauticam, Ikelte, Aquatica and Sea&Sea. We recommend this camera for DSLR shooters who want to focus on macro photography at an affordable price.
Key Features:
20.9 megapixel sensor
4K Video @ 30p
ISO 100 -51,200 Expandable to 1,640,000
100% circular viewfinder, with 1.0x magnification - very nice!
153 Auto-focus points
Dual XQD/SDXC
No built-in flash
No low-pass filter for better sharpness
Dedicated joystick on the rear of the camera for easier moving of focus points
D500 Auto-focus & High ISO Tests:
Read Scott's Nikon D500 Auto-Focus & ISO Test Article to find out how the D500 performs in high-speed shooting scenarios, shooting with high ISOs, demanding auto-focus scenarios, and more.
D500 Underwater Housing Options:
D500 vs. D7500
The D500 has a much larger buffer than the D7500, and a higher resolution LCD screen. In our opinion, just the higher resolution LCD screen itself is worth the extra $, but you also get better low-light focusing performance - important for underwater macro shooting, plus longer battery life, a magnesium alloy body and dual card slots.
BWP Owner Scott Gietler's son Ryan, taken with the NIkon D500, Tokina 10-17mm fisheye lens

Great White Shark photographed with the Nikon D500 in a Nauticam housing with the Nikonos 13mm lens at Guadalupe, Mexico

Pygmy Seahorse, photographed in Anilao with the Nikon D500, Nikon 105mm VR macro lens + Nauticam SMC
DSLR Camera Comparison
Best Cameras - Further Reading